After emphatically crushing North African rivals Angola 4-0 in the semi-final, Egypt go into the 2010 African Cup of Nations final against Ghana in search of bringing the trophy back to Egypt for a record third consecutive time.
The Black Stars' clearance of the final hurdle was not so convincing, but a solid performance earned them a 1-0 victory over Nigeria. And they will be well aware of the task ahead of them if they want to prove themselves as the best team in Africa. Egypt have been a far superior force in this year's tournament, with an untarnished group stage acting as a sign of things to come.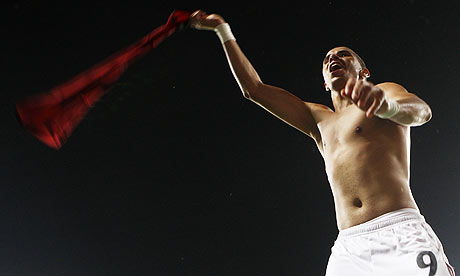 Egypt will be full of confidence after their crushing of rivals Algeria
Egypt are also the clear favourites going into the match, being made odds on at 5/6 by some bookmakers. The Pharaohs' understanding and togetherness within the squad are unrivalled, despite arguably not possessing the best players on the continent.
For Ghana, the tournament has been a case of shutting out the opposition and trying to grab the odd goal. Their last three matches have ended in 1-0 victories, and Asamoah Gyan has widely been the man whose shoulders have had to carry the weight of the goal scoring responsibilities. The Rennes striker has taken it in his stride, however, with three goals in four matches. And he will be the most likely threat to the Egypt defence.
Asamoah Gyan will look to feed off any defensive errors
Egypt will not be too worried going into the match, though, as they pose a threat different to any the Black Stars would have come across en route to the final. They will be patient; happy to just keep possession; which is vital when playing a team with such a formidable defensive line. Ahmed Hassan will once again pull the strings from midfield, whilst Mohamed Zidan, buoyed by his semi-final performance, will be a potent force in attack.
Prediction: The way Egypt have been playing throughout January leads me to believe they have what it takes to break down Ghana and retain their title. The Black Stars haven't netted more than once in any of their four matches, and superior attacking prowess should see Egypt through. So I feel two second half goals will give them a 2-0 victory.
(Visited 36 times, 1 visits today)