Ireland Euro 2012: Ireland vs Croatia; a tactical preview
It's been a bumpy start to the European Championships. Spain and England are each suffering from injury crises, the Dutch and the German's from the huge weight of expectation, and on top of all this the threat of racism hangs over the tournament; a dark specter to the hors d'oevre that was the first day.
Amidst all the drama, it's easy to forget about our Irish neighbours. It's almost as though they are playing in another competition, or in some sort of parallel universe. Whilst most of the other nations have been frantically preparing and ratifying their team sheets for the embryonic matches, the Irish have known all along how they will play, and perhaps more importantly who they will play. Trapattoni has his experienced side relaxed, prime and ready. Where other nations will have to channel expectation into worthy performances, Ireland's distinct lack of expectation could be of massive aid to the players.
The first, eagerly anticipated match is against the Croatian's perhaps the easiest game of the group, which isn't saying too much bearing in mind that World Champions Spain and previous winners Italy from the rest of Group C. For Ireland there will be a heavy focus on snatching 3 points, to have any realistic hopes of reaching the quarter finals and who knows, maybe beyond this point; anybody remember Greece; 2004? Denmark 1992? Nonetheless, all that matters to the Republic's passionate following is that the long 24 year wait to compete in this tournament again, is over.
Ireland
Manager – Giovanni Trapattoni; the experienced Italian has been an embodiment of the Irish spirit. At 72 years of age he is the oldest manager taking part in this summer's festivities. Although heavily criticized for his defensive mindset, he appears to know how to squeeze the best our of all of his players, and the boys in Green seem a different team under his stewardship.
Key man – Robbie Keane; this is an Irish side mainly focused on defensive duty, and as such the forwards – Keane and Long, get very few chances. However, much of Ireland's recent history has been based upon Keane snapping up chances and making himself the hero of the hour, just like against Germany in the 2002 World Cup when the LA Galaxy striker snatched an equalizer in stoppage time.
Probable formation;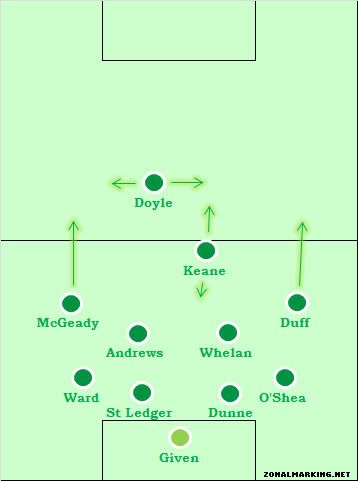 Rigid and organised, Ireland will pride themselves upon being hard to beat. O'Shea and Ward will stick deep to form the defensive line with St Ledger and Dunne. With Whelan and Andrews very rarely crossing the half way line, much of the pressure going forward will be on Duff and McGeady to bomb forward with pace in order to find room and cross. Yesterday – during Poland's draw with Greece- we saw Lewandowski isolated for the majority of the second half, the wingers will have to make sure this is not the case with Keane and Doyle. Keane is given a fairly free role, similar to how Rooney plays for Manchester United – dropping deep to form a five man midfield when defending, put also putting balls to the wingers, making space for Doyle and arriving late into the penalty area to take chances.
Strengths:
Experience; The Irish starting XI is littered with big game experience, and a lot of these players were present during Ireland's 2002 World Cup campaign. They know the pressures of pulling on the Green shirt, and also how to operate around the training camp. This experience could prove vital against Italy and Spain.
Passionate following; Whereas other nations have suffered a lack of support due to threat of racism, it would seem that the Irish faithful have flown out to cheer their team on, and they have more passionate fans than a lot of other competitors. They have been waiting 12 years for this, and their going to enjoy themselves.
Shay Given; Although often neglected, the goalkeeper can often form the most important part of the team, particularly one that is likely to be dominated by the opposition. The Aston Villa man has big game experience and can keep a cool head under pressure, just what Ireland will need. He is also a confident, which is crucial because if a goalkeeper is nervous that will transcend to the back 4 in front of him.
Defensive organisation; Due to the "Traps" mindset, Ireland are disciplined defensively, and there is little risk of them being caught out on the counter attack. They pride themselves on being hard to beat, a reputation that Roy Hodgson is attempting to form for his England side.
Wingers; As said, there is pressure on the wingers to perform, and certainly Ireland have the quality. Aiden McGeady, once of Celtic, now Spartak Moscow, is a quick and crafty winger, capable of creating a hatload of chances for Keane and Doyle. Duff is a hard working winger, not the fasted nor the most creative, but as a manager you know what you will get from the Fulham man; 110% effort. If this combination does not work than Trapattoni can call on Stoke's Jonathon Walters, who has had a great season for Stoke, or James McLean, who's form for Sunderland has been a revelation.
Weaknesses
Center backs; Dunne and St Ledger may well know their roles and be the first choice defenders, but there is still a large risk in playing them. They will be under huge pressure, and despite rarely conceding in qualifying, when they have it's been down to defensive errors. It takes a huge amount of concentration to stay in a defensive line, and when somebody loses concentration, gaps will appear in the defense. Although Dunne is for the most part a solid defender, he is prone to an error, as shown by the fact that the ex-Manchester City player has the most own goals in Premier League history. Surely Spain and Italy will be able to suss out these errors?
Center midfield; Whilst Whelan and Andrews both embody the defensive nature and experience of this Irish side, there is always a risk of them becoming overrun, particularly against the magnificent Spain midfield.
Letting teams onto them; Being strong defensively is all well and good, but inviting teams onto you could be suicidal, particularly in international football. There's a reliance both on the defense staying solid, but also on the opposition's forwards having a bad day. Take Chelsea for example. Take nothing away from them, they were sensational defensively and never gave in, a fantastic spirit and never say die attitude, but Barca seemed to run out of ideas and Mario Gomez had a poor  game in the final. At the end of the day,e ven if you do have a solid defense, eventually world class players can break through.
Croatia
Manager – Slaven Bilic: At 44 the ex- Croatian international is a young manager, although he has plenty of experience managing his home country, acting as Under 21 coach from 2004 to 2006, and taking on the role as manager of the first team in 2006. One of the most courted managers in European football, Bilic has instilled a sense of unity amognst the dressing room, and his attacking style lead to famous victories over the Three Lions, which helped in qualification to the last tournament.
Key player – Luka Modric: Another solid season for the versatile and dynamic Spur's midfielder. Even towards the end of the season when it seemed that most of his Spur's teammates were losing their heads, he kept calm and continued to create chances. Modric is a quality creative midfielder, a rare entity in the modern game; interest from Manchester United and Chelsea is a reflection of the unique nature of such a talent.
Probable formation;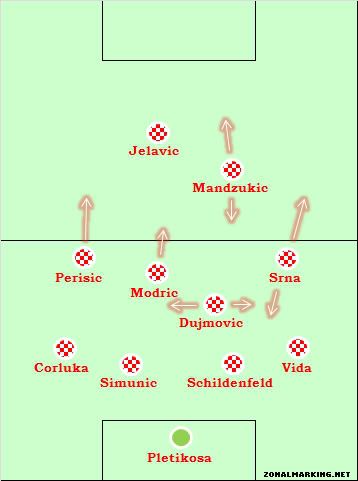 Bilic has adapted his previously favored 4-1-3-2 formation for a fairly simple looking 4-4-2. It is likely that Dormund's Perisic will be preferred to Ivan Rakitic of Schalke, as he does not provide the same width and often comes into Modric's space.  Srna, once a full back, will be instructed to bomb up that right wing, but if the Croat's find themselves under pressure, it is likely that he will drop deeper to support Vida in the right back position. Dujmovic's duty will primarily be as a shield to the defense, protecting it in order to give Perisic, Modric and Srna more freedom to get forward and support the striker.
Strengths;
Defensive protection; Srna, in the right of midfield, has a wealth of experience playing at right back, and as such is perfectly suited to giving extra support to the defense, a duty similar to Dujmovic to his left hand side.
Pace on the break; In front of a stretched opposition defense, the Croatian counter attack can be lethal, with pace on either flanks and Modric able to distribute quickly and accurately. Perisic on the left has the pace to harm the opposition, and most of these counter attacks form themselves on this side of the midfield.
Ivica Jelavic; In some ways, the injury to Olic could be a blessing in disguise, as his replacement will be primed and ready to go. What a season the Everton man has had; he has proven that he is quality not just in the SPL, but in one of Europe's top leagues, and for this reason will be capable of taking his chances when required too.
Weaknesses:
Defense; Croatia seem to have a severe lack of width and pace in the full backs, and question marks have been raised over the capabilities of Simunic and Schildenfeld. These weaknesses at the back may well be exploited by the Irish long ball on the break.
Dujmovic;  In 2008 Croatia had Niko Kovac playing in a similar position to Dujmovic, and he seemed better suited to this position, with the intelligence to know where to run and how deep to stay. Dujmovic is adapting to this position, but struggles and this could be punished by Robbie Keane, who he will most likely be up against on Sunday.
Over reliance on Modric; 4 years ago there was a wealth of Croatian quality, and at this point there was no clear cut "key player". Now though the talent has, to a degree, dried up, and much of the focus will on Modric. He is undoubtedly a special player, but he has played a hell of a lot of football for Spurs this season, and no doubt will be affected by rumors linking him with a transfer to Mancheser United.
Verdict:
This is likely to be a bit of a strange match, both teams really need victories due to the strength of Italy and Spain, to be in a disadvantaged position with them both still to play would be disastrous for both of them.  I can see Croatia dominating, Bilic knows the importance of this game and his is known to adapt his tactics, whereas Trapattoni has been more keen on a regimented approach, with the same rigid style for every match.
The big question is whether or not the Irish can hold out against Croatia going forward. The game plan will be to hold out until 70 minutes or so, then take a gamble, throwing on Walters of McLean in place of Damien Duff to have more threat going forward. It would be a massive gamble , and a stretched finale doesn't really suit either team. I'm going to plumb for Ireland, they have this fantastic unity and belief amognst the squad, caused in part by their fanbase. However, it's going to be a tight game and will be decided primarily by what occurs late on in the game, when the defenses start to lose concentration and both sides gamble. I feel Ireland have a better defense, and are more suited to snapping up chances, but at the same time Croatia could nick it, or neither side could find a breakthrough. There is no doubt that this will be an extremely tight match.
(Visited 43 times, 1 visits today)