Just a few weeks ago, it seemed that that Ireland's class of XI would need to emulate the Green legends before them, mostly those who played under the stewardship of Jack Charlton. Organised, resolute and difficult to beat, they were the epitome of the system and the results Italian Giovanni Trapattoni desired.
Now, though, Ireland need to look to new inspiration, after a disastrous defeat against Croatia all, rendered their chances of qualification even slimmer. Now the scale of the task ahead of them is even larger than the task facing Chelsea in March of their Champions League pursuit. Irish fans will have to look on to Liverpool's heroics against AC Milan, fighting from 3-0 down to claim European glory, as evidence that the seemingly impossible can be made possible in front of their own eyes.
It might only have been one game out of three, but facing the two previous winners of the World Cup; Spain and Italy, even the likes of Germany and Holland cannot hold much hope, let alone the Irish team ranked 18th in the World Rankings and with a 100/1 chance of lefting Henri Delauney trophy of July 1st.
Looking at the strength of the Spanish sensations, on paper the game is all but lost. Most avid football fans would claim that matches aren't won and lost on paper, but even in terms of desire and will to win, Spain may well come out on top, they need to win this game. Ireland want to win this game; if they qualify it would be a sensational achievement, but the Irish faithful aren't expectant, in the same way that the Spanish fans are. The fact that the Irish are playing in this tournament points to the team meeting the expectations set by the IFA and the Irish fans. Spain's new found level of expectation is, in a way, the disadvantage of such colossal success. Nonetheless, the likes of Xavi, Iniesta, Casillas and co have the experience and class to see themselves through.
Ireland; Tactics
From a tactical prospective, Ireland cannot hold out too much hope either. Before the tournament, Ireland's style of play was clear as daylight, and the starting XI almost picked itself. In the light of Sunday's disaster, though, questions will be asked of this Irish team. It was obvious that Ireland would need to change whatever happened on Sunday evening in the Municipal Stadium, after all these are the world's best. But the events of Sunday show further that a change of system is needed, as well as a change in personell. On Sunday, Ireland lined up as so;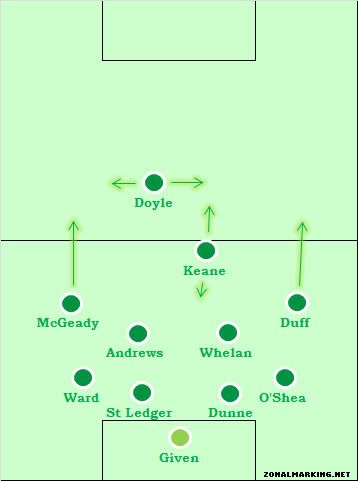 The aim was to invite pressure, stay in two solid lines of four in order to frustrate the opposition, and look to nick 3 points either from a long ball that the weak Croatian defense would be unable to deal with or break quickly with the pace of McGeady down the left and the finishing capabilities of Doyle and Keane. (For further details, see my previous article on this blog; "The Trap will have to put stubbornness aside amidst the group of death")
Weaknesses
This seemed a fairly good strategy to beat the Croatians, but it was reliant on so many factors. Firstly, Andrews and Whelan in the center of midfield would have to put in a Scott Parker-esque effort to stop Luka Modric from roaming into their half and causing serious problems.They didn't.  Dropping deep in order to aid the defense is fine, in fact it is playing to Ireland"s strengths and makes them hard to beat but, Andrews and Whelan dropped so deep that Modric, and at times the more defensive minded Vukojovic, had the freedom of the midfield.
Up against Spain this simply has to change, I wouldn't be at all surprised if Trapattoni put in a third midfielder, most probably Darron Gibson, and replaced one of Andrews or Whelan for Steven Hunt or Derby's Paul Green, to add more mobility.  Yes, Andrews did push further up the pitch to deal with Modric, but he let his marker go so frequently that Modric was bossing the midfield on his own. They have to stay further up the pitch in order to cope with Xavi, Iniesta and Silva, particularly if Spain start with the same 4-6-0 formation that they did on Saturday, with 6 natural central midfielders.
Inviting pressure is a risky strategy, it may have worked for Chelsea, but unless you defend very capably indeed it is suicidal, especially against technically gifted teams of Spain's class. It seemed pre-kick off that Dunne and St Ledger in the heart of defense would be able to deal with this pressure, certainly their performances in qualifying showed that they could be difficult to beat. The full backs, O'Shea and Ward, also seemed capable of doing a job on the Croatian front line, two experienced defenders with previous in the Premier League. But, for the first goal the Irish back four did not clear their lines effectively enough, although the goal itself should be blamed on Andrews and Whelan for failing to cover the space that Mandzukic had to set himself and head home. The second goal was a catalogue of errors, Modric invited to shoot, as he was all match, smashed the ball against the Irish defensive wall and when the ball ricocheted into the path of Ward he panicked, sliced at it, and gifted Jelavic the chance to lift over the incoming Shay Given. Defend like that against Spain and the Boys in Green can pack their bags for the long flight home.
Shay Given seemed a reliable option, the manner in which he dealt with many of Croatia's long range efforts showed this. However, the first goal simply should have been dealt with, the Villa man seemed to panic and anticipate where the header was going to end up, a risky method of goalkeeping. When Mandzukic planted the header to Given's right, he was off balance and needed to re-direct himself very quickly, and his failure to do so gave Croatia a 3rd minute lead.
Although the 3rd goal will forever be listen as an own goal by Ireland's number 1, Given was extremely unfortunate, the ball coming back off the post and onto his head, to blame him for that would simply be absurd. Nonetheless, Given needs to be at his very best on Thursday, mentally and physically. No doubt he will have taken a beating in the Irish press, and the error may well play on his mind in preparation. He needs to show his experience, forget about it, and move onto the next match as confident as he was at the start of the tournament, which is easier said than done.
Ireland's game plan is based around the strikers, Doyle and Keane, taking the few chances that they may get. On Sunday, they did half the job, scoring off a set piece. But they showed extremely little going forward otherwise, despire a 20 minute spell after St Ledger's equalizer, in which Ireland looked capable of scoring. Barring the goal itself, Trapattoni's men were hapless going forward and against Spain, when chances to roam forward will be scant, they will need to do considerably better.
These frialties have put Ireland in a seemingly impossible position, but there is no question that this Irish are masters of dragging themselves out of sticky situations. Among both their passionate following and their players, there is a determination; they have not been at a European Championship for 24 years and will want to gain every point possible in case they have to wait that long again.
They also have experience that some other nations appear to be lacking. Whilst this means that there is a distinct lack of pace, barring Aiden McGeady, who was anonymous on Sunday, Ireland's players are more capable of keeping focus and concentration, and some even have experience of triumphing against teams of Spain's stature.
Spain
What can you say about Spain? They are, simply put, the best on the Earth. The preparation of the favorites will be as much focused on how to beat Spain than anything else, as it seems the winners of this tournament will have to beat the men in red. Whilst their passing style might not be the most interesting to watch, one can't help but appreciate the collective intelligence of this team.
On Saturday, against Italy, they played a 4-6-0 formation, to Italy's 3-5-2: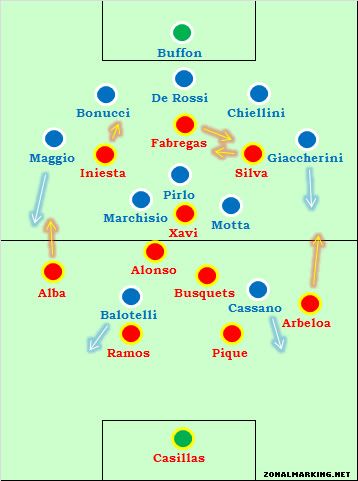 The decision to play no striker was a very strange one indeed. Some may claim that it proved successful, as Fabregas who occupied the "striker role" scored the equalizer, but it was only when Spain brought on Fernando Torres that the game changed in their favour. I very much doubt that Del Bosque will side with a similar system again, in fact I suspect that he will start with Jesus Navas and Fernando Torres. Their pace in the last 15 minutes was devastating, Navas had a lot of joy down the right hand side against Giacherrini, and he was the only player to really have a run at the Italian defense. Torres did waste two great chances, chances that 3 years ago in a Liverpool shirt he would have lashed home with relative ease, but one has to consider the fact that it was his movement that created them. If he can show that same level of intelligence against Ireland than he may well be in luck on Thursday.
Watching Spain is a hard task, the ball moving from player to player at such a speed, yet the tempo of the game remaining slow, bar when the World's best really get into their rythm. For fans, eager viewers and commentators alike, it is almost impossible not to be mesmerized by the never ending moves that the Spanish side put together. Imagine, though, what it must be like for the players. Playing and beating Spain is an extremely difficult task physically, but also mentally, there is such a high amount of focus that needs to be put into tracking your man, but also keeping an eye of various decoy runs and how the move is advancing. This will have to be the case on Thursday, but the issue is that Spain do put together these long passages of play so frequently that eventually, it is inevitable that an opposition defender will lose focus, break from the line or take himself out of the game with a reckless challenge. They wore Italy down on Saturday, and eventually found a way through. Although Italy were superb, there is no doubting that the way the game was flowing, had Spain been given 20 extra minutes they would have claimed victory. It was once said of Manchester United that; "they never lose, they just run out of time" , the same applies to this Spanish XI.
Nonetheless, there is an, albeit minor, weakness in Spain's team, a chink in the armour of the King's of Europe and the World. Much has been made at how more technically gifted, smaller sides, would cope with the Irish long ball and although Croatia dealt with it rather effectively, question marks will be raised at Spain's defensive capabilities. Most of us would have Ramos and Pique in our fantasy teams, they are top players, that is not up for debate. But Spain's system leads to them playing higher up the pitch, and thus more liable to counter attacks. The two of them allowed Di Natale in behind them as Italy broke out at rapid speed, and the Udinese striker punished them. If Ireland can break up Spain's attacks early on, through Andrews and Whelan, then get a flick on towards Keane and Doyle, there is a chance, just a chance, that Spain's defense could crack again.
Verdict
Ireland are a fantastic team to write about, whilst some may claim that their brand of play if "anti-football", one cannot deny that the personality of both the squad itself and the fans, usurps any other team in this tournament. However, one can't help but feel that qualification for this tournament is the limit, given the challenge before them. Yes, Chelsea did it to Barca, and yes, various teams have triumphed from abnormally dire positions. But the gap in quality between these two sides is as wide as the gap between any other of the teams in this tournament.
After the draw against Italy, Spain will be desperate to hit back here and assert themselves in a tough group. Finishing 2nd in the group limits their chances of victory, and although Spain should be able to overcome England or France in the Quarter Finals, they will want to avoid playing the stronger of the two, which ill be defined by the group standings. As of yet, no side has set down the gauntlet. Germany struggled to a victory, Holland created but didn't convert and France could break through England's resolute defense. Many of the Spanish fans will be considering this as their chance to do so.
(Visited 34 times, 1 visits today)