A goal after six minutes from Valencia giant Nikola Zigic brought South Korea's 27 match unbeaten run to an abrupt end at Fulham's Craven Cottage. The game kicked-off at the odd-time of 2.30pm and was played infront of pretty much an empty stadium with one of the highlights being the happy bunch of Koreans.
The 6ft 8in Valencia striker started in attack alongside Danko Lazovic of PSV, who is reported to have recommended the controversial treatment to Robin Van Persie after his ligament injury against Italy on Saturday. Zigic put the Serbians ahead after six minutes when Nenad Milijas of Wolves swooped in a left-footed cross into the penalty area, Zigic nipped in front of the static South Korean defender and glanced the ball into the corner of the net with Young-Kwang in the Korea goal confused by the bounce off the ground.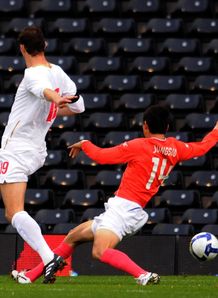 Zigic Scoring Only Goal of Match
South Korea will have proven good opposition for the talented Serbian side who beat Northern Ireland 1-0 at Windsor Park on Saturday while their counterparts drew 0-0 with Denmark in their preparation for the FIFA World Cup in South Africa. The star man for Korea, Park Ji-Sung, who has nearly 500,000 people in his fan club, was cheered enthusiastically by the bunch of Korean supporters who were there at Craven Cottage in a pretty, low, kind of like an end-of season match where nothing is at stake.
For Radomir Antic's side there were only really another three main chances of note during the game. Nemanja Vidic, the Serbian Captain, who had just returned from a calf injury almost put Serbia ahead in the first-half when his header from close-range was well palmed away from the South Korean goalkeeper Kim Young-Kwang. Vidic played 70 minutes of this match in his road to recovery and Sir Alex Ferguson will be delighted the Manchester United stopper came through this without being injured and is now in contention for United's game against Everton at Old Trafford on Saturday.
Lazio full-back Aleksandr Korlov hit the crossbar in the first-half from a free-kick about 30 yards out when his curling effort caught the Korean goalkeeper napping, not for the first time in the game. CSKA Moscow star Milos Krasic also came close near the end of the game when his fizzing free-kick went wide of the post. The Serbian side finished top of their qualifying group for the World Cup with 20 points and an impressive goal difference, pipping Raymond Domenech's under-performing French side to the automatic spot.
The Koreans had a great chance late in the game, created intelligently by Park Ji-Sung as he slided Lee Dong-Gook, who came on as a substitute, through but his shot trickled past the post. Park, got 70 minutes as well in this friendly after being out of action since October with a knee injury and this will please his manager Sir Alex Ferguson as well. Korea had four of the players who helped them reach the semi-finals of the 2002 World Cup under Guus Hiddink in their starting line-up, but they were little match for the powerful Serbian team who have now won 2 out of 2 in their World Cup Preparation matches.

(Visited 62 times, 1 visits today)