Regardless of which domestic league you play in, reaching the Last 16 is a milestone and fills any side with the belief that this year, might be their year of glory. The same applies to Greek side Panathinaikos, who have booked a date with Standard Leige in the Last 16 of the UEFA Europa League. Prasini (The Greens), have a glittering record since being established in Eastern Athens in 1908. Nineteen Greek Championships, sixteen Greek Cups and four Greek Super Cups are held in the Panathinaikos trophy room, but a gap remains in their illustrious history which has saw them become regarded as Greece's most successful club, a European trophy. Could 2010 be the year of the Shamrocks?
Giorgos Karagounis in action for Panathinaikos
Panathinaikos entered the Europa League in its inaugral year after finishing 3rd in the Greek Super League in 2008-09. Matchday One began horrifically for Panathinaikos when they were comfortably turned over by Galatasaray in Athens. Elano, Baros and a Sarriegi O.G was enough for Rijkaard's men to defeat the Greeks 3-1 on the night, with Salpingidis pulling back a late consolation. Needing to redeem themselves, Nikos Nioplias' men travelled to the Romanian capital to take on Dinamo Bucharest and left victorious after a 1-0 win thanks to a goal 11 minutes from the end by Giorgios Karagounis. Next, the Greeks secured back-to-back wins with a home victory over Sturm Graz with Salpingidis scoring from the penalty spot after the hour mark and Katsouranis sealed the win away from home. A hostile battle in Istanbul would be next for the Greeks, but they couldn't get revenge on Galatasaray as the home side sneaked a 1-0 victory thanks to an O.G from Gilberto. Dinamo Bucharest were the final opponents for Panathinaikos and the Greeks enjoyed a thumping 3-0 victory in Athens which set-up a Last 32 tie with AS Roma.
Europa League has been success in inaugral year
The eagerly anticipated Last 32 tie, which saw the Greeks take on the Romans in a fierce battle, would produce some magnificent entertainment with 10 goals in total over the two legs. In the first-leg in Athens, Panathinaikos enjoyed a 3-2 victory over with Salpingidis, Christodopoulos and Cisse on the scoresheet. The second-leg in Rome was expected to be a game that the Greeks would approach cautiously but the visitors fired home three away goals which would kill the resurgent Roma, who led through John Arne Riise. Djibril Cisse, his former Liverpool team-mate scored a quickfire double on the stroke of half-time with Sotiris Ninis scoring in between to give Panathinaikos a 3-1 lead at half-time and they held on for a memorable win.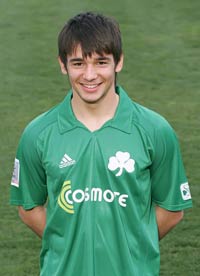 Sotiris Ninis – The hot property of Greek football
One of the star's of the current Panathinaikos squad is 19 year-old midfielder Sotiris Ninis, who proudly wears the No.7 jersey. Ninis preferably plays on the right-side of midfield or between midfield and attack but is adept at playing across the midfield. With a small, quite stalky presence, Ninis is a creator with superb vision and guile.  It is in attack where Panathinaikos are very strong and they usually have Dmitris Salpingidis and Djibril Cisse in attack. At the heart of the Panathinaikos midfield, there is a wealth of experience through Giorgio Karagounis and Gilberto Silva.
I genuinely think Panathinaikos have a decent chance of reaching the latter rounds of the competition and they have proven their capabilities with a thumping win over Roma, a very good side themselves. Panathinaikos are a team who score goals and can stubbornly hold on to victories, as shown with three 1-0 wins in the Group Stage. Standard Leige is a tough tie for them next round, but overcoming this would prove they are serious contenders.
(Visited 92 times, 1 visits today)