Due to the drawn out saga, that was, the inevitabe appointment of Jose Mourinho; Inter Milan hd limited time to search the transfer market and prepare for defending the Scudetto. With Juventus' return to Europe's elite, they are rebuilding and will mount a serious challenge for the title.
TRANSFERS
If speculation was to be beleived, then Frank Lampard was set to become Mourinho's first signing. But, thankfully if you ask me, it wasn't to be, as the midfielder opted to renew his contract at Chelsea. Although, there was a big name to come in as his first signing. Mancini signed from Roma for a fee of 12.5 million euros. Gahnaian midfielder, Sulley Ali Muntari, was soon to follow, signing for 14 million euros. 18-year-old Romanian midfielder Cristian Daminuaeaf joined his compatriot, Christian Chivu, at the San Siro. Brazilian wonderkid, Coutinho, also signed but has been loaned back to his previous club until 2010, whilst he gains some valuble experience.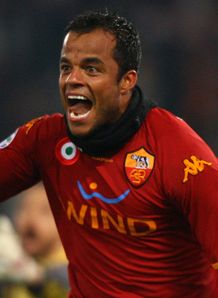 Despite stating that Muntari would see the end of the Nezzuri's summer transfer activities; it seems that Ricardo Quaresma remains the main target of both Jose Mourinho, and president, Massimo Moratti.
PRE-SEASON
Inter have been having a good pre-seaosn ahead of the new campaign, which included a 1-0 win over German champions Bayern Munich. "It was a good training exercise for us," Mourinho declared after the Bayern game. "We played a great side who will start their Bundesliga campaign in a few days and are obviously a bit ahead of us in their preparations. They were a very well organised side.
"We have difficult friendlies with Sevilla, Ajax and Benfica still to come and we selected them because we wanted difficult games, not 4-0 or 5-0 wins.
"What I liked most was the development of the team. Game after game we are just getting better and better. The team's spirit also made me happy. There was a noticeable empathy between the players.
"We seemed balanced and we managed possession well in the second half. In the last 15 minutes, it was important to keep our lead because that situation will arise often during the season. " They then went on to draw against Sevilla, and defeat Ajax 1-0 in the Amsterdam tournemant.
ONE TO WATCH
There are a number of young players who will be looking to make a big impact at Inter this season, not least of all striker, Mario Balotelli. The 18-year-old was born in Gahna, but adopted by an Italian family, and recently received Italian citezonship. He was only given his debut in December last season, but since became a vital part of the Inter team in the title race. He made a name for himself in the Coppa Italia, when he netted twice against Juventus and twice against Reggina. At this age, first-team football can prove invaluable, and, despite Inter's overwhelming plethora of attacking options, "Super Mario" will not be loaned out, and may be depolyed up front quite often this season. He will be battling with Adriano, Julio Cruz, Hernan Crespo and David Suazo for a first team place alongside Zlatan Ibrahimovic next season. Massimo Moratti has insisted the striker is a big part of Mourinho's plans.
"It's an exceptional time due to his sudden success and there is the temptation to prove himself in exceptional projects," Moratti said. "But life is made up of small steps. Now Balotelli has a great Coach and the chance to show his value. Then he will earn what he deserves."
Adriano is another player who has something to prove this season. He was seemingly being squeezed out by former coach, Roberto Mancini, and was on loan to Sao Paolo for the back end of last season. But now, it seems, Mourinho is ready to hand the silky Brazilian a new contract. He will also have a fight on his hands to earn a starting place.
Three consecutive Scudettos will be hard to emulate this season, but Mourinho was hired to bring home the Champions League.
(Visited 36 times, 1 visits today)