Jordi Cruyff. The early Ryan Giggs. Nigel Clough. Call it living in the shadows, call it a natural comparison, either way football is full of them. Whether your father was a great footballer you are trying to emulate or your a wonder kid coming through the ranks. Comparisons are part of not only football but everyday life.
Living in the shadows of someone though is a burden. Living in the shadows; living behind someone shining while you are living in the dark. It's often the case the person living in the shadows puts to much of the burden on his own shoulders- Jordi Cruyff couldn't even bare the surname of his father on the back of his shirt when playing.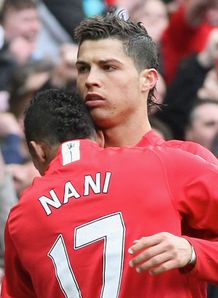 So when your star player is sold for £80 million there is automatically going to be comparisons made with his replacement. But, in the case of Ronaldo, Valencia, who was bought soon after Ronaldo was presented to the Madrid faithful like an King who had just returned home after a concurring battle, was not the man who was to be in question to make comparison too. He was already at Old Trafford.
Bought like Ronaldo from Sporting Lisbon, Nani came to Manchester United for £17.3 million in the summer of 2008. From his first attempt at a step over in the famous red and white to the first failed cross. The Stratford End had seen this party trick before three years earlier and the comparisons were made to the early Ronaldo. It was natural. Ronaldo took Nani under his wing and they shared the same attributes, although Ronaldo a whole lot better. They even wore the same boots.
So when it was announced Ronaldo was off to Real, in the days before Valencia had signed his 4 year deal for £16 million, Nani expressed he was the man to fill Ronaldo's boots.
This would have brought sniggers, even laughs to the Manchester United faithful who have seen Nani develop into nothing but a under performing wannabe in his second season at the club. But, he had had the ability; his danger was falling into the trap of living in Ronaldo's shadows.
The evidence of this ability came on a February Champions League 2nd Round 1st leg match in Lyon, 2008. United 1-0 down with 20 minutes to go looked like it was one of those nights and the job would have to be finished with at least a 2-0 win in the second leg. Enter Nani. He didn't score. Tevez did but Lyon become unable to handle another winger who had a trick and could cross a ball with pace. Without Nani's introduction would the game have finished 1-1? Would United have even got past Lyon on their way to their third European Cup?
We will never know but what we do know is Nani showed, if only glimpses, of the ability to be a match winner. Nani got injured soon after and since has found it difficult at United. United have found Nani at times, difficult. Well it will be. Claiming to be the new savour and finding yourself in the dark both in the squad and in the shadows of a certain £80 million pound man.
Whether it was the belief he could repeat the form of that night in Lyon or it was January and playing him was a window for on looking potential buyers, he played and played well. Nani, a right footer who unlike Ronaldo started his United career on the left, played against Hull, Man City and Arsenal on the right hand side in a impressive fashion.
The Arsenal game saw Manchester United's best performance since they were in the same stadium last season in the Champions League Semi Final. But why has it taken so long for United to repeat it? Nani.
This season United have mastered the 'side ways' pass. Carrick and Fletcher, hard workers like to keep the ball and there's nothing wrong with that. Add Valencia who has pace a good cross but has more often that not this season passed the ball back sideways to either Carrick or Fletcher when faced with a defender instead of taking them on. As a result their performances have suffered.
Their results though they have got away with.
Currently one point behind Chelsea with the sense of freshness in their recent displays. A freshness which has seen United get back to their best. Sucking teams in and then ripping them apart with the pace of their counter attack. Rooney has been fantastic but can't do it all on his own. Giggs has had an outstanding season but is only being played every other game. There is a gap in the United team, a gap that needs to be filled to avoid the 'side ways' football United have spent to much of their season playing. A gap which Nani has filled almost perfectly in recent games. But the challenge is now to do it game in game out.
Consistence.
Consistence like Ronaldo finished his United career. Though, like Nani didn't start with. Nani can do it but needs to continue this vain of form as its not just coincidence Nani and United have hit form together. The two must though go hand in hand if United are to challenge for trophies and the record books of a fourth consecutive title.
Nani must transform in the same way Ronaldo did from the ugly duckling to the gorgeous swan. He must learn while comparisons to Ronaldo will continue, take it as a complement, not as the weight which has seen him face the first part of the season living in the shadows.
Jordi Cruyff never saw the sun shine from the shadows he lived in behind his father. Ryan Giggs has won more trophies, played more games and scored more goals than George Best ever did for Manchester United. It remains to be seen whether Nigel will generate comparisons with Brain Clough or live in his shadows. Either way, if Nani keeps going United wont need to splash out any of that '£100 million' transfer budget this summer, not on a flamboyant new Ronaldo anyway.
(Visited 1,659 times, 1 visits today)