Right so, simple question first, just who the hell are FC Zenit Saint Petersbeg? In this, the first ever Zenit post, I'll give you a bit of the club history, some info on the current squad and a list of all their achievements.
History
Zenit's club history is a little complicated. A lot of people argue about just when the club was created; some say 1914, others 1925. Most say 1925 but this is a little unclear due to the fact so many early Russian football clubs kept changing their names. We do know that a team called 'Zenit Murzinka' played at the Obukhovsky stadium between 1914 and 1925, before they changed their name to Bolshevik. This is where another Russian team comes into the story- Stalinets.
Many believe that the Stalinets were the early version of Zenit St. Petersburg (like Hotspur FC were the early version of Tottenham Hotspur FC). The Stalinets were formed by the workers of the LMZ metal plant. Both the Stalinets and Murzinka played under the first name 'Zenit' before the two clubs merged in 1939.
The current name of 'FC Zenit' was registred in 1936 as Bolshevik became part of the Zenit sports society. The club were then re-named FC Zenit, Stanlinets joined 3 years later. At the end of 1939, FC Zenit started playing competitive football. FC Zenit had joined the big boys.
Zenit won their first trophy in 1944 after defeating fellow Russians CSKA in the USSR Cup. Despite their initial sucsess however, the following 20 years were difficult for Zenit. A series of mid-table finishes followed, with no repeat of their 1944 cup glory. The club even finished bottom of their league in 1967 meaning relegation. However they were saved from dropping down a league by the Russian goverment, who decided it would be unfair to relegate a Leningrad team, whilst their was a celebration going on in the city.
Sucsess eluded Zenit until the 1980's, when they finally broke their achivement duck. They won a bronze medal in Russian football in 1980, finished as runners-up in the Soviet Cup in 1984 and won the Soviet League in the same year. The club were even crowned as the best team in Russia the following year, after winning the Soviet Super Cup.
The club were relegated from the Russian top-flight in 1992, but bounced back in 1996. They haven't been relegated since.
The clubs next piece of significant silverware came in 1999, when they won the Russian cup. They finished third in the league in 2001, finished as runners-up in the Russian Cup in 2002 and won the Russian league cup in 2003.
The Gazprom revolution
Gazprom invested in Zenit in December 2005, instantly making Zenit the richest club in Russian football. Gazprom immediately spent $100mil on new players and a new stadium, the 60 000 capacity Zenit Stadium. The stadium will be ready to play in in December of this year.
Gazprom's investement didn't immediately spell sucsess for Zenit. Despite finishing in the quarter-finals of the UEFA cup, the club finished mid-table in the league. Gazprom weren't happy; Vlastimel Petrzela was sacked. Well respected Dutch gaffer Dick Advocaat was bought in.
Advocaat made an impression straight away; the club won the league in 2007 and went on to win the UEFA cup. This means Zenit will feature in this year's Champions league and also meant that they had qualified for the UEFA Super Cup. The club played that match this August and defeated Manchester United 2-1 to become the best team in Europe. More on that later.
The current squad
 Goal Keepers.
#1. Kamil Contofalsky. Slovakian and Zenit goalie. Currently Zenit's number two; back up for Malafeev .Been at Zenit since 2003.
#16. Vyacheslav Malafeev.  Russian goalie. Very good shot stopper and the club's number one. Sufferd an injury in 2005 and lost his first team place to Contofalsky and Akinfeev (Football Manager 2007 fan's will know who he is) but regained his place with some great reserve team appearences.
Defenders.
#4. Ivica Krizanac. Croatian 29 year old. Has made 88 appearences since joining the club in 2005.
#5. Kim Jong Din. South Korean left back. Joined the club in 2006 and has played in most Russian League games since.
#11. Radek Sirl. Versatile Czech player who plays anywhere down the left. Started the UEFA cup final against Rangers.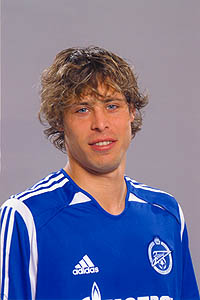 #14. Tomas Hubocan. Joined Zenit this year for 3.8 million euro's. Very promising Czech cente-back who's only 22.
Midfield.
#44. Anatoliy Tymoshchuk. CAPTAIN. Zenit skipper. Plays in defensive midfield for both Zenit and the Ukraine. Only been at the club since 2007.
#17. Lee Ho. Korean midfielder. Played in all of Korea's 2006 world cup games. A first team regular.
#27. Igor Denisov. Russian mid-fielder who started the UEFA cup final.
#18. Konstantin Zyryanov. Russian international who plays anywhere in the mid-field.
#19. Danny. Danny Alves joined Zenit this year and played in the UEFA Super Cup. Fast right-winger.
Strikers.
#8. Pavel Pogrebnyak. Russian striker who has been at Zenit since 2006. Impressive hitman, who has netted 29 times in 54 Zenit Games.
#9. Fatih Tekke. Turkish striker who has scored 10 times in 40 Zenit games. Impressed in Euro 2008, and is one of the most well-known sportsman in Turkey today.
#10. Andrei Arshavin. Possibly the most famous Zenit player. Performed well in Euro 2008, and put in man of the match performances in the UEFA Cup final and the Russian Cup final. Has netted 47 times in 217 games for Zenit. Recently linked with Arsenal, Barcelona and Tottenham. After Euro 2008 he declared his desire to leave the club but has since played for Zenit. Vice Captain.
Note. An intrsting fact I found on Wikipedia. The Zenit number 12 shirt is reserved for Zenit fans-the 12th man.
 Recent UEFA sucsess.
Zenit have won two major European trophys recently. The UEFA cup and the UEFA Super cup.
The UEFA Cup-
Zenit faced RANGERS in the 2008 UEFA Cup final. They won the match 2-0 thanks to goals from Igor Denisov and Konstantin Zyryanov. Both the managers involved had managed Rangers; the game was quickly dubbed as 'the Rangers Boss Battle'. Needless to say, Advocaat defeated Walter Smith.
Zenit had defeated a number of good European teams to reach the final; Bayern Leverkusen, Bayern Munich, Marseille and Villareal were all defeated before the final.
Man of the match was Andrei Arshavin.
Match Facts/Teams:
Zenit St Petersburg: Malafeev, Aniukov, Krizanac, Shirokov, Sirl, Tymoschuk, Zyryanov, Denisov, Faitzulin (Kim 90), Tekke, Arshavin.
Subs Not Used: Contofalsky, Radimov, Dominguez, Ricksen, Ionov, Gorshkov.
Booked: Malafeev.
Goals: Denisov 72, Zyryanov 90.
Rangers: Alexander, Broadfoot, Weir, Cuellar, Papac (Novo 77), Hemdani (McCulloch 80), Whittaker (Boyd 86), Ferguson, Thomson, Davis, Darcheville.
Subs Not Used: Graeme Smith, Adam, Dailly, Faye.
Att: 47,500
Ref: Peter Frojdfeldt (Sweden)
UEFA Super Cup-
Zenit defeated Manchester United in the 2008 UEFA Super Cup by 2 goals to 1. Pogrebnyak and Danny netted for Zenit, before Vidic pulled one back for United.
Zenit impressed in the match, with many spectators wondering wheter the Russians could win the 2009 UEFA champions league. Even United boss Alex Ferguson commented on Zenit's impressive flowing style.
Match Facts/Teams-
Man Utd: Van der Sar, Neville, Ferdinand, Vidic, Evra, Fletcher, Anderson, Scholes, Nani, Rooney, Tevez.
Subs: Kuszczak, Brown, Park, O'Shea, Gibson, Campbell, Possebon.
Goals: Vidic 73
Sent off: Scholes 90
Zenit St Petersburg: Malafeev, Krizanac, Aniukov, Puygrenier, Sirl, Zyryanov, Danny, Denisov, Tymoschuk, Pogrebniak, Dominguez.
Subs: Contofalsky, Radimov, Kim, Tekke, Arshavin, Shirokov, Faitzulin.
Goals: Pogrebniak 44, Danny 59
Referee: Claus Bo Larsen (Denmark)
This Year
Zenit are favourites for the Russian league this year, competition could come in the form of CSKA however. Many fancied Zenit for the champions league; alas, they face an uphill struggle as they were drawn in Group H, the group of death. Zenit will face Italian giants Juventus, Spanish champions Real Madrid and Belarusian underdog's BATE.
Phew, so they're you have it… a brief(ish) history of Zenit. Stay tuned for all the latest news from the (official) best team in Europe!
(Visited 170 times, 1 visits today)