When thinking of Germany, the first things that comes to mind are organisation, class and an air of calm. Well then, if you have yet to come across their unique brand of football you are in for a shock as the Bundesliga is about the most unpredictable league in Europe, mixed with a hugely fanatical fanbase necking pints like there is no tomorrow and a club associated with skulls and crossbones! Sounds like pure madness… 
2010-11 begins after the national team promised so much at the World Cup but bowed out to eventual winners Spain. However, the youthful side returned to a positive press as they did not suffer humiliation, far from it, being hailed as the next generation of German legends. This is because starlets such as Thomas Müller, Toni Kroos and Mesut Özil lit up an otherwise dreary tournament in South Africa. It will be key to see how Young Player of the Tournament, Müller, and Kroos progresses this season in a Bayern side capable of greatness. 
But the biggest news in Germany following the World Cup was the departure of Özil, undoubtedly the star of the tournament, to José Mourinho's new look Real Madrid for €15million. Sami Khedira followed suit and two of Germany's stars had left the country. Not a good start but not something to worry about as someone going the opposite way from those two was Raúl, who joined Schalke having left Real and his sparkling career there behind, and German hero, Michael Ballack, returned after his release from Chelsea, to Leverkusen.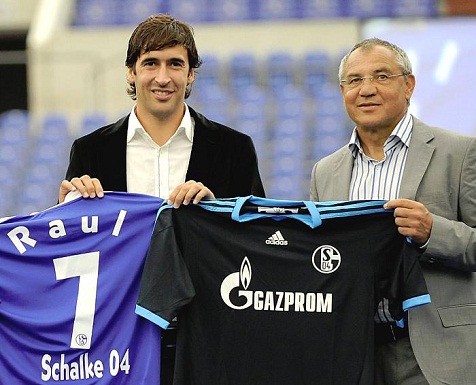 Raúl and Özil went opposite ways with the latter hoping to follow the former's footsteps 
But now onto Bayern. Unstoppable last year in Germany and Europe as Louis van Gaal's side made the final of the Champions League, only to fall to Inter Milan at the last hurdle. They finished above the challenge of Schalke by 5 points in the league and hammered Werder Bremen 4-0 in the DFB-Pokal Final (German Cup).  5 players made the team of the season (Toni Kroos played for Bayer Leverkusen but was on loan from Bayern) and scored 72 goals in the process, the highest of any team. With an array of talent including the likes of Arjen Robben (clubs top scorer last season), Müller who scored 13 last season and has started this one well, demonstrating unbelievable tekkers with a classy goal this week against Roma, Franck Ribéry, Bastian Schweinsteiger and Miroslav Klose, their roster is competitive with the very best in Europe. 
However, with some, the results of the World Cup could affect them. In England we have seen Fernando Torres and Wayne Rooney reduced to shadows of themselves following poor displays. The (hilarious) failure of France early on and Holland going so far but remaining unsuccessful, losing the Final, could have implications upon Ribéry and Robben's mental states. And how will Kroos and Müller (below) deal with their newly found limelight as much will be cast onto their shoulders this year. This is in a Bayern side who do not necessarily struggle for goals, but struggle for goalscoring strikers. Only Gómez and Olic reached double figures up front last season, 10 and 11 respectively, and as for Poland's favourite forward, Klose, he only achieved a measly and disappointing 3 league goals. 
Even though Bayern remain strong favourites, we need to consider the chasing pack. Schalke with their newly acquired strikeforce of Raúl and Klaas-Jan Huntelaar will try and push them close for the title after succumbing to second place last year. 13 new faces entered Gelsenkirchen during pre-season, Christoph Metzelder included, but could duly suffer if they do not gel hastily enough, Felix Magath will have to monitor this closely. Losing 18 goal striker Kevin Kurányi to the Russian League didn't help matters as Magath will have the added pressure of a European campaign to deal with, perhaps distracting their focus somewhat. 
VFL Wolfsburg won the title in the 08-09 season, the first in their history, and will look to add another to their prized asset. Ex-England boss, Steve McClaren took over during the summer having won the Dutch League with FC Twente, to become the first Englishman to manage in the Bundesliga. Luckily, his players fare better than his awful Dutch accent, last seasons top scorer, Edin Dzeko among the ranks. With fellow striker Grafite alongside him for support, McClaren then pulled off an awesome transfer in the form of Diego, who signed from Juventus. They demonstated their attacking superiority having stormed to a 3-0 lead against Mönchengladbach already this campaign but highlighted some key defensive frailties by ultimately losing 4-3. 
The race for the championship doesn't stop there as Leverkusen, Hamburg, Werder Bremen and Stuttgart can all challenge if they maintain a rich vain of form throughout. But with European competition getting in the way, it is often seen in Germany that league form suffers a decline as Stuttgart, Schalke and Wolfsburg sit rock bottom of the league at the moment. 
Teams of such calibre should be nowhere near that vicinity and will no doubt haul themselves out of trouble in no time. The same cannot be said for the likes of Nuremberg, Hannover 96, FC Cologne or newly promoted St.Pauli, who all face a battle at the bottom. While Nuremberg escaped the deadly wrath of relegation by winning the play-off, St.Pauli come up with relative confidence. The eccentric club have a crazy history including their fans who are self-proclaimed to be 'anti-racist, anti-fascist and anti-sexist' but still have a skull and crossbones as their official emblem. Who knows what will happen at the derby between them and Hamburg this season?! 
It gets crazier. Fans are allowed beer cards, which allow them to excessively down the beverage during matches, inevitably adding to the already extreme support shown by German fans in their standing only sections. They are suitably rewarded on the pitch with sparkling displays and performances from the World's best, and while sadly ground renovations in some stadiums prevent full houses this season, and the looniest of them all, Jens Lehmann has hung up his boots, a rollercoaster ride of a season, uncharacteristic of German culture relentlessly unfolds once again for us all to enjoy and marvel upon.
(Visited 365 times, 1 visits today)