Rangers' talisman striker Kris Boyd has been unfortunate with a hernia injury this season that has been a stumbling block for the striker as he aims to chase some of Europe's top strikers in the race for the Golden Boot. The 26-year old has a significant disadvantage which should be remembered when tallying the scores for Europe's most potent attacker, the rules only count a goal in the SPL as 1.5 points, where as, in most other leagues it counts as 2 points.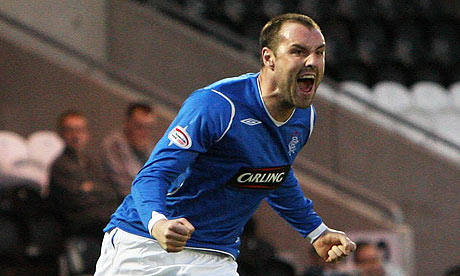 Boyd has been compared closely with the legend McCoist
The Ayrshire-born goal machine has been in destructive form for Rangers since he joined from Kilmarnock in 2006 and had an excellent start with a hat-trick on his debut. Paul Le Guen arrived in the summer of 2006 and was confident enough in Boyd to field him regularly in the UEFA Cup with the striker scoring against Livorno and Auxerre away from home. 26 goals in total that season was a good return from Boyd, who was immediately compared with the legend Ally McCoist, a very similar goalscoring striker. Walter Smith, the current manager, arrived in January 2007 and the advice of McCoist, the assistant manager, would propel Boyd from being just a goalscorer to a good striker that had added different aspects to his game which he was strongly criticised for not improving. In the UEFA Cup Final season, Boyd netted 25 goals which, again, is a good return considering he was never a regular as Daniel Cousin and Jean-Claude Darcheville were preferred a number of times in both domestic and European matches. As the Gers secured their first title in 4 years, Boyd's drastic improvements on his overall game was a major factor in the Gers lifting their 52nd league title. An outstanding 31 goals for Boyd kept him in joint 15th position, however, in terms of total goals that season, Boyd would have been joint 6 if all goals were worth the same number of points.
Boyd has 22 goals this season
This season, Boyd currently sits in joint 10th position in the Golden Boot standings with 22 goals in 29 games. In January, Boyd found himself in third position almost one-hand on the trophy itself but the hernia injury hampered his progress and allowed a number of players back into contention. His overall goal-record for Rangers is simply sensational, 124 goals in 180 appearances. Is there a more prolific goalscorer in the United Kingdom?
Miller and Boyd in action for the Champions
Another player who has been in lethal form for Rangers this season is Kenny Miller. Quite simple, if he could score more consistently, he'd be at a top European side. The 30 year-old has tremendous pace and usually finds himself in the lone striker role for Rangers and Scotland in "bigger" games due to his strong work-rate. Miller, who initially joined Rangers from Hibs in 2001, swapped Ibrox for Molineux as he dipped into the English Premiership for a while, scoring 63 goals for Wolves in over 130 appearances. Miller made a huge decision to return to Glasgow, this time in Celtic colours and got his first goal for Celtic against Rangers. He returned back south to Derby County for a while as they were relegated, but returned to Glasgow for his second spell at Ibrox. In his first trip back to Celtic Park, he fired home 2 goals in a 4-2 win for Rangers and by the end of the season he had scored 13 goals. That may look quite dry statistically, but Kenny Miller's overall contribution is more highlighted and is more known for his assist play in helping Boyd in what has been a potent partnership at Ibrox.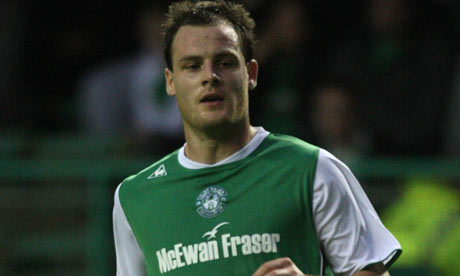 Anthony Stokes has been a great addition to Hibs
The other SPL candidates certainly won't win the European Golden Boot but there is still a chance they could become Scotland's top goalscorer. Hibernian's Irish striker Anthony Stokes has been a revelation for the Hibees under John Hughes in their battle to split the Old Firm, the Irishman bursting on to the scene in a loan spell at Falkirk under Hughes initially. Sunderland decided to splash the cash on Stokes but didn't fit into the plans of Roy Keane. Hibs came calling, and for £2m, Stokes returned to Scotland and is currently sitting on 16 league goals this season for Hibs in his debut season forming an excellent understanding with Derek Riordan.
The usually enthralling race for the SPL Championship looks pretty much over with Rangers in an excellent position, but Boyd, Miller and Stokes still have some personal glory to play for as the race for the Golden Boot, last year won by Diego Forlan, hots up in the final months of the season.