Having had a few days to reflect on the disgusting attack on Neil Lennon on Wednesday night at Tynecastle, and listen to pundits having their say on the events, I feel it is time to review why Neil Lennon is the most hated man in Scottish Football right now.
This is Lennon's first full season in management in which he has reached two cup finals and taken the title  to the last day of the season. A pretty impressive achievement for any manager considering the state of the Celtic team he inherited just over a year ago, never mind one who is in his debut season. However none of this will be remembered when this season is looked back on in years to come, unfortunately it will be remembered for the vicious hate campaign against the Celtic Manager.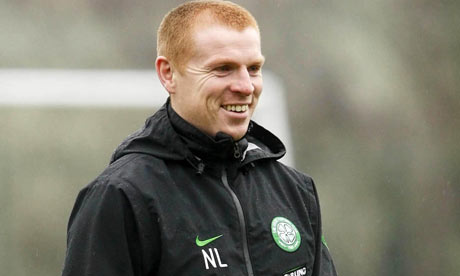 I have heard over the last few days, from respected pundits and ex players, that Lennon doesn't help him self and has brought much of this upon him self with his touchline antics and comments in the media. So what have Lennon's crimes been this season that warrant this intimidation he receives.
He has so far criticised the standard of refereeing in Scotland. He was sent to the stands in a game at Tynecastle earlier in the season, following  the sending off of Celtics  Joe Ledley . He had an handbags moment with Ally McCoist at Celtic Park following an Old firm cup game. He has challenged the authority than run the Scottish game, the S.F.A , hinting at corruption and foul play behind the scenes. And finally he has been accused of a lack of respect for accusing certain SPL teams for a lack of effort against rivals Rangers.
So as you can see Lennon by his own admission has been no angel this term, but this is a young passionate manager in his first season of management at the club he loves and supports, who has admitted himself he will have to learn to curb his touchline emotions. I however do not remember Roy Keane receiving such intense criticism when in his first full season as a manager he acted in very much the same way. Then we heard 'well its Roy Keane he was a passionate, tough tackling, Irish International midfielder, whos just needs time to realise he's no longer a player, and can't act that way'. Can the same not be said of Lennon?
His accusation of poor standard of refereeing has been backed by many SPL managers, including Rangers Walter Smith, so that too can not be the reason why he is so hated.  His sending off at Hearts was by Lennon's own admission 'stupid and out of order' but what manager hasn't been sent to the stands for arguing a decision, remember Arsene Wenger at Old Trafford not so many years ago? So again it cant be for that.  His touchline argument with Ally McCoist was unsavoury, but both sorted things out in private after the game and said they had a difference of opinion but had shaken hands. Again which manager has never had a touchline row with an opposition manager or coach? Yet Lennon received a ban for his involvement, while McCoist was let off following an appeal, and if you watch replays of the incident Lennon embraces McCoist  initially before McCoist whispers something in Lennon's ear and the Celtic manager reacts.
This leads me to Lennon's questioning of unfair treatment by the S.F.A towards Celtic, now many claim that Lennon and indeed Celtic and their fans have a paranoid attitude towards treatment from the SFA, and they may be right. However there have been a few case to prove maybe Celtic have a point, the Jorge Cadete incident should be looked at for evidence, in which a S.F.A member was found guilty of with holding the Celtic players registration so he could have no involvement in the Old Firm derby. And this season it was revealed how a linesman was asked to lie by referees chief Hugh Dallas regarding a penalty decision Celtic were denied in a game with Dundee United, Clear proof of a SFA cover up. However weather Lennon's claims of unfair treatment are correct or not isn't the point, Jose Mourinho after the recent Champions League semi final with Barcelona, said the Spanish football organisation had a hidden agenda towards helping Barca. Maybe Mourinho himself is paranoid but the point is he didn't receive death threats or nail bombs in the post for these comments did he?
So we have looked at Lennon's 'crimes' this season and it seems many have been committed by even the greatest managers like Alex Ferguson, or Jose Mourinho. Criticising refs, touchline rows, questioning football authorities and even commenting of other teams commitment against your rivals ( see Kevin Keegan's infamous 'id love it…' rant on Ferguson for proof of that ). Yet no other manager in my memory has received such a hate campaign like Lennon has, yes abuse from the fans at games, but that's one thing. But bombs and bullets in the post and been attacked in the dugout? NEVER! So what is the real reason for the hate towards Lennon?
The truth is stark and saddening, Neil Lennon is a victim of a sectarian hate campaign which has nothing to do with his comments or antics as a manager but more to do with which religion he chooses to follow. Yet there seems a unwillingness from the S.F.A  and wider Scotland to admit this is the real reason and to act upon it.  Now again i will here people say Martin O'Neil managed Celtic and he was a Northern Irish catholic and he never received this abuse or hate campaign, so it must be Lennon. That is true but the problem Lennon had was he tried to play for his beloved Celtic while he represented his country Northern Ireland, something O' Neil never did. Lennon himself never received any problems playing for Northern Ireland while playing down south for Leicester City, yet in 2002 he was forced to retire from International Football following death threats against him. This was only 18 months after he had swapped Leicester for Celtic, coincidence? I think not. Lennon had was now playing for a club with Catholic roots while playing International football for a country supported mainly by Protestants.
Nobody in Scotland in the year 2011 including the S.F.A or government wants to admit that this is the embarrassing and shameful reason for Lennon's campaign of hate, but  sectarianism is still a huge Scottish society problem and until this is accepted and dealt with then this will continue to go on. The truth is if Lennon had been targeted because he was black or Asian then footballs highest authorities would have stepped in and maybe even shut the whole Scottish game down by now, but because it is a sectarian problem it again is not been dealt with. If Scottish football and even Scotland as a whole wishes to move forward from these dark days then this problem must be firmly addressed in the same way Racism towards black and Asian players and managers has been in England and across Europe.