The January transfer window is normally a chance for managers to bolster their squad for one last push towards the end of the season; normally big money is splashed out as players unhappy with how the season is going at their clubs look for a move elsewhere. This year though, the trend has been broken, the transfer market has been quiet and there was no real 'headline' signing, with Robbie Keane's loan deal to Celtic being perhaps the biggest-name player leaving his club during the English transfer window. It wasn't just English transfer that was quiet though, every major European league saw a decrease in the amount of money spent this transfer window when compared to last season.
Clubs this season seemed to prefer to sign younger players with 'raw potential' rather than 'experienced campaigners', this is most probably a sign that unless the club feel they can make a profit on these players in the future it is unlikely they will sign, in the current economic climate not many clubs want to spend money on a 33 year old that they cannot subsidise with a transfer fee, perhaps the only signing in the English division of this elk was Patrick Viera, a free transfer, who went to Manchester City. Man City are one of the select few clubs that have the luxury of not needing to worry about recouping money from there transfers, it would seem on the surface, but even they did not splash out on a 'big name'. Viera joined on a free, meaning they would only be paying his wages, which are reportedly £130,000 a week, excessive when put into context but Mancini was certainly not willing to part with big, out-right cash for this type of player. The only other piece of business Man City did was to bring in Adam Johnson from Middlesbrough, a youngster that has looked a bright spark in the Championship but is un-proven at the top level and, with so many high profile players at the Manchester club; the winger faces a struggle to break into the starting line-up. Johnson though looks a low risk signing, his transfer is thought to be made up of instalments meaning City will only have to part with a considerable sum if he fulfils his potential, which so many players don't, and if Johnson doesn't then 'the blue half of Manchester' should be able to sell him on for a similar price to what they paid. It seems strange that City did not spend big, after-all they have in every other transfer window since billionaire chairman Sheikh Mansour bin Zayed Al Nahyan came to the club without really standing a realistic chance of breaking into the 'big four', this season however they do stand a chance but have opted out of a big name arrival at 'Middle-Eastlands'.
City aren't the only club to bring in this sort of player though, their Manchester rivals, United also turned to Chris Smalling, a young Fulham centre back who has only just made his arrival in professional football after joining from lower-league Maidstone FC. Sir Alex has reportedly been told, by the controversial Glazer's, that he can only sign players that have some sort of sell-on value in the future so that the club can reduce some of their heavily publicised debt.  Wigan turned to Victor Moses and Stoke decided Portsmouth goalkeeper Asmir Begovic was the best option for their club, once again another two youngsters, highly rated that have been signed rather than a more experienced option. This is not just a trend in England however; Sergio Canales of Racing de Santander has been brought by free-spending Real Madrid for a reported £10 million but once again it is being paid in instalments with the young player being loaned back to Racing for two seasons before starting his Madrid career, another low-risk signing, for a club that have been setting records with their transfer spending, twice, in the summer, Madrid bought the 'most expensive player in the world', in Kaka and Christiano Ronaldo.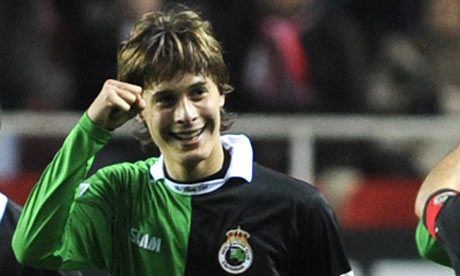 Abroad both 'big-names' players that changed clubs, in Ruud Van Nistlerooy and Goran Pandev, were both brought in on free transfers to Hamburg and Inter respectively, just like Viera was in England, it just shows that across the world teams are not willing to part with money on players that is unlikely they will be unable to get a return for their money on, it seems a shame as many experienced players now have to find their way down the leagues to get themselves regular football.
It is a fact that managers are having to be more cautious, as the debt in football rises (http://posh.footballblog.co.uk/football-changing-debt.html) and becomes more publicised in the media, managers are certainly becoming more cautious and perhaps signings of the more experienced players for large fees are now a thing of the past, it would seem a worthwhile policy after-all Portsmouth have seen the price a club can pay for bringing in players nearing the end of their career, having to go into administration this season.
This season in the January transfer window just £30 million was spent between the English top flight club, in contrast, last year £170 million was splashed out on new talent. But what has changed so dramatically? Have the current situations of clubs like Portsmouth, Crystal Palace and Stockport put teams off signing the ageing player? I would say it is unlikely. I would argue that because of clubs like Manchester City and Real Madrid, clubs that can pay whatever is necessary to get hold of the player they want, have forced the market to become inflated beyond belief. Perhaps clubs just can't get hold of these high reputation players for reasonable prices no matter how hard they try anymore.
It certainly seems that clubs will want huge sums of money to part with their best assets, now they have seen that others will willingly part with this sort of money. Athletico Madrid demanded £45 million for Sergio Aguero, a player that has not been starting every week in a side that have been struggling to gain any sort of momentum in La Liga. Again in Spain, Valencia, apparently struggling for funds, were looking for the same fee for David Villa, another striker that is being tracked around Europe. Frank Ribery of Bayern Munich was rumoured with a move away but a whooping £70 million pounds would have been required to take the German wingers services to your club. It all seems to show that clubs will only sell for ridiculous sums, meaning that signings of young players that have potential are to become very common.
The arrival of this transfer window seems to have brought a huge rise in the amount of loans that are happening within the footballing world, a loan seems to give clubs a 'try before you buy' option, again pointing towards the fact that managers are only willing to part with money on players that will most certainly benefit the club in the long run, clubs want to see if the player can adapt to the league quickly before signing him, it is unlikely that any club will get this option on a 'big name' star. We, at Peterborough, have seen this loan strategy put into place. Ryan Bennett, Exodus Geoghagan and Scott Griffiths, all came to the club on loan 'with a view to a permanent move', after that in the January window Izale McLeod, Jake Livermore, Reuben Reid and Kerrea Gilbert were the four signings, all, you guessed it, loans.
The revolutionary system that Darragh MacAnthony bought to our club of only buying "young and hungry players" may just be becoming a common policy in all of world football. Headline signings may become a thing of the past as teams seek the best 'bargain basement' signings they can find,  and squads average ages will continue to drop as clubs look towards the best youth they can find to drive the football team forward. The older generation of footballers playing in the top division may become a rarity, but then again "you can't win anything with kids" can you?
(Visited 19 times, 1 visits today)