"we are the morale winners"
This was the term Manchester city captain Vincent Kompany used to describe Sundays fa cup defeat at the hands of rivals United, tough to disagree with him, especially having witnessed the second half fight back from depleted city that came agonisingly close to matching the exploits of Liverpool's Istanbul heroics of 2005, a second half that for the first time in his two years at the helm of the richest club in the world, Roberto Mancini proved himself to be more than just a cheque book manager, his tactical master stroke at the interval to move to a three man defence with Micah Richards and Zabeletta performing duel roles of wingers come full backs was up there with pep Guardiola's decision to switch Dani Alves to right wing during this seasons el Classico! With hindsight the mercurial David Silva would have remained on the pitch rather than the lazy Samir Nasri who, for reasons only known to himself, is giving a very good impression of a man who does not give a toss about city or what they are trying to achieve.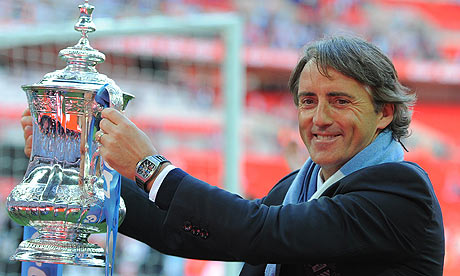 Mancini won't add the Premier League to his trophy cabinet this season.
Samir Nasri aside, Sunday was seen by many as not really having any black spots for city in the long run, but if you scratch the surface then you will see an ugly truth, an ugly truth that Mancini has to face up to with the same gusto in which he squared up to United in Sundays second half, the ugly truth is an absolutely awful disciplinary record especially against the bigger sides in recent weeks. Sunday was no exception either, sure the arguments will continue to rage over whether or not Kompany was reckless or in control when he slid in on Nani 30 plus yards from goal and seemingly not in a position to harm city immediately, non of this matters though, it was stupid plain and simple just like Gareth Barry's stupid dismissal less than a week before against Liverpool and before him Gael Clichey's panicked and equally dumb sending off at Stamford bridge, Balotelli received his marching orders at Anfield the previous month. This can almost be forgiven though, every team needs a Balotelli, but for every Balotelli a team needs half a dozen Barry's and Kompany's, players you should be able to rely on in the heat of the battle but for some reason discipline at city is in short supply under Mancini, it's like there is no thought of the consequences to come from brainless, outlawed challenges after all Kompany has already seen red for a similar, if not more dangerous looking challenge against wolves. Surely he knew if he went sliding in on any United players the referee, Chris foy, was one of the more strict of our officials? As shown twice this season at loftus road and stokes Britannia, that any misdemeanour would mean city not only facing a month without the Toure brothers but also four games without there captain and defensive lynch-pin? If he didn't figure any of the above out serious questions needs to be asked. If this was a flash in the pan you could almost see it as a set of freakish calls from refs out of there depth, but it isn't is it last season saw city receive 5 reds and 70+ yellows to see them finish bottom of the fair play table not to mention mad Mario using the Europa league as his stage for his head losing moment of the season.
This is starting to become a real problem for Mancini especially as it all comes on top of other player discrepancys, over the last 12 months we have seen James Millner, Edin Dzeko, Craig Bellamy, Wayne bridge and Patrick Viera all publicly speak of Mancini poorly or show contempt for there manager whilst Being substituted then there was Kolo Toure's failed drug test, whether he knew it or not it is his responsibility to find out what he can or cannot take. Then there is the constant free for alls at the Carrington training ground shows a team more in control of the situation than there manager.
Perhaps this is how Mancini prefers to manage but whether he or Kompany like it or not you won't win a premier league title with a limp wrist approach to today's players, they need boundaries they need some sort of normality to go alongside there extraordinary lifestyles, and it needs to be realised soon or they may just find a certain iron fist firmly wrapped around the Premier League trophy again, and the talk of moral victorys would be drowned out by the screams of chokers, bottlers and over paid prima donnas and they would be some of the nicer words used.