Diego Maradona is a lucky man. For most of the mangers who will be in South Africa this summer, the decision to ignore players such as Esteban Cambiasso and Javier Zanetti, would be nothing short of madness. Yet while these omissions have certainly raised eye brows, such is the strength of the players at Maradona's disposal that he has still managed to compile a team packed with stars, which must be considered amongst the favourites for the competition.  This blog will focus on four of these stars, whose performances may well be crucial if La Albiceleste are to get their hands on the World Cup.
Walter Samuel
Maradona has certainly made some strange decisions since taking charge of La Albiceleste, but the decision to recall the Inter Milan defender, who had not featured for the national team since 2006, is not one of them.  Known as the 'wall', Samuel was arguably the finest centre back in Europe this season and formed a key component of Inter's treble winning side. One only has to look at his domination of both Didier Drogba and Zlatan Ibrahimovic to appreciate just how rock solid the 'wall' really is.  
Samuel's selection is all the more important when one considers the defenders likely to be playing alongside him.  Martin Demichelis is a Maradona favourite and will almost certainly start, despite looking far from secure for Bayern Munich. The same can be said of Gabriel Heinze who is likely to start on the left.  The right back position will be given to either the inexperienced Nicolas Otamendi or Newcastle winger Jonas Gutierrez. Thus with some rather unconvincing partners the 'wall' will need to stand strong or Argentina's back line may well crumble.
Javier Mascherano
'Mascherano and ten others', is how Maradona described his favoured starting eleven shortly after taking charge of Argentina. He certainly made good on these claims, quickly awarding the defensive midfielder the captaincy.   Mascherano is undoubtedly one the best players in his position, possessing a work rate and knack for breaking up play that few can match. Furthermore the 25 year old always sacrafices him self for the team and is described by Maradona as, 'closest to the idea I have about the Argentinian shirt – sweat for it, sacrifice for it'.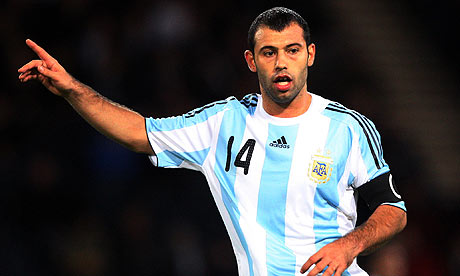 However, this passion can often spill out into ill discipline and the defensive midfielders habit of collecting red and yellow cards may be a worry throughout the tournament. 
Juan Sebastian Veron
Some of you might be surprised to hear that the former Manchester United midfielder is still playing. In which case you will be even more surprised to hear that he is still a regular starter for La Albiceleste. At 35 years of age the decision to recall Veron may appear baffling. However following Juan Roman Riqulme's clash with Maradona, which lead to the play maker's international retirement, Veron was sounded out as the most ably equipped replacement.
The vetran has certainly retained the technical ability and range of passing to play at World Cup level and was a key member of the Estudianties side which won the 2009 Copa Libertadores. However whether the 35 year old has the stamina and fitness to dictate a game for 90 minutes remains unclear. With no like for like replacement in the squad, Veron is likely to prove crucial to Argentina's fortunes, for better or worse.
Lionel Messi
What can one say about Lionel Messi that hasn't already been said? The Barcelona forward is simply the best player on the planet right now, and his mere presence will strike fear into the hearts of all 31 opposing nations.  However while his quality can not be doubted, Messi has often failed to replicate his Barcelona form when on international duty. For example his record of 13 goals in 44 games pales when compared to 88 in 144 for Barca. However many pundits have attributed this to Maradona's use of a 4-4-2 system which leaves Messi to far from the goal and vulnerable to tactical fouls.
Following his four goal demolition of Arsenal, it was suggested by many that the 22 year might well be the greatest footballer that ever lived.  However, only by achieving World Cup glory can Messi truly be held in the same esteem as Pele and Maradona. With the latter now his manager, motivation will be plentiful and if they can find a system which maximizes the Barcelona forwards attributes, Argentina could take the world by storm.