Sir Alex Ferguson calls it 'squeaky bum time' the tense closing stages of the season in which the Premier League's prevailing issues from the title race to the relegation battle are set to be decided.   However there are also personal accolades to be contested.  For instance the Golden Boot is the ultimate prize for any striker, and this year's trophy is set to be contested by two genuine heavyweights of the English game.   So please brace yourselves and get ready to rumble….
In the red corner, weighing in with 23 goals in 27 games it's none other then England's finest Wayne 'wazza' Rooney.   What can I write about the Manchester United star which hasn't already been written? The man is simply on fire.  Well let's start by putting things into perspective.  Over the past two seasons combined Rooney managed to hit the net 24 times.  Just 27 games into this season he is only one goal away from equalling that tally.  Such has been the extent of the former Everton man's step up in quality that United fans have almost forgotten about that Portuguese bloke who used to play on the wing.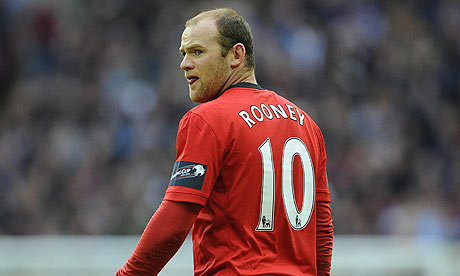 Ever since exploding onto the scene as a 16 year old Rooney has been expected to ascend to greatness and following this season's performances the 24 year old can undisputedly be counted amongst the world's best.  A return to a central role after a few seasons out wide seems to have opened the floodgates.  It was a Rooney strike that gave United a 1-0 victory over Birmingham city on the opening day; this appeared to set the precedent as the striker has been knocking out opponents almost single handily ever since.
Meanwhile in the blue corner weighing in with 19 goals in 23 games it's the fearsome Didier Drogba.   Rooney may be drawing most of the plaudits the Ivorian target man is proving equally influential to Carlo Ancelotti's Chelsea.  After two seasons blighted by injuries and a lack of motivation which yielded only 13 goals, a departure from Stamford Bridge had seemed imminent.  However it appears Drogba has found himself again this year and is now showcasing the form which saw him win the Golden Boot in 2007.
Possessing a combination of power and pace which is often unplayable the former Marseille striker strikes fear into defences across the country.  This is certainly something Arsenal fans will begrudgingly testify to as the Ivorian put four goals past them alone.   Wayne Rooney may have scored a few more but he has also played more games and Drogba will surely push the United man all the way.
The statistics are uncannily similar.  With a strike rate of a goal every 1.17 games Rooney's is fractionally superior to Drogba's at 1.21.  Both players average 1 goal for every 17 shots.   Arguably Drogba is the better team player with 9 assists to Rooney's 4, however in the fight for the golden boot goals are all that matter.   It is also interesting to note that the two contenders find themselves 1st and 3rd in the rankings for the European Golden Boot, thus providing an added incentive to keep the goals coming.
While the contest is almost certainly a two horse race it would be unfair not to give out a few honourable mentions.  With 18 goals Darren Bent is in the form of his life and can perhaps be considered a dark horse.  However the fact he is playing for a struggling Sunderland side is likely to hinder his chances.  Jermain Defoe and Rooney's old sparing partner Carlos Tevez are also having fine seasons with 16 and 15 goals respectively.  However for any of these three to out score both Rooney and Drogba would require a monumental effort which is difficult to envisage.  Meanwhile 2009 winner Nicholas Anelka is way of the pace with just 8 goals while a campaign disrupted by injury has limited Fernando Torres to only 13. 
Bent has an outside chance.
The fight for the golden boot could even be seen as a microcosm of the title race (although Arsenal fans may have something to say about that), with each goal Rooney and Drogba score likely to prove crucial in determining where the Premier League trophy will end up.   Both players have had phenomenal seasons of which they can rightly be proud and whatever the outcome they will remain fan favourites.  
 It's going to be a close run thing but who will strike the knockout blow?  My moneys on the man in red.