THE past couple of weeks have been disastrous for the SFA and referees up and down the country.
October 17th. After initially blowing for a penalty, Dougie McDonald ran to his assistant on the far away side, Steven Craven, and after consultation changed his decision to a drop ball. The Celtic supporters were absolutely furious. So too, understandably was Neil Lennon.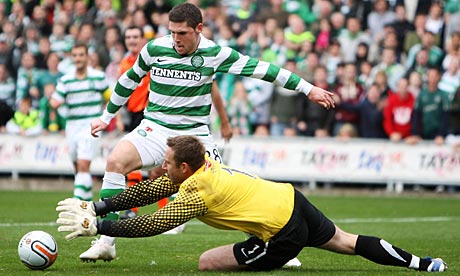 However, on close inspection of the incident, you can see Dundee United goalkeeper Dusan Pernis gets the ball with his challenge. In the grand scheme of things, it did not matter as Gary Hooper scored a late winner to give Celtic the three points they wanted.
What has followed has been nothing short of a disgrace. Celtic wrote to the SFA for clarification as to why McDonald changed his mind after blowing for the penalty. By continuing the argument, Celtic heaped a ton of pressure on Willie Collum who made his Old Firm debut on the following Sunday.
October 24th. Rangers deservedly ran out 3-1 winners in the game, however there was many talking points. Players like Samaras and Stokes got away with terrible lunges, and the biggest one came when Broadfoot won the Gers a penalty at 2-1.
There was hardly any contact from Majstorovic, yet Broadfoot fell to the ground and Collum gave the penalty. Again, it probably didn't change anything, Rangers were up 2-1 and dominating the game.
Celtic were enraged. Two weeks in a row they felt the refereeing decisions were going against them. Badly. If the Tannadice-gate shambles hadn't of happened, I don't think Celtic would have wrote their second letter to the SFA, this time asking Willie Collum to explain how he gave the penalty when first of all he couldn't see it and second there was minimal contact.
But as the above image shows, Collum could see the challenge. That doesn't explain the second grievance Celtic have though, in the fact that it wasn't a foul even if he has his hands on him.
And following the game, Collum received threatning phone calls about him and his family. What is this game coming to? A football referee has his family and himself threatened because he gave a penalty? It is horrible.
The way it is happening, there is going to a massive refereeing crisis in Scotland. Officials won't want to do their job in fear of abuse, physical and verbal. The threat posed to their familys and homes is also a huge factor.
Hamilton manager Billy Reid says he would understand if referees were to refuse to officiate because of the excessive criticism directed at them. The Accies boss believes the pressure officials are under is "quite incredible" and fears it may get worse.
"I would understand if referees went on strike," said Reid. "It must be horrendous for them. The pressure they are under is quite incredible. I don't know how they manage to do it."
The past week has been a war of words and truth be told, it has been hard to keep up with it all. McDonald lied to the match observer, to
Lennon, and admitted it was wrong. Steven Craven told the Sunday Mail that Hugh Dallas had told him to back Dougie McDonald's version of events, but that cover-up was denied by Scottish Senior Football Referees' Association chairman Martin Cryans.
And today (November 1st) Dougie McDonald has said it was his assistant Craven who initiated lying about the decision.
According to him, assistant referee Charlie Smith and Craven entered the room to discuss the game and it was at this pointthat Craven asked him what they should say to McBurney, who had been observing from the main stand at Tannadice.
McDonald said: "Steven pulled the communication wire from his arm device and took my earpiece out and he said, 'What are we going to tell Jim McBurney?' I said, 'Stevie, I don't care. Tell him anything. Just tell him you said 'Dougie, Dougie' and I came over and clarified.
It was not some sort of pre-meditated idea to concoct some sort of story. It was merely a reaction."
"Stevie was concerned about what we would say. I really wasn't caring about that. I knew I was on a 7.9, a mark for a serious refereeing error for giving the original penalty. I was happy to go along with it in terms of helping Steven. It was no big deal to me to say that. In hindsight, I thoroughly regret it."
Meanwhile, Hearts director Sergejus Fedotovas has called for more transparency, a general improvement in refereeing standards and the use of video technology to help referees avoid such problems in the future.
"Referees need to come out after the game and comment and explain their decisions," he said in a statement on the club's website. Refereeing is a big part of the game and people want to see high standards, hear the reasons behind decisions and gain clarification."
"There is no place for a high proportion of human error meaning low standards – it can easily be a cover for bias and match fixing. It is time that the Scottish FA implements a proper system of accountability otherwise the integrity of our game will be further diluted by future incidents."
"We would also urge the Scottish FA to continue its lobbying in world football for the implementation of video technology."
What Fedotovas said was bang on, but was it really necessary in a time of extreme scrutinisation of referees? I do not believe so. I think the only way to get this mess sorted is a complete over-haul of the Scottish Football Association from top to bottom. Referees are in a mess, the appeal procedure is a joke, and overall the people at the SFA need to take a hard long look in the mirror for this.