Stoke will face Championship side Derby County in the quarter finals of the League Cup at the Britannia Stadium tomorrow night after reaching this stage of the competition for the first time in 30 years.
  Derby, currently managed by former Bradford and Wigan boss Paul Jewell, sit fifteenth in the Championship table after a mixed start to the season. They made a very poor start, before an excellent run of form took them into the top half but recently they have suffered a slump, losing three of their last five league games. The Carling Cup has provided a welcome distraction from their slightly disappointing league form of late, and they have defeated Lincoln, Preston, Brighton and Leeds on their way to the quarter finals.
Paul Green celebrates scoring the only goal of Derby's 1-0 away win at Preston in Round Two
  Much of the Rams' recent history has been spent amongst the elite of English football in the Premier League. The club won promotion to the top-flight finishing as Division One runner-up in the 1995/96 season, while Stoke finished two places behind and ultimately missed out on promotion losing in the play-off semi-final to eventual winners Leicester on aggregate. Derby enjoyed a solid first season in the Premiership the following year, finishing twelfth.
  A move to the 33,000 capacity Pride Park, a stadium based on a similar design to Stoke's Britannia Stadium, from the old Baseball Ground followed in the summer of 1997 and Derby set about establishing themselves as top-half Premiership regulars over the next few seasons, finishing eighth in each of the next two years. A disappointing sixteenth placed finish came in the 1999/2000 season though, before relegation came a year later, the Rams finishing second bottom with 30 points, ahead only of Leicester.
  There was little to celebrate for the fans of the Rams over the next few seasons, Derby finishing well down the Championship table on three of the next four seasons, their only reprieve coming in 2004/05 when the club finished a very respectable fourth only to lose to West Ham in the play-off final. Promotion back to the Premier League did come for the club two years later, this time Derby winning the play-offs, beating West Brom, after leading the table for much of the season.
   As everyone reading this will be well aware, last season for Derby can hardly be classed as successful, nor decent, and it only just creeps into the abysmal category. The Rams finished bottom with a record low of eleven points, winning just one game, at home to Newcastle last September. The winless league run continued until four days shy of the anniversary of that Newcastle win, when Derby were finally victorious, beating Sheffield United 2-1 at home.
  Despite showing some signs of quality in the championship this season, Derby have been largely inconsistent, and especially poor of late. Given Stoke's good recent home form I would expect us to come through this match reasonably comfortably. Derby, however, will be no pushovers, they have sold out their away allocation and with more than 4,000 supporters backing them they will certainly be up for a fight. In a radio interview after Saturday's draw with Hull, Tony Pulis claimed he would field a strong side against Derby and not the team of fringe players we are used to seeing in the League Cup, and I hope he is true to his word, as the Carling Cup will surely provide our best chance of winning silverware this season and repeating our finest hour, the 1972 win of the competition.
Key Head-to-heads:
Glenn Whelan v Przemyslaw Kazmierczak
Despite not featuring regularly in the league for Stoke this season, Whelan has been very important to our progress in the Carling Cup, scoring free-kicks against Cheltenham and Rotherham in Rounds Two and Four respectively. The rather more exotically named Kazmierczak, a Polish international on loan at Derby from FC Porto will have to contain Whelan, who has played every minute of every Republic of Ireland match under Geovanni Trapatoni, if Derby are to stem Stoke's creative flow, which will come largely through the Irishman.
Ibrahima Sonko v Rob Hulse
It seems likely that Sonko, who has also been only a bit part player for Stoke this season will be given a chance to impress. He will have to deal with Derby's main attacking threat in Rob Hulse, who is no stranger to the area having begun his career at Crewe. Hulse is Derby's joint top scorer this season with six goals.
Derby squad:
Goalkeepers:
Roy Carroll (31), Stephen Bywater (27), Lewis Price (24)
Defenders:
Paul Connolly (25), Jordan Stewart (26), Dean Leacock (24), Lewin Nyatanga (20), Claude Davis (29), Martin Albrechtsen (28), Miles Addison (19), Darren Powell (32), James Tomkins (19)
Midfielders:
Paul Green (25), Kris Commons (25), Przemyslaw Kazmierczak (26), Mile Sterjovski (29), Gary Teale (30), Nacer Barazite (18), Ruben Zadkovich (22), Stephen Pearson (26), Andrejs Pereplotkins (23)
Forwards:
Rob Hulse (29), Emanuel Villa (26), Nathan Ellington (27), Giles Barnes (20), Steve Davies (20), Aleksander Prijovic (18)
Star Man: Paul Green
The 25 year old midfielder has been on great form for the Rams since signing from Doncaster Rovers in the summer. The Sheffield born player scored 30 goals in 235 league starts for Doncaster during a seven years spell from 2001 to earlier this year and has already found the net five times for his new club.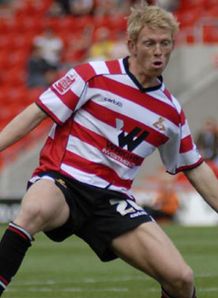 Last five meetings:
Derby 0-2 Stoke   21/02/07
Stoke 2-0 Derby   8/08/06
Stoke 1-2 Derby   22/11/05
Derby 2-1 Stoke   15/10/05
Derby 3-1 Stoke   9/04/05
Comparative club stats:
                                               Stoke                                Derby
League Position:         13th (Premier League)       15th (Championship)
Games Played:                           18                                      24
Home record: (W,D,L)              5,2,2                                   5,5,2
Away record: (W,D,L)               1,2,5                                   4,3,5
Goals scored:                            22                                       34
Goals conceded:                        29                                       30
Top scorers:                     Fuller (6), Sidibe (3)        Hulse, Villa, Earnshaw (6), Green (5)
Disciplinary (Y,R)                      32,1                                      33,1    
Form:                                 D,W,L,W,D,W                           L,D,L,W,W,L 
Derby's Pride Park home