A late Barca flurry with 2 goals inside 4 minutes killed off any hope of Granada pulling of an upset at the Camp Nou.
From beginning it seemed like it could be a long night for a Catalans as the Blaugrana stood by the traditional policy of 'As long as we've got the ball you can't score' but the Granada defence stood firm and it was the man from Alicante, Tono who was at the heart of it pulling off some outstanding world class saves in both half's to deny Barca.
The first real opportunity fell to Granada on 11 minutes but Rico fired high and wide over Victor Valdez goal. Then there were a series of efforts for Barca that were excellent blocked by a despairing Granada defence as Messi, Alexis, Thiago, Villa, and Fabregas all saw their efforts on goal blocked. The closest to the deadlock being broken in the first half resulted from a deflected shot that hung in the air and dipped viciously and looked for all money that it was going to  fall just under the bar but Tono had a different plan. The Spaniard back pedalled and pulled off an incredible diving save to flick the ball over the cross bar to safety. Alex Song and Javier Mascherano occupied the two CB positions which meant Barca were playing with no regular defenders as Adriano is naturally a midfielder and I've never met anyone who classes Dani Alves as a defender either! However, they did perform well and in the entire game the back line were only really beaten once and their possession, tackling and passing were top notch.
The Granada players and the fans who were sat all around me in the Goal Sud were really up for it, but their discipline did falter on the pitch at times with late challenges flying in on Sergio Busquets and Fabregas and although both are notorious for making a meal of things, they were extremely late challenges and Flores and Gomez both received a caution for their unintended troubles.
 Pedro holds his head in frustration. It looked like it was just going to be one of those nights.
Into the second half and the Camp Nou faithful around me start to become edgy. The drums were continually banged to get the fans singing and get the team going again and regular chants for the call of Catalan independence were bellowed across the stadium. It took just 7 minutes for Vilanova to make his first changes with Pedro and Xavi replacing David Villa and Thiago who had both produced good performances but it was clear a change of emphasis was needed. The machine got stuck in straight away and started spraying the ball all over the park and notably lofting a beautiful through ball for Pedro on the wing that fell perfectly on his right foot whilst on the move. In just 36 minutes, Xavi produced 60 passes, 98% went to its intended target. Incredible!
There is no questioning that Xavi changed the face of the game and Barca went close on several occasions with Messi, Fabregas, Pedro and Xavi himself seeing efforts denied by Tono in the Granada goal. It just seemed like it was one of those games where it wasn't meant to be.
6 minutes from the end and Granada broke away on a counter and a threaded ball to Orellana saw him one on one with victor Valdes and Alex Song on his heels. He had the options of slotting it either side of the keeper, chipping the charging Valdes or beating him and tapping home. Instead the striker fluffed his opportunity to sink Barca by hitting the ball straight at the chest of Valdes and away to safety. This would prove costly as just minutes later Xavi picked up a bouncing ball about 25 yards from Goal and drilled a glorious volley past Tono clipping the underside of the bar and falling into the next. The celebrations were wild on the terraces and on the pitch. When asked after game Xavi stated that he celebrated so much because of the nature of the goal and the important timing of the goal.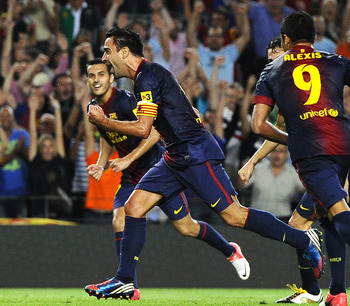 Captain Fantastic:  Xavi celebrates his goal.
I looked around and saw the faces of the Granada fans. Their dreams were shattering right in front of them and just 4 minutes later they had their head in their hands once more when after Messi's cross deflected off a desperate slide from Gomez, to flash past Tono and into the net making it 2-0 prior to Messi crashing a sweet strike off the outside of the post in stoppage time.
On a frustrating night with changes made due to injuries to Iniesta, Alba, Puyol, and Pique it could have been 5,6 maybe even 7 for Barca, but most importantly the final whistle went with Barca claiming all 3 points to remain top of the tree after 5 games.
(Images coutest of Bleacherreport.com and Zimbio.com)