Two promotion candidates go head to head at London Road on Saturday with Posh and Charlton both having 25 points and sitting fourth and fifth in the table, respectively. Both teams have had decent starts to the season and it is clear to see that there is quality within both squads. Ahead of what is a very important game for both sides – a win could see either team move into the automatic spots whereas a loss could result in both teams falling to tenth – we caught up with long-term Charlton supporter, Andy Miller.
THE POSH BLOG: Both Posh and Charlton have been a little inconsistent so far this season yet we are both in the play-offs. What has been your opinion on Charlton's season so far?
ANDY: We lost a lot of key players at the end of last season so it has taken time "to gel" as Parky puts it. Given that I'm happy to be in and around the promotion and play-off places after a third of the season.
THE POSH BLOG: Obviously you are one of the biggest teams in this division and have fallen rapidly in recent years. What do you feel has been the main reason for your decline and how hard has it been to keep the faith?
ANDY: Alan Curbishley was our manager for 15 years (the first few jointly with Steve Gritt). He was always going to be a hard act to follow. Unfortunately the likes of Dowie and Pardew proved nowhere near as good as their own inflated opinions of themselves!
As regards keeping the faith I've been a supporter since 1963 so it's a bit late to change now! I'm institutionalised!
THE POSH BLOG: You suffered play-off heart-break last season, losing to Swindon on penalties; do you think this has affected the players this season?
ANDY: A lot of last season's players have moved on so not unduly. I'm hoping that if anything it has made those that still remain stronger and more determined to avoid a repeat.
THE POSH BLOG: Losing Nicky Bailey in the summer must have been a big blow. Do you think Phil Parkinson has properly replaced him?
ANDY: Bailey got goals, which is obviously important, but it was hard to know where best to play him at times. We actually look to be better balanced without him.
THE POSH BLOG: What's your opinion on Phil Parkinson? Many Charlton fans don't seem to rate him particularly highly.
ANDY: He does seem to be a "marmite" character amongst our fans that is true. I'm a fan personally. Dowie and Pardew blew £25 million between them on dross so Parky has had to make do with very little. He seems a Curbishley like character to me, in contrast to the hot air of Pardew and Dowie, and is slowly rebuilding along the right lines.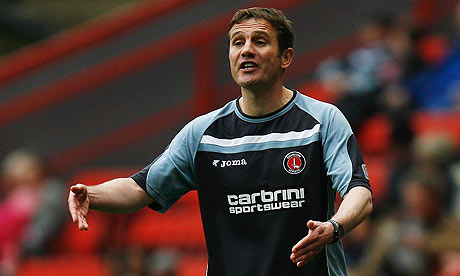 THE POSH BLOG: Who should we look out for on Saturday as your real danger-man and who would you say has been your star performer this season?
ANDY: Joe Anyinsah has done well when he has played. Star performer is a tough one as we are a solid team rather than full of outstanding individuals. I guess Kyle Reid has looked our most spectacular performer when on form.
THE POSH BLOG: Finally, what is prediction for this weekend's game and where do you think that Charlton will finish at the end of the season?
ANDY: Depends how our sometimes ponderous defence copes with your strike force and whether or not our midfield turns up! If you offer me a draw now I'll take it! As regards the end of the season if we can maintain consistency we have a chance of a play-off place.
Our thanks goes to Andy for agreeing to participate in this.