Two second half changes and a tweak in formation by Vilanova was too much for the Russians to handle, as Barca bombarded the Spartak goal in the final 30 minutes of the game. However, things were far from sweet for the Spaniards.
In the early stages Spartak looked the most threatening with Romulo, Ari and Emenike all showing off their pace to warn the Barca defence not to be complacent. Barca responded immediately with Tello shooting just wide and Pique lashing over from a short corner from Xavi. But this had side effects for the defender. He seeming landed awkwardly on his ankle and despite trying to run his injury off he was replaced by Alex Song after just 10 minutes.
On 14 minutes the breakthrough came. Cristian Tello who was making his first UCL start picked up the ball in the Spartak half and Adriano offered a dummy overlap and in a flash Tello flew inside his the full back and curled a beautiful finesse shot with his right foot into the far corner of Dikan's goal.
Leo Messi beat the offside trap on 22 minutes with a great through ball from Xavi to go 1 on 1 with Dikan only to be wrongly flagged offside by the official.
Spartak's first real attacking effort on 28 minutes ended up with the ball in the back of the net after flying run from Ari down the right who whipped in a low hard cross that missed Song only to find Dani Alves who bundled the ball into his own net. If it had been the right net it would have been a fabulous finish!
The next 10 minute spell was quite erratic at Pedro caused problems down the wing as he did all night and was hacked down by Kombarov on a number of occasions. Xavi's resulting freekick was deflected wide for a corner which followed with Sergio Busquets glancing a header wide of the far post. As for Sergio himself, he actually behaved not displaying his amateur dramatics for a nice change and instead showed off his excellent footballing ability.
Another quick counter for Spartak was spearheaded by Ari once again in which Song conducted a silly charge knocking the Brazilian flying to prevent the attack from continuing and was cautioned for his troubles on 33.
Just 3 minutes later Xavi clipped through a fine through ball for Cesc who beat the offside trap only to see his header superbly saved by Dikan. The final chance of the half came when it seemed Fabregas was brought down in the area on 42 minutes but the ex-Arsenal man didn't kick up a fuss when no penalty was awarded and replays show that the out stretched leg of Marek Suchy did indeed get the ball and the half finished one apiece.
Spartak number 9, Ari, produced a good attacking display
The second half began with no surprise with Barca on the front foot but it was only Adriano's shot on 48 that caused any real issues for the Spartak defence. Instead it was the turn of the away team to go on the charge and efforts from Romulo and McGeady went wide before Romulo managed to find space just outside the 6 yard box and tuck away out of the reach of Victor Valdes on 58.
This called for the second Barca change as Sanchez replaced Alves and Barca then had 4 natural attackers on the field. The dividend arrived soon after when Tello once again produced one of his blistering charges as he seems to be fitted with at least 4 turbo chargers. The Spanish U-21 international cut past Makeyev and Insaurralde and picked out Leo Messi who slotted home from 6 yards to draw level. Questions needed to asked as to who was supposed to be marking the Argentine.
A final change came on 76 minutes when David Villa replaced Tello who had played a fantastic game scoring one and setting up one not to mention his lightening runs down the left flank. Villa nearly scored with his first touch only for the Spartak to react quickly and block his left footed drive after strike from Messi was also blocked. The winner came 10 minutes from time as Sanchez picked up and over hit ball whipped in to find the head of the Leo Messi who made no mistake from 4 yards. Yet again questions about the Spartak defence who allowed Messi to break free from 2 markers to nod home. Messi also surpassed the 50 goal tally for UCL goal's and in doing so at just 25 years 87 days made him the youngest person to ever produce such an achievement.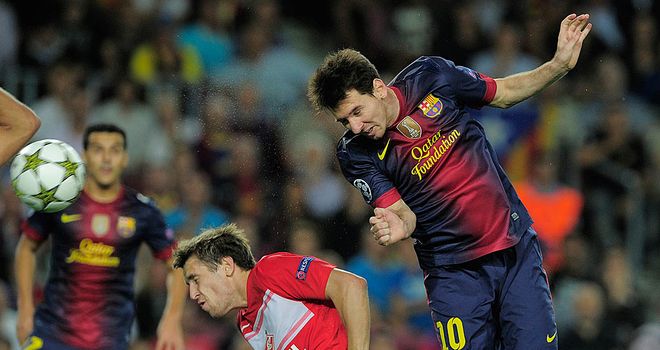 Mesi rises above the Spartak defence to head home his second.

Pedro and Sanchez both came close and looked sharp on the ball. Hopefully Sanchez has found his feet after a sticky start to the season. David Villa also looked dangerous when he came on and certainly gave Barca a boost cutting across the area, dragging defenders away and making some very nice runs. It seems as though El Guaje has never been away!
So three points at the first time of asking for Barcelona who did dominate for large periods but it would be unkind to not mention that Spartak did not throw the towel in at any stage and despite the experienced Kallstrom struggling in the centre against the conductor, Xavi Hernandez, there were good performances from Romulo Ari and Emenike who offered an attacking threat but it was disappointing to see that Aiden McGeady wasn't really utilised to his full potential who operated in a central position for most parts.
(Images courtesy of Zimbio and Sky Sports)