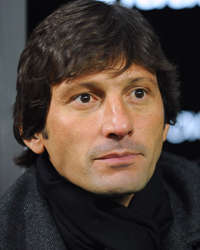 Inter Milan now lie 4th, 6 points behind but with a game in hand, and if that game is won, then Leonardo's men move up to second, only 3 points behind the Rossineri, which is a remarkable comeback from the 13 point gap that Rafa Benitez presided over, and not only puts Inter back in contention for the title, but highlights the Nerazurri as chief contenders with Milan for this years Scudetto. Leo has done a fantastic job thus far working for the blue half  of the San Siro, and you consider that Inter are still without playmaker Wesley Sneijder, then there is definite reason for Milan to be nervously looking over their shoulder. The main reason for Leo's success seems to be that he has reinstalled Inter's winning mentality, which was sorely lacking at the start of the season. Tactically, there is no remarkable change, but the return of Thiago Motta as a key player has definitely helped, and with Diego Milito seems to be recovering some of the form that saw him get on the scoresheet so many times last campaign, Leonardo will soon have Inter firing on all cylinders.
that does not mean, however that Inter will simply stroll to another title, far from it. Milan are still the favourites, and anyone who saw their frighteningly easy dismissal of Bari last night, will not doubt that the front three of Robinho, Cassano and the almost unstoppable Ibrahimovic is one of the best forward lines in Europe. The development of younger players has also aided Il Diavolo to no end. Once a side that would refer to 34 year olds as "Champions" is now seeing the benefit of fielding players without pension plans, with the likes of Boateng, Merkel, Strasser, and superteen Alex Pato all giving the burst of youth and energy that a title winning side relies on, and something AC Milan have certainly missed.
But will Inter overtake their city rivals again? Or will Milan hold onto their first Scudetto since 2004? Time will tell, but Serie A appears to have a genuinely fascinating title race over the next couple of months, and this years Derby Della Madonna will be all the more significant.