It's hard to believe that just over a year ago, Darlington were a single penalty kick away from reaching the League Two play-off final. Unfortunately for them, Jason Kennedy's penalty was saved by the trailing leg of on-loan Rochdale keeper Tommy Lee, and they were subjected to another season in the bottom tier of English football.
Jason Kennedy missed a crucial penalty at Spotland
As heartbreaking as that was for the Quaker's and their fans, it was nothing compared to what was to happen in February of this year.
On February 25th, ironically after another defeat to Rochdale, the club announced that they were to enter administration, citing the current economical downturn and the lack of crowds at their 25,000 (yes, twenty five thousand) seater stadium as the main reasons. As a result, the FA deducted the club 10 points and their season petered out into a solid mid-table finish of 12th.
Meanwhile, manager Dave Penney left the club before the final game of the season to take up the vacant post at Oldham Athletic and the club's administrator's released in their words, "the majority of the first team squad". As a matter of fact, they only spared three players their jobs.
Enter Colin Todd. The former Middlesbrough and Bolton boss was appointed manager with Dean Windass joining him, taking up a role as player-coach. Todd won't have faced a tougher challenge in football. With just four first team players including Windass, and no funds, he had to build an entirely new squad and make them gel with just two and a half months until the season got underway.
Colin Todd was always fighting a losing battle
Unsurprisingly, Todd was very limited in the transfer market and had to stick to free transfers and loans. Having failed to win any of the first nine league games and only picking up two points in the process, Todd and Windass agreed to leave the club. Their replacement came in the shape of former Republic of Ireland manager Steve Staunton.
Staunton endured a fairly hit and miss period with the Republic of Ireland, but experience at such a level should prove beneficial to him.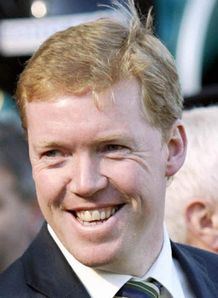 Steve Staunton is the man Darlo hope can turn their fortunes around
One question on many people's lips is whether the Darlo board should have hired a manager with relatively no experience at this level, apart from a month as assistant manager to Gary McAllister at Leeds United. My response to that would be why not? After all, Colin Todd proved with his 20 years or so of experience that he wasn't up to the job.
The question is though, can anybody save Darlington? The club has a 25,000 seater stadium, but in a recent home game only drew a crowd of 1,700. You don't have to be a financial expert to realise that the club will be operating at a massive loss. At the time of writing, Darlington sit bottom of League Two, eight points from safety after only 11 games. It's clear the players aren't good enough, and with no money to spend, does it even matter who the manager is?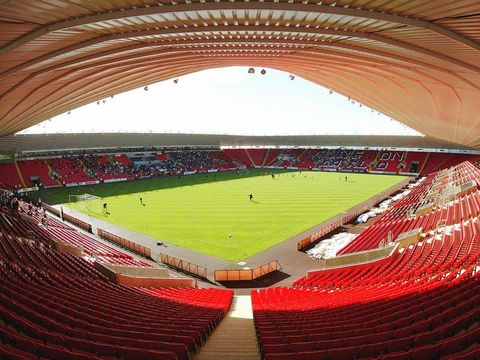 An average match day crowd at the Darlington Arena
Unfortunately for the Quaker's, I think the writing's already on the wall.