Could Celtic be about to cash in  on Garry Hooper ? Several sources are claiming that English Championship side, Southampton have increased their offer to £6 million pounds and are willing to triple Hooper's current £12,000 a-week wages. It was just yesterday that Hooper reiterated his desire to remain with Celtic but the news that he could increase his earning will no doubt make him ponder his future. Even the club themselves may consider accepting the offer despite manager Neil Lennon's' claims that it would take an offer of Andy Carroll proportions to even make the club think about cashing in.
The most likely outcome is that Hooper will remain (even if it is just until the end of the season) so he can aid Celtics title challenge and he perhaps sees himself at an established Premier League side rather than Southampton. This outcome doesn't mean Celtic wouldn't have been tempted by the offer.
Celtic are now a selling club, forced into the market of signing up and coming talent with the view of then selling them on for a profit. This is why any offer around the £6 million mark will turn the head of the Celtic board. Supporters have now long accepted the strategy adopted by the club, but they can have every reason to still be alarmed.
When Celtic adopted this buying and selling policy they had every right to believe that the clubs they would be selling to would be those of a powerful league such as the English Premiership. Their pride would not be wounded as these leagues contained a far bigger revenue stream than the Old Firm could ever dream of receiving in the SPL. What the club and supporters would not have anticipated is that clubs from England's second tier are now above them in terms of spending power.
£6 million pounds on one player is something Celtic can only dream of now, yet Southampton have found it easy to table such a bid and they are not alone when it comes to English Championship sides outspending the Old Firm. It was just last summer that Leicester City tabled a bid of £6.5 million for Rangers striker Nikica Jelavic. While Rangers rejected that offer and Celtic may still knock back Southampton's bid for Hooper, there is no doubt that the Old Firm can no longer even compete with Championship sides when it comes to transfer fees.
Bhoys priced out of Rhodes
Another argument is the situation surrounding the in-form player in British football; Huddersfield striker Jordan Rhodes.
His goal scoring exploits for the League one side have alerted nearly every big club in Britain to at least have scouts keep an eye on his progress. It seemed that Celtic were in a decent position to claim his signature a few months back as they were one of the first sides to express an interest. However as the number of clubs interested has increased so has his asking price. Celtic now find themselves priced out of a move for Rhodes while West Ham (who are in the Championship) are now leading the chase for Rhodes.
Hooper may not leave now but his departure is inevitable. Celtic need the transfer income to at least try and remain competitive. The Old firm will continue to look for bargain deals and Celtic supporters can only hope that the club keep producing gems such as Emilio Izaguire and this seasons stand-out, Victor Wanyama.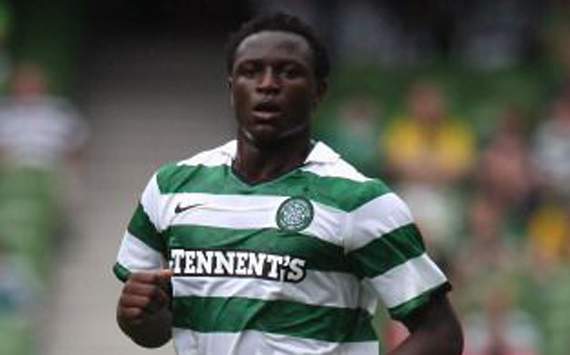 Sadly for Scottish football fans it looks like their suffering will continue with more and more English sides proving they are more than capable of beating top Scottish clubs in the transfer market. Supporters can only hope that the current work on youth development will one day benefit the national team and Scottish football fans can  lay claim to having a word class player pulling on the dark blue.