Before Roberto Di-Matteo was awarded the contract to take in charge of the blues, there were several coaches who were linked to the Chelsea job and amongst them was the former Barcelona gaffer in the name of Pep Guardiola. Guardiola was one of the best coaches in the Catalans history winning 14 major trophies within his four year spell at Barcelona, two of which were Europe's most prestigious trophy,the champions league. He was Abramovic's favorite but claims he needed a year break.
Last season was Guardiola's worse season with a single trophy, the Copa del Rey. He announced his resignation after Barcelona were knocked out of the champions league by Chelsea(the eventual winners) as well as a defeat in the "El-clasico" against Real Madrid at the Camp Nou, the game that decided the winner of the La Liga.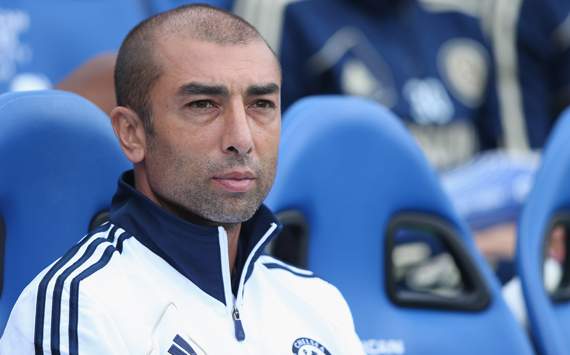 Roberto Di-Matteo: Manger of Chelsea
Last season also saw the rise of Di-Matteo who made a miraculous double in less than three month i charge of the blues by winning both the F.A. cup and the Champions league in an "ugly" way although its Chelsea's best season ever. He used Chelsea's strength which is defending to succeed, although Abramovic wanted the champions league desperately, he also wanted to see a more attractive football played which is his reason to lure Guardiola and it is still possible to bring him at Stanford Bridge next season.
Di-Matteo has started a revolution at Chelsea after the departure of some old guards such as Anelka, Alex, Drogba, Bosingwa, Kalou and the arrival of young and exiting youngsters like Hazard, Oscar, Marin, Moses and Lucas Piazon. Hazard has been the best player in premier league so far after some assist and his touch of glimpse has been incredible, Oscar still finding his feet in the English game although he scored two fantastic goals in his champions league debut against Juventus and yet to score in the premier league, Moses's strength and energy so him on the score sheet in the league cup which was his first start in the blue shirt against wolves and yet to start a premier league game, Marin after his injury, came on late in the league cup win against wolves also yet to start a game.
After six games in the premier league, Chelsea are comfortably sitting in the 1st position dropping just two points in the derby game away at Loftus Road and conceding just three goals (the best defends record so far). When Chelsea started the campaign with new style of play, for a moment people begin to doubt them as to whether they can stick to that but with this weekend game(29/09/12) at the Emirate against Arsenal, people will begin to take Chelsea serious for their possessive style now.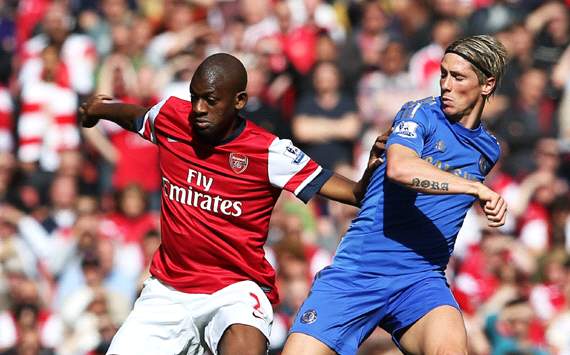 Abu Diaby (left) and Fernando Torres (right) battle it out in the London derby at the Emirate Stadium
In two consecutive premier league, Di-Matteo has stuck to the attacking midfield trio; Mata, Hazard and Oscar, all three players are good in possession, have the ability to create chances and can score as well which will help the team in terms of possession, ability to create goal scoring opportunities and scoring as well. Lampard is relegated to the bench in three successive games in all competition allowing Ramires to partner with Mikel in front of the back four to add more energy and pace into the game considering Lampard's age. The ability of Fernando Torres to get back to the midfield for ball is also a good sign in employing the new style since it will be an all attacking and all defending style just like Barcelona.
All teams definitely will want to emulate Barcelona since they are the best team currently as well as the best team ever(although its debatable). Guardiola has done a great job at Barcelona but considering the resources available to him which was a factor to his success but can he do that in any other teams aside Barcelona especially Chelsea? Also, considering Di-Matteo's contribution so far at Chelsea it is possible to say that he is as good as Guardiola because he is trying to change Chelsea's style of play in a unique way.