With Craig Mackail-Smith looking likely to leave the club in the summer and currently gaining awards almost daily there is hardly a more poignant time to write this.
Hands on hips he stood. In the middle of the pitch. Alone but surrounded, it appeared to effect him more than the others. It wasn't as if this hadn't been coming; it had been inevitable for months. But this had hurt. That much was evident. His effort couldn't be questioned for he had given as much as he could. In the end it proved to no avail. Crestfallen, he went over the fans, applauded and walked, frustrated, down the tunnel. Posh's relegation from the Championship had affected him just as much as it had a supporter. He felt the pain too. If ever Craig Mackail-Smith's commitment to the club could be questioned it could not after today.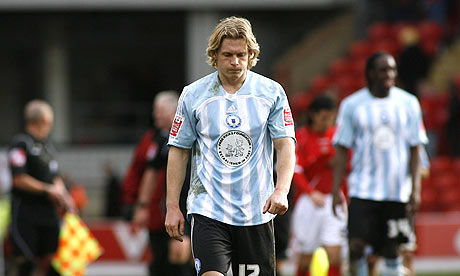 Yet, it had not been like this at the start. At the start it had been turbulent. His transfer from Dagenham and Redbridge had hardly been a smooth transition. Initially it seemed that he had rejected a move, hoping for a transfer to Sunderland instead. But finally it went through. Many weren't happy. But soon all the fears were cast aside.  He came as a non-league hopeful looking for a chance to prove himself. When this chance came along Craig Mackail-Smith was not the sort to let it slip.
Quick to establish himself as a regular starter Mackail-Smith instantly found his grove. Alongside Aaron McLean up-front the two created one of the deadliest attacking forces that Peterborough United fans had ever seen – between them they have scored 157 goals for the club. But it was not just Mackail-Smith's wonderful goalscoring record that had endeared him to the London Road crowd; goals are only a minor part of his game. The term "a defender's nightmare" is used too often in football, and the cliché simply doesn't do Mackail-Smith justice. For his marker wishes that he is a nightmare. Then they could wake-up, forget and move on. But for 90 minutes this nightmare does not go away. No matter where they go it is there. It is surrounding them and by the end many have given up, simply reduced to a nervous wreck.
It is this burning desire to run, press and hassle that endears Mackail-Smith to the fans so much. He plays as if he has one chance, every game seems like it is his last. From the stands it is tiring to watch. No matter how many times you see it, it remains startling. Nothing is a lost cause, and for 90 minutes Mackail-Smith seems as if he is on a one man mission. This season though, he has become more than a hard working striker. He has become a wonderfully rounded player. He has become a true Peterborough United legend.
Despite the hard-work, in previous years the jet-heeled striker had been guilty of missing too many guilt-edge chances. His goal-scoring record was impressive but question marks were raised whether he could make it at a higher level where opportunities are harder to come by. This season any doubts over this have been erased. He most certainly can. Mackail-Smith has become clinical. He has added the one ingredient that was lacking. He is deadly in-front of goal. If he gets a chance, invariably, he scores it. Too often he has appeared a class above the opposition. Too often he has appeared a class-above his team mates.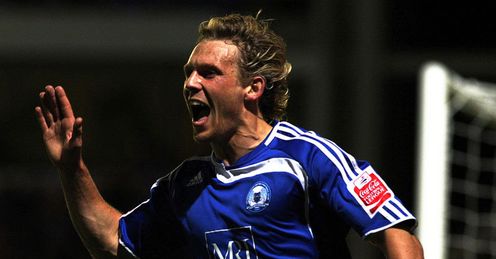 Whilst the skill of players like George Boyd and Lee Tomlin is scintillating. From my time watching from London Road no-one has left me more in awe than Mackail-Smith. He isn't possessed the grace, poise and skill of some. But he just doesn't stop. The word give-up doesn't appear in his dictionary, no matter what is thrown at him Mackail-Smith doesn't quit. He inspires others to do the same and as a result Posh have shown great resilience in recent seasons.
A League One player of the season award this year is some accolade for his work. But he deserves more. He deserves his chance at a higher level, for he has given everything for Peterborough United. At times he has dragged the rest of the team forward single-handedly. And because of this he has been a major part of two promotion seasons so far for the club. Whilst it seems that he will get his leaving in the summer – reported interest from Norwich and West Brom has appeared in recent times – Darren Ferguson believes there is still a chance that he could sign a contract. "Never say never" was Ferguson's quote and, on the football pitch, Mackail-Smith certainly doesn't.