It was once football's most notorious rivalry. Not Manchester United vs. Arsenal, but Sir Alex Ferguson vs. Arsene Wenger. A rivalry that culminated in the game that ended Arsenal's record breaking 49 game unbeaten run and the resulting "Pizzagate" scandal.
Their relationship is rather more cordial these days, the arrival of Jose Mourinho at Chelsea seemingly bonding the two managers together in defiance of a 'newcomer' to their monopoly.
But following a war of words ahead of tonight's clash, their players are doing their utmost to revive a feud that had defined the Premier League up until the 'oligarch era'.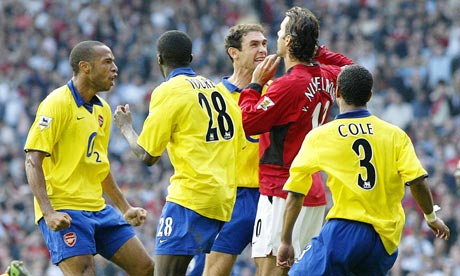 Where as before, pizza flew around the Old Trafford tunnel (as to why there was pizza in the tunnel post-match still puzzles me), words are now the modern weapon of choice as they swirl around this fixture like a winter snowstorm.
Ferguson has been more likely to back his new confidant of late than criticise him, even appealing to the United fans to refrain from chanting abuse at the Arsenal boss tonight.
But with his manager refusing to engage in his trademark mind-games, Patrice Evra seems to have taken on the role, restoring a familiar state of attrition to tonight's tie.
Evra, United's perennial agent provocateur, made the initial assault on tonight's opponents, labelling the club "a training centre", and taunting them over a five year barren spell at the Emirates.
Add this to previous claims that Arsenal are "babies" from the French full-back, and that he will tell Gunners captain, Cesc Fabregas "what I think about him", it is blatantly clear that Evra simply does not like Arsenal.
This Arsenal generation may lack the presence of a Viera, Adams or Keown figure within their ranks, but after Evra's comments riled Premier League flavour of the month, Samir Nasri, he uncharacteristically hit back, claiming "with Ronaldo and Tevez it was scary to play at Old Trafford. Not any more".
So it appears that an intense rivalry still hides behind the diluted public relationship between their managers.
However, if Wenger's view of his United counterpart has cooled, his opinion of United's style has not. After last season's 2-1 defeat at Old Trafford, Wenger complained bitterly of "repeated fouling", citing United midfielder, Darren Fletcher as the prime protagonist in their 'anti-football' master plan.
But, Fletcher is unconcerned by the allegation levelled at him by Wenger last season. "Things get said in the heat of the moment and I would rather not dwell on it. I know I'm not a dirty player.
"I go to win the ball and sometimes you give away fouls doing that but it's not malicious and it's all part of the British game"
Fletcher is likely to be key once again tonight as United attempt the stop Arsenal's flow, a strategy that has proved successful in recent clashes.
Arsenal are without a win at Old Trafford since 2006 and after a 2-0 defeat to Chelsea earlier in the season, the Gunners quickly need to develop the ability to triumph in the 'big games'.
Wenger shares this opinion, but believes that a victory tonight will underline his side's credibility as title contenders. "It's more psychological for the rest of the season than a decider mathematically. It's a big game because we have to convince people we can do well in the big games".
It is one of the clichés of modern football that Arsenal, on their day, are capable of magnificent, fluid, exciting football. At times, Arsenal are unplayable. But far too often, their rivals give them a lesson in potency when it really matters, and Wenger desperately needs to address this.
This fixture will be given the sub-heading of 'top of the table clash'. But in a season, in which not one side is intent on taking a commanding lead, it is any wonder that both sides occupy such positions.
Arsenal sit atop the Premier League table, but that is down in most part to the failings of their closest rivals. Home defeats by Spurs, Newcastle and West Brom have been significant blots on their copybook so far, and sit on 32 points from 16 games, an identical return to last season. But should they triumph tonight, Arsenal will stretch their lead over United and champions, Chelsea to four points.
United's season summary makes pretty similar reading. Despite remaining unbeaten in the league and Champions League, United have stuttered through their fixtures this season, with both sides sharing one trait that threatens to derail their season at any given time.
Concerns over the solidarity of Arsenal's defence have subsisted since the retirement of Tony Adams and co. But the debate over the suitability of United's back-line is a relatively new one.
The centre-back partnership of Rio Ferdinand and Nemanja Vidic was, not that long ago, regarded as the most effective in Europe. But injury has hindered the twilight of Ferdinand's career, leaving Vidic as the sole bearer of United's defensive clout, alongside the unpredictable Jonny Evans.
However, there is no doubting the attacking prowess of both sides, particularly that of the Gunners. Nasri is the latest addition to the 'best player in the world' contingent, after the induction of Gareth Bale and Dimitar Berbatov so far this season, and it will be him that Arsenal turn to as their creator-in chief.
The latest instalment of this reincarnated rivalry may not be worthy of the drama of 'Pizza-gate', but factor in a couple of late Fletcher tackles on Nasri, and the extent as to just how much the Wenger vs. Fergie rivalry has cooled, will become apparent.