When you peel away the veneer of the glamorous, money spending Manchester city, what you are left with is a squad of overpaid individuals who are evidently after witnessing yesterdays fracas, not a team. Many questions had been raised of Manchester city's title credentials in the past where pundits argued how such a new side of clashing egotistical individuals, could ever stand a chance against their rivals. And this hypothesis seems to have to some extent been proved valid after Emmanuel Adebayor and Kolo Toure exchanged blows after a dangerous tackle during a training session. Tempers inevitably flared and resulted in approximately six players involved in the melee in attempt to pull the 'team mates' apart.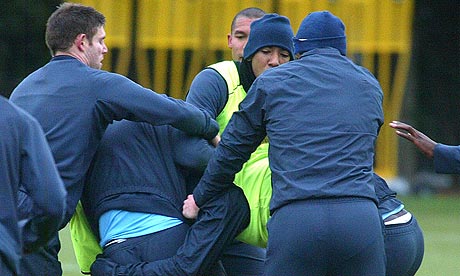 Emmanuel Adebayor has recently been the subject of much transfer speculation and these rumours will have grown in probability after the recent drama at Eastlands. Both of the involved players would have been looking forward to a return to their former club Arsenal on Wednesday night but after recent revelations, the chance of any involvement between the two looks increasingly thin.
Roberto Mancini will certainly have his work cut out not only to salvage the teams chemistry, but also to focus his players ahead of a crucial match away at  Arsenal which in the context of their season, could prove vital if they are to stay true to their word and contest the title.
Quashing rumours of unrest amongst his squad has become an all too familiar topic for the Italian manager, and after the recent Carlos Tevez saga, all eyes will be on Mancini as he attempts to reassure supporters that there is no crisis within the squad.
Man City's travel to the Emirates with key players Mario Balotelli and David Silva both missing out with knee injuries while Arsenal have no fresh injury concerns ahead of a game which despite being overshadowed by the drama of the day before, should provide viewers with a fascinating contest.