This post is the third part of a series of blogs documenting what has happened at Peterborough United since Darragh MacAnthony's takeover. To view previous articles click here:
Initial optimism at the start of the season was quick to be drained. This feeling had become depressingly familiar. At the end of September Posh sat tenth. Not awful by any stretch, in-fact there had been encouraging signs, but compared to the list of aims MacAnthony had set for the club to sit in 10th position was rather disappointing. Mediocrity appeared to have set in, a feature that Posh had not been able to shake off for a period of time. Peterborough United Football Club and mediocrity had gone synonymously together for too long. It seemed that they would break the tradition this season but, as yet, the signs had been that no dramatic change of ethos was about to happen.
But then, suddenly, everything clicked. George Boyd, Craig-Mackail-Smith and Aaron McLean formed a lethal partnership up-front. New signings Micah Hyde and Dean Keates formed a reliable central midfield partnership. Craig Morgan and Chris Westwood, as the two first choice centre backs, provided a foundation for Posh to build on. And this was all that was needed. The spine of the squad had been formed. Ferguson had got the team playing attacking football and with McLean, Boyd and Mackail-Smith in the attacking department very few defences could cope. The Posh lost once in the league between the end of September up until December and were progressively improving. Three had been put past Dagenham, four past Wrexham, and Brentford were thumped for seven. After a poor start The Posh had fired themselves into promotion contention; it was mid-way through December and the club sat second in the league. Only four points behind league leaders MK Dons who were the next team to travel to London Road.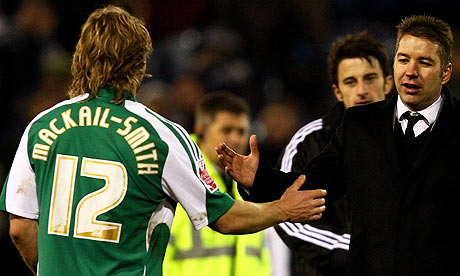 This was the biggest game London Road had seen in years. The people of Peterborough were certainly buying into the promotion push now. Over 10,000 fans flocked to London Road to witness the top of the table class. But this was not to be an easy fixture; Posh wouldn't be able to brush aside the league leaders like they had many opponents that they had faced so far this season. A win would announce Posh a real title contenders. A loss and it would be a hammer blow to Posh's promotion hopes. As the atmosphere increased and the tension grew London Road felt different. There was a buzz around the ground that hadn't been there for a considerable amount of time. But the visitors had stolen the show within the hour. 2-0 up and comfortable, it looked as if MK Dons would extend their lead at the top to 7 points. However, Posh had scored in all but two of their league fixtures to date and their attacking prowess shone through once again. McLean prodded home a late glimmer and when Drissa Diallo was sent off it seemed that Posh may pull off an unlikely comeback. Unfortunately it wasn't to be and MK Dons held on. It was now a question of how well Peterborough could bounce back from adversity.
The answer was not particularly well. Despite a victory over Bradford in the subsequent game, The Posh slumped to defeats against Mansfield and Morcambe meaning that it wasn't a happy Christmas for Posh fans. The two losses had meant that the team had also relinquished its grip on automatic promotion. The Posh now sat 6th, and continued to fall further behind the league leaders. In-fact any hope of a title challenge had almost been eradicated. Promotion to League One had became the sole aim.
Posh required strengthening in January now. Automatic promotion was not off the cards, Posh were still within touching distance, but the MK Dons defeat had seen Peterborough's good form deteriorate. MacAnthony quickly provided Ferguson backing. Joe Lewis was signed from Norwich to become Posh's record transfer – £400,000 was paid to bring him to London Road, with add-ons meaning the fee could rise even higher. For Peterborough to be spending such a sum before MacAnthony's arrival would have been unthinkable, especially as the new goalkeeper was un-proven, but with the Chairman's wealth behind them Posh fans were being treated. However, Lewis' arrival had signalled the impending departure of a Peterborough United legend. Mark Tyler, who simply didn't fit into the club's "young and hungry" policy, was now on his way out. It disappointed many, for Tyler had forced his way into Posh history, but nowadays the club were heading in a new direction: away from the past and into the future…