Lowly West Bromwich Albion are the visitors to the City of Manchester Stadium on Sunday as the Blues return to Premier League action following their mouth-wateringly entertaining, yet ultimately disappointing, UEFA Cup match against Hamburg. Mark Hughes, the City manager, has called for the emotion from the Hamburg match to be carried into this encounter, but you can be assured that the level of support and the number of inflatable objects won't be anywhere near the same. It certainly feels, as far as City are concerned, as if the season has ended, with participation in the European competition having concluded, and with only limited hope of reaching the holy grail of seventh place. On the other hand, the visitors are embroiled in a relegation battle, but they are not so much battling as whimpering out of the Premier League.
The Baggies are currently bottom of the table, a position which they are very accustomed to, and they trail Newcastle, managed by Sir Alan of Shearer, by five points; a rather considerable margin at this stage of the season. They have not won in the league for ten games and have only picked four points out of a possible 30 since defeating fellow relegation candidates Middlesborough in January. However, West Brom have one thing in their favour – recent form against the Blues; they are unbeaten in the last six Premier League matches against City, having won four of those games, the most recent of which, at the Hawthorns in December, they won 2 – 1 thanks to an injury-time winner from Roman Bednar.

Roman Bednar scored the winning goal in the previous fixture between these sides
Team News
Blues boss Mark 'Why Not Bring On Gelson Fernandes As We Search For A Goal In The UEFA Cup' Hughes faces some tricky selection dilemmas,as he ponders how best to revitalise his weary players. Pablo Zabaleta and Elano, both of whom were inspirational against Hamburg, picked up injuries in that match, so there may be opportunities for others to start. Nigel de Jong and Valeri 'By Amy Winehouse' Bojinov were ineligible in midweek, but are certain to be recalled for Sunday, the latter in place of Felipe Caicedo, whilst Danny Sturridge and Martin Petrov (at first I was afraid, I was Petrovied) are both pushing for starting berths. Shaun Wright-Phillips, who sat out the Hamburg match with an injury is not expected to recover in time, thus handing Elano, if fit, another chance on the right-wing.
The visitors, described by many of their supporters as 'the best footballing side in the Premier League' are ravenged with injury doubts up-front, as both Roman Bednar and former Blue Ishmael Miller are absent. Miller, a powerful striker in the mould of Caicedo, played seventeen times for City after graduating from the famed academy, but has missed a large part of this campaign with injury. Defender Shelton Martis, a Netherlands Antilles international, a hitherto unknown to me country surprisingly located off the coast of Venezuela, is sidelined with a groin injury, but fellow defender Gianni Zuiverloon will return after suffering with cramp against Portsmouth.
My Team (4-1-4-1)
                                                    Given
Zabaleta                  Kompany                       Onuoha                       Bridge
                                                  de Jong
Elano                       Ireland                          Robinho                      Petrov
                                                 Bojinov
Subs: Hart, Dunne, Garrido, Weiss, Sturridge, Evans, Mak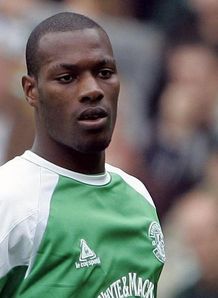 Shelton Martis and the Netherlands Antilles flag
Key Battles
Nedum Onuoha 'v' Marc Antoine Fortuné
Fortuné, on loan from French side Nancy, has scored three goals for the Baggies since joining in January and tony Mowbray will be hoping that the powerful striker can add to his tally today. Onuoha has looked very assured at the back for City in recent matches, more so than centre-back partner Richard Dunne, and he must continue this excellent run of form.
Elano 'v' Paul Robinson (Not The Blackburn Goalkeeper)
After his stellar performance against Hamburg, Elano will hope to shrug off an injury complaint to start in this fixture. He took up an unusual right hand side role on Thursday in the absence of Shaun Wright-Phillips, and the City fans hope that the Brazilian can reproduce the skills and work rate on display in midweek. Robinson, a highly combative left-back, will look to nullify Elano with his tough tackling, so if the City star can escape Robinson's clutches, City will prosper massively. 
Valeri Bojinov 'v' Abdoulaye Meite
'Podgy Boji' has, since returning froma  serious injury, produced two very mixed performances, highlighting his ability against Sunderland, before a non-showing when facing Fulham. He will be competing with Felipe Caicedo and Danny Sturridge for a starting berth, so if he plays, there will be increased responsibility on his (broad) shoulders. Meite joined West Brom in the summer, and has not been a regular at the heart of defence, but in the enforced absence of Shelton Martis, he will start and must look to help Scott Carson keep a clean sheet.

Bojinov will hope to start against West Brom
Verdict: Man City 3 – 0 West Brom
City must recover in time after their wonderful efforts on Thursday, and I will back them to do so against a very poor West Brom side, with goals to be scored by Robinho, Sturridge and Petrov.