This season, Manchester United have lost just once in twenty-six Premier League games, eased into the knock-out stages of the Champions League and have now swept past Liverpool, Southampton and Crawley Town into the quarter finals of the FA Cup. I find it hard to believe that this Manchester United squad, the worst I have seen on paper, is capable of competing on all three fronts yet, I would not bet against at least a double for United, come May.
There are several reasons that I feel this United side is the worst of the last decade or so. Firstly, when you look at the team sheet, there is nobody that strikes fear into opponents. Wayne Rooney on his day is a great player, along with Berbatov, but it is increasingly the case that it is not his day. Berbatov scores his goals in spurts, he will have a purple patch for a couple of games and then not score for 5 or 6 games and that is not what a team needs if it is to win the Premier League. Manchester United's most consistent performer this season has been Nani and he has really cemented a first team place at Old Trafford but he has replaced Cristiano Ronaldo and therefore will have to do a lot more to fill Ronaldo's boots.
Furthermore, Manchester United's ageing players are on their last legs. Yes, Giggs is still a very good player but he is not the Giggs of ten years ago and has another couple of seasons at the top level. Also, Paul Scholes is coming to the end of his career and can it really be argued that Michael Carrick or Darren Fletcher will ever play at a similar level. Edwin Van Der Sar will retire at the end of the season and with Anders Lindegaard and Tomasz Kuzsczak lined up as replacements, it is hard to see either of those filling the gloves of a legend like Van Der Sar.
The ageing stars are being replaced with mediocre players; Bebe, who has failed to impress in his outings in a red shirt. Gabriel Obertan, who has shown glimpses of talent, for example, his goal away at Bursaspor in the Champions League this season but reminds me of Ryan Babel who produced sparks but never put in consistent performances for Liverpool. Darron Gibson is another player who has shown moments of real class, he has a fierce shot and can pick a pass but he just doesn't look good enough to hold down a regular starting place in a title winning team.
However, Javier Hernandez, Chris Smalling and Rafael all have bright futures at Old Trafford and have all played consistently well when called upon and the contributions of Hernandez and Rafael especially have been invaluable this season. Hernandez's 2 goals at Stoke which earned a vital three points for united and the winner away at West Bromwich Albion on new years day was also crucial. Rafael has been a revelation at right-back this in contrast to previous seasons where he had been a bit of a liability.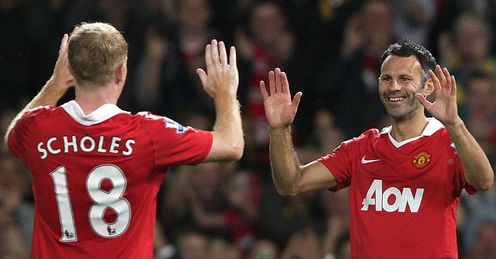 Never can I remember Manchester United side being so vulnerable away from home, especially early in the season. They let leads slip away at Fulham and at Goodison Park where 2 injury time goals allowed Everton to steal a point. They drew at Villa, a lucky point after being 2 goals down going into the last 15 minutes. They conceded a last  gasp goal at Birmingham and failed to break down Spurs, Manchester City and Sunderland. This poor away form also resulted in their only league defeat at Molineux. This away form has been disguised by their near perfect results at Old Trafford where only West Bromwich Albion have taken anything and this includes vital wins over Liverpool, Arsenal, Manchester City and Tottenham Hotspur which has given them the upper hand over their rivals. However, Anfield, the Emirates and Stamford Bridge are all yet to host United and if their away form stays at its current standard, they may struggle.
This Manchester United is a side in transition and perhaps this is the start of Sir Alex Ferguson's fifth great Manchester United side but I am not so sure. The last time Manchester United were in a transitional phase was when they didn't win the title for 3 seasons in the mid 2000s but at that time, they could look forward to the emergence of Rooney and Ronaldo and they were signing players like Carlos Tevez. Giggs and Scholes were a lot younger and could play 3 games in a week and Rio Ferdinand was coming into his prime with Nemanja Vidic as his partner. Since then, Ronaldo and Tevez have departed, Rooney has had ups and downs, Ferdinand has become a bit injury-prone and Giggs and Scholes are edging towards retirement.
So, taking all this into account, the question has to be asked, why do Manchester United keep winning?
For me, there are four reasons. Firstly, I think that this season, the Premier League has become more open and this has meant that Manchester United's away form has been compensated enough by their home form. The nightmare start to the season that Wayne Rooney endured was compensated by Berbatov finding his shooting boots when it mattered, such as at home to Liverpool in September. Whereas, in previous seasons they would have been out of the title race by now, their grinding out of results and the charitable points that have been given away by their rivals have allowed them to take control of the Premier League.
Secondly, Sir Alex Ferguson is a fantastic manager and that cannot be questioned. His tactics are usually faultless, he has brought in Giggs and Scholes when it really mattered and he has played his youngsters at the right times. He always knows when to use players like Park Ji-Sung and often this comes up trumps for Sir Alex and it is his knowledge and vast experience that means Manchester United use the right tactics at the right times.
Thirdly, in my opinion, Manchester United have been incredibly lucky. Rooney's overhead kick against City and Berbatov's against Liverpool both winners against bitter rivals, how often do they go in? very rarely. Also, on new year's day, West Brom's Peter Odemwingie missed a penalty against United and they should have had another when Gary Neville blatantly fouled his man in the box. Away at Blackpool, they came from 2-0 down and you have to feel that Blackpool are only team in the league who wouldn't just shut up shop and see out the second half for victory. Also, they have stolen 3 points at home to Wolves and away to Stoke with late victories.
Finally, Manchester United do not have the best players in the Premier League but they are the best team. They have a team spirit which Chelsea and Manchester City don't. They have stability, there are no £40 or £50 million signings coming in and taking their starting places. They have a manager with a quarter of a century of experience who has moulded them into a group of players who are capable of grinding victories whilst staring defeat in the face and this, for me, is the answer to why this group of talented but not particularly outstanding or special individuals has become a juggernaut of Premier League football and just keep on winning.