Juande Ramos, manager of struggling Tottenham, has been informed by the clubs directors that he has only 6 games to save his job.
The Spurs board have given the Spanish gaffer until November 15th to lift Spurs out of the bottom three, with his job at the London club on the line.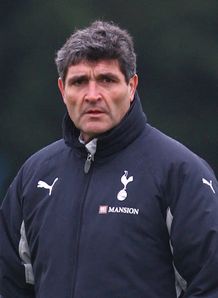 The news has rubbed salt into the wound of many Spurs fan's following the apparant sacrifice of last seasons league position in preparation for this campaign. Martin Jol was sacked around this time last year with Ramos replacing him, promising top 4 finishes and elusive runs in the UEFA and FA cup's. Many fans thought Jol was treated disgracefully by Levy, the clubs chairman, and a lot of Spurs fans thought he should never have been sacked. Nevertheless Ramos was bought in, bearing the boards heavy expectations.
Despite the ultimatum it appears that the Spurs board haven't quite hit the 'panic' button. The Spurs board have told the Spainard that they understand his players need time to gel and to get used to playing in the white shirt of Tottenham. However the board have admitted that theres no way the club would put up with the threat of relegation, a death sentance in these harsh financial times.
Meanwhile, Tottenham's sporting director Damien Comolli is targeting Torino's midfield youngster Alessandro Rosina. The midfielder has previuosly turned down a move to Everton, hoping instead for a bigger move. The move isn't likely to excite the vast majority of Spurs fans, who are dissapointed that summer targets like David Villa and Klaus Jan Huntelaar never arrived as a replacement for Dimitar Berbatov, who left the club for Manchester United.