Michael Carrick
They say you don't know how good it is until it's gone. Well that's true in the case of Michael Carrick. He spent two seasons at the Lane, appearing 64 times, before leaving to move to English Champions Manchester United. When he eventually left I was disappointed, but paid more attention to the fortunes of the more enigmatic players, such as Robbie Keane, Dimitar Berbatov and Aaron Lennon. In the seasons that followed however, I came to realise just what a player Michael Carrick was.
Carrick in action against Arsenal
Carrick is a wonderful passer of the ball, and created many attacks during his time at the Lane. Bought from West Ham for just £2.75 million, Carrick became a key player whilst playing under Martin Jol and led the team to a fifth place finish, Tottenham's highest ever finish in the Premier League. During the years we had him at the club, we had a number of midfielders on the books at the club, and yet Carrick was arguably the best. He did so much "unseen" work whilst playing in the middle, winning tackles, searching out the front men and feeding players in. It was no surprise when a big club came calling, and Carrick eventually left for around £18.6 million.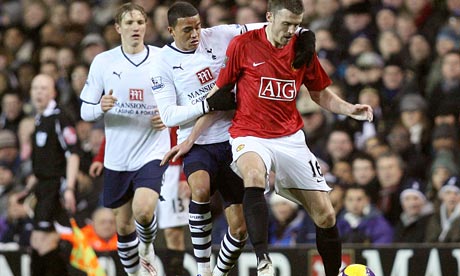 Carrick is now playing an important role for Manchester United and his departure hit the club hard, as no real replacement had been signed. The eventual signing of Luka Modric went some way to filling the gap Carrick left (like Carrick, Modric is a very good passer of the ball), but the midfielders all round ability is still missed.