Time is money. Especially at Chelsea.
Nobody doubts the huge amount of investment that Roman Abramovich has poured into Chelsea Football Club since 2003, and I don't suppose that many people disagree, despite his Forbes status as 'World's 53rd wealthiest inhabitant,' that in accordance with published financial losses and the £50 million acquisition of Fernando Torres, that recently his fingers have felt slightly burnt. Indeed, Mr. Abramovich is well known for his patience, or rather, lack of it nowadays. 7 managers in 7 years (8 if you count Ray Wilkins), alas none have lived up to the master's expectations. So why is Andre Villas-Boas still in a job? Statistically, in terms of 'win ratio,' AVB is on a lower par than Ancelotti, Hiddink, Grant, and Mourinho (not forgetting Wilkins' superbly untarnished 100% record, 1 win in 1). It doesn't stop there however. During the 2008 / 09 season Chelsea boasted an impressive clean sheet ratio of 58%, for 2010 / 11 39%, yet this season the percentage has plummeted to 20%. Indeed Chelsea have suffered some relatively poignant defeats already this season, most reasonably 1v3 against Aston Villa at Stamford Bridge. Roman Abramovich is not known to hold back, and demands success, so why isn't AVB gone already?
Lying in a sombre looking 4th in the Premiership, 11 points behind Manchester City, AVB finds himself in a reasonably similar situation to the one Sir Alex Ferguson found himself in for the first 4 years of his Manchester United tenure. Many people forget that AF didn't deliver immediate success to Old Trafford, indeed, even after big money signings such as Steve Bruce, Viv Anderson and Brian McClair, it still took the Dark Lord of football 5 years (and plenty of calls for his resignation) to grind out his first league title with the Red Devils. Based on this precedent, AVB should have some time at least to forge his mark and turn Chelsea's fortunes around.
In fact, AVB has given out many positive signals, and heralds some noteworthy achievements in Portugal and at Stamford Bridge already. For this reason, his services should be retained for another 3 seasons at the very least. Chelsea's 'goal per game' ratio is at its highest for a significant number of years, 1.95% to be exact. This, though admittedly taking its toll on the team's 'conceded per game' ratio, shows AVB's positive intent for the club. Chelsea's style of play has been much more attractive and exciting (despite Mourinho's consistency), and over time, with the acquisition of newer players and development of the youth squad, their consistency may balance out and title credentials will appear once again. AVB has done well to be brave enough to introduce younger members to the first squad, such as Daniel Sturridge (vindicating his selection by his 11 goals), whilst simultaneously sacrificing some of the more established egos, hence indicating his vision for the future. By making it known to Frank Lampard that he is no longer an automatic selection, AVB has encouraged the likes of Mata, Ramires and Romeu to cement their places in the squad, whilst Lampard has strove to maintain his starting place. This has produced some refreshing internal competition. In times of trouble, AVB has stood his ground, he has acted Ferguson-esque and given a piece of his mind to the media. All of these things are without doubt, very positive signs.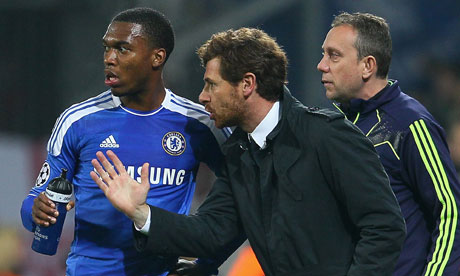 Villa-Boas is indeed still very young, therefore he has the ability to boast potential for longetivity and growing maturity. He has already enjoyed relative success at Academica in his native Portugal, and has 4 separate pieces of silverware in his cabinet from his comparatively short tenure in charge at Porto. Porto went unbeaten last season, if you didn't know. AVB has shown that he is not only an extremely talented individual, enthusiastic about Chelsea's direction, but refreshingly, up for the fight. Abramovich needs to give Villa-Boas time, a lot more time than his predecessors. Chelsea are still in the Champions' League, are they not? If Villa-Boas is permitted time and flexibility, we could be seeing the development of something massive in West London.