There's really not that much to report as not much news on the subject is out, I'll try to post something more detailed later, but… Spurs have completed the signing of Manchester City's Croatian defender Vedran Corluka!
Manchester City rejected a Spurs bid 2 weeks ago but Mark Hughes signed Pablo Zabaleta yesterday, freeing the way for Corluka to join Spurs.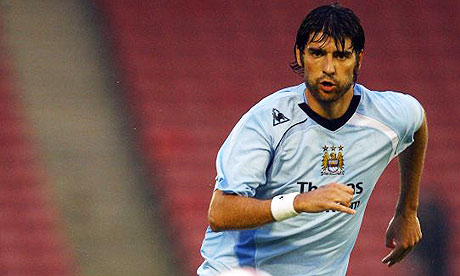 The defender has impressed in a City shirt recentley, and Spurs fan's will be hoping he can continue his recent good form at the lane. He's likely to fight for the right-back spot with Scot Alan Hutton, who's currently out injured. The right back spot has proved a bit troblesome for Spurs recently with Didier Zokora playing there in the last 3 games.
Spurs haven't revealed how much they paid for Corluka, but I'm guessing they forked out about £7mil for the player.
Corluka told the Spurs website how happy he was to join Tottenham. "I am delighted to be here because I am coming to a big club with great players, great ambition and also my best friend [Luka Modric] is here so it is a very happy day for me."
On the Spurs website there are a couple of pictures of him in his new Spurs shirt. Due to copyright, I can't put them on this blog but I'll put the link that will lead you to them. 🙂
http://www.tottenhamhotspur.com/news/articles/corlukadealagreed010908.html
And here's a couple of newspaper articles on the signing.
http://www.mirror.co.uk/sport/2008/09/01/tottenham-sign-vedran-corluka-115875-20720212/
http://www.guardian.co.uk/football/2008/sep/01/tottenhammancity.corluka