"FC United seeks to change the way that football is owned and run, putting supporters at the heart of everything. It aims to show, by example, how this can work in practice by creating a sustainable, successful, fan-owned, democratic football club that creates real and lasting benefits to its members and local communities."
It took guts to do it. It took passion, desire and a set of driven individuals too. I'm not sure I could have done it. To turn and walk away from your own club is one of hardest things any football fan could have to do. A football club provides fans memories that will never be forgotten; a place where emotions can be felt that are impossible to find anywhere else. A football club becomes part of your life. An addiction. That's why what they did was so hard.
FC United of Manchester were founded in 2005. A protest against the modern Manchester United and the Glazer regime. So appalled were these fans that they turned their back on the nation's biggest club to start a new one. A new club that stood for the exact opposite of Manchester United. The ticketing scheme is certainly radical – entry for a FCUM home match is just £8 for an adult and supporters were allowed to pay what they wanted, and could afford, for their season ticket. Unlike the ridiculous ticketing pricing of the Premier League – ticket prices at Manchester United can reach up to £49.00 – FCUM is affordable and is attractive to the working-class football supporter that the sport was founded by. It pays off too, an average attendance of over 2,000 is drastically above the average attendance of the level that they play at. Furthermore FCUM are owned by the fans, people who care about the club and want the best for other supporters.
The club started out playing in North West Counties League Division Two. The tenth tier of English football. A long way from the Champions League. However, three promotions in their first three years fired them to the Northern Premier League, the level they are currently playing, three divisions below the Football League. Ask FCUM fans what meant more though, these promotions or a Champions League win with their previous club and the answer will be unanimous. The three back-to-back promotions.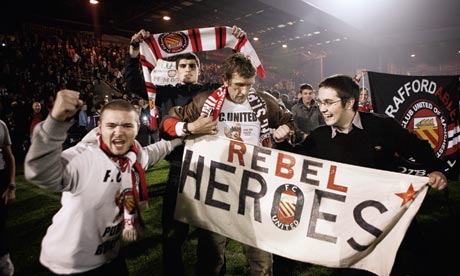 This season has been the club's most publically recognised. An F.A Cup run that has surpassed anybodies expectations has put the club on the back-page of every national newspaper in the country. It all started back in September with a 3-0 win against Radcliffe Borough in the First Qualifying round. They then dispatched with Gainsborough Trinity, Norton and Stockton Ancients before facing Barrow for a place in the FA Cup First Round. Barrow would be a tough tie. They were two leagues above FC United and it looked unlikely the club would progress. However, backed by over 3,000 fans at Gigg Lane, the stadium that they ground-share with Bury, FC United picked up an unlikely 1-0 win. They were there. The first round of the F.A Cup. Rochdale were the opposition.
The biggest game in FCUM's brief history was upon them. They took a huge following taking up a whole stand at Spotland, Rochdale's home ground, and the numbers were certainly heard. Armed with banners, flags and flares this looked and sounded like a game taking place in Eastern Europe rather than the North of England. Through the smoke though, 11 stars stood out. 11 red shirted players who threw everything they had a Rochdale. FC United took a 2-0 lead before the League One opponents drew level. In the final minute though FC United provided their fans a moment that they will always remember – Mike Norton rounded Rochdale's goalkeeper before scoring to make it 3-2. Doubts were raised over the goals legitimacy, indeed it did look like a foul, but this was to the FC United's night. Wild celebrations followed with thousands of fans invading the pitch delirious with excitement.
The Second Round. Brighton away. League One's runaway leaders. This would be tough. Again followed in numbers – over 800 made the trip to the South coast – FC United of Manchester took the lead. Somehow they were in-front. This semi-professional side were on the verge of the third round. Surely, the Third Round would be a step too far? The fans were nervous. They realised this could be special. Then, to make things harder, FCUM were reduced to ten-men. Scott McManus sent off for an elbow. 20 minutes remained. Brighton equalised. The drama still wasn't over though. A last minute penalty was awarded to Brighton's Elliot Bennett who had the chance to kill FC United's dream. It was saved. And a reply, at Gigg Lane, will decide FC United's fate.
For now FC United are still in the hat. They have a place in the third round draw. A place amongst giants. FC United are tearing up the script. The lowest ranked club still left in the F.A Cup. You try telling FCUM fans that the F.A Cup has lost its magic. This is better than anything Harry Potter could conjure up. There is a chance that they could meet the enemy in the next round. Manchester United are in the hat too. Their run has been so special so far that it feels as if this should be the next step in FCUM's adventure. Football fans must remember that there is a club outside of this F.A Cup though. A football team playing in the 7th tier of English football. Doing things the right way and trying to prove modern football wrong. FC United of Manchester are making a stand and I salute them for it.