You've got to envy the Germans. Currently the center piece of Europe's ailing economy and the second favorites to lift the Henri Delaunay trophy on the 1st of July, German fans can afford to put their feet up and enjoy the upcoming chain of events upfold in front of their eyes. Since their heartbreaking semi-final defeat to Spain Joachim Loew's team have developed a taste for victory, claiming 13 victories in 13 consecutive competitive matches. It's fair to say, that in economically and footballing terms, Germany should come out on top against the Greeks.
However, the background to this fixture makes it an attractive one for the neutral, and the rapidly developing rivalry between the two nations should attract massive interest in this fixture. Whilst the result may seem fairly clean cut, given Germany's ruthlessness and Greece's defensive incompetence, the beautiful game continually brings up surprises, and who's to say that on Friday Evening at 19:45 in Gdansk there won't be another one?
Germany
Tactics
So far so good for Loew's side, and he is unlikely to change from his favored system of play, his 4-2-3-1 formation. Expect Bayern Munich full backs Lahm and Boateng to push further up the field to support Mueller and Podolski, whilst Schweinsteiger and Khedira sit deeper, and look to win the ball back in front of Badstuber and Mertesacker. Meanwhile Germany's glittering forward line of Podolski, Mueller and Ozil will put extreme pressure on Greece's weak back four. Once they claim the ball they can use their creative abilities to set up the ruthless Mario Gomez, who has already netted 3 goals in Germany's 3 group matches.
Strengths
Mario Gomez;  Although a previous winner of the German player of the year, and top scorer in the German league, the 26year old will still feel he has much to prove. His tally of 41 goals for Bayern might be extremely impressive, but he still cannot quite match the standards of Cristiano Ronaldo and Lionel Messi. After ending his club season in heartbreak, Gomez will feel that this tournament is the perfect opportunity to capitilise on what has been his most prolific season, and he has the ability to take his country far this summer
Mesut Ozil; The 23 year old Real Madrid midfield is simply one of the special breeds of player, with a rare ability to fashion chances consistently for those in front of him. Given the dire defensive displays of Greece, Ozil will be looking to turn possession into goals through his eye for a pass.
Strength in depth; Although this starting XI may well seem intimidating enough, the substitutes Loew can deploy are enough to make any team quiver. Even if the game isn't going the way of the German's, they still have Klose, the World Cup's top scorer ever, Reus, who had a sensational season and Toni Kroos, who was part of the Bayern Munich's Champions League final line up, as well as many others.
Weaknesses
Defense;  Whilst Scheinstieger and Khedira will tend to drop deeper, there still must be question marks over this German defense. Although Lahm is, in my opinion, the best full back in the world, against Greece when his side are dominating the Bayern man may be tempted to work further up the pitch, and Jerome Boateng, although flexibile, seems the weak link in Germany's armour. Meanwhile Arsenal's Mertesacker – although reliable from set pieces – can be caught out with a distinct lack of pace, a problem that Holder Badstuber also suffers from.
Expectation;  In some ways, one would rather be a fan of Greece ahead of tomorrow's game than Germany, given that the enormous levels of expectation placed on the German team. Everybody, in and outside of the country, expects them to progress to the semi finals and further, often a poisoned chalice given that victory would not be fully credited given the weakness of the opposition, and defeat would be nothing less than a humiliation.
Greece 
Fernando Santos has the 2004 winners playing a strict yet flexible system, which is primarily focussed on defensive duties and a negative approach. Without the ball Greece tend to play a 4-5-1 system, with Samaras and Salpigidis dropping deeper to support Holedas and Torosidis. With the ball the system is more of a 4-3-3 with Karagounis, Maniatas and Katsouranis forming the midfield. Full backs Holedas and Torosidis will push further up the field to give the Greek's some width, although they will have to be disciplined.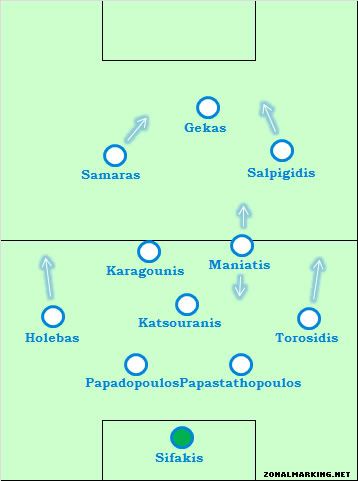 Strengths
Full backs; As stated, the full back role for Greece is of huge importance to the team, as they play both defensive and attacking duties, and in Holedas and Torosidis they have two very able wing men. Holedas will be more capable of darting up and down the right flank, whilst the experienced Torosidis will be more wary of over exerting himself going forward.
Tough center backs; Although prone to errors, compromising in poor clearances and positioning, Papadopoulos and Papastathopoulos are two immovable center halfs with a strong physique. They will be aggressive towards Mario Gomez in and around their penalty area, and won't mind sacrificing a few free kicks and maybe a yellow card to stop the Bayern Munich man from getting in behind them.
Supersub; Although Santos' men cannot match the German strength in depth, in Soritis Ninis and Giannis Fetfatzidis they have two superb options further up the pitch if things aren't quite going their way. Fetdatzidis, dubbed the "Greek Messi", is an able winger come attacking midfielder, who can inject pace into the Greek counter attacks, which is significant given the slow nature of the German center backs
Weaknesses
Lack of width; Whilst the full backs do provide a degree of width, further up the pitch the Greek's struggle to find  a wide outlet to utilize during attacks. Salpigidis operates out wide, but tends to cut inside and Celtic's Samaras – although supposedly playing a left wing role – has been prone to operating as a second striker behind Gekas.
Midfield;  Greece's style of play is fairly unique, with Katsoranis,  Karagounis and Maniatis mostly operating in defensive roles. Although this may (or, as the case has so far been, may not) sure up the defense, it means the Greek style of play is extremely disjointed, with them lining up with 7 defensive players to 3 attack minded equivalents and as such might allow the likes of Schweinstieger and Khedira – even if this is not his main motive – to have more space to operate and create.
Goalkeeper; Whilst it would be harsh to isolate the inexperienced Sifakis as a weakness, there is no denying that the number 1 slot has caused Santos many headaches. Although the likes of Chalkias and Tzorvas may have more experience in the national side, they have been error prone in the past, and as such have had to drop to the bench. If the German midfielder can pepper away at the young goalkeeper with shots from distance, then a minor fumble – or a more significant error of judgement – could crush the young man's confidence.
Pressure; Whilst very few expect Santos' men to upset the odds against this glorious German side, the victory in 2004 creates pressure for this Greek XI to replicate such success. Similarly – whilst it might not have any direct bearing on the match itself – the economic dispute between the countries gives this game a derby feel, and as such the Greek fans will be desperate for victory.
Verdict:
Friday's matchup will be a miss match on paper, and, I believe, a miss match on the field. Say what you want about the strength of Spain, Italy and France in this tournament, no one can deny the clear quality of this German team, and their will to win is possibly even greater than that of any other nation.
Greece have to adapt their tactics in order to yield success from this game, their defense so far has been staggeringly poor and should they defend in the same manner that they did against Czech Republic, they can pack their bags. However, against Russia the Greeks were ruthless going forward, and strong defensively. They will need to replicate this performance – and a little bit more – to upset the odds.
For Germany, meanwhile, the task is simple, replicate their strong performances in the group stage, and they should progress without losing too much sleep. Whilst the main threat may seem to be Mesut Ozil, his space will be almost completely suffocated by the Greek back line, and as such the creativity of Schweintieger, who will have plenty of space, coupled with the pace of Podolski and Mueller, will be too much for the party poopers.