Goalkeepers
Manuel Neuer (Schalke, age 24, caps 5, goals 0)
Part of the victorious Under-21 side at the 2009 Euros. Has been with his hometown club since childhood. Excellent reflexes and distribution. Prone to lapses in concentation.
Tim Wiese (Werder Bremen, age 28, caps 2, goals 0)
Massive personality. Fine shot-stopping ability. A reputation for saving penalties. Struggles with crosses and often makes bizarre, impulsive decisions.
Hans-Jorg Butt (Bayen Munich, age 36, caps 3, goals 0)
In the squad to replace Rene Adler, who is missing through injury. Was third choice keeper at Euro 2000 and 2002 World Cup. Known as a regular penalty taker.
Defenders
Marcell Jansen (Hamburg, age 24, caps 30, goals 2)
Tall left-back known for accurate passing, crossing and pace. Will be understudy to Philip Lahm. Can also play left-midfield or as an auxiliary striker.
Arne Freidrich (Hertha Berlin, age 31, caps 72, goals 0)
Versatile central defender or right-back who has struggled to win popularity amongst German fans. Has been round the national set-up for eight years now.
Dennis Aogo (Hamburg, age 23, caps 2, goals 0)
Regular in the Hamburg team since signing from Freiburg. Holds Nigerian descent but turned down calls to switch allegiance. Unlikely to feature often in South Africa.
Jerome Boateng (Manchester City, age 21, caps 5, goals 0)
Just signed with Man City for £10 million. Likely to start at right-back. Can also switch to centre-half. Sent off in debut against Russia last Autumn.
Serdar Tasci (VfB Stuttgart, age 23, caps 12, goals 0)
Starting centre-back of Turkish descent. Technically competent and extremely energetic. Positioning is sometimes questioned. Easily turned.
Holger Badstuber (Bayern Munich, age 21, caps 2, goals 0)
Centre-back or left-back and one for the future. A successful product of the Bayern Munich academy. Just completed first full season as professional.
Philipp Lahm (Bayern Munich, age 26, caps 65, goals 4)
Captain and talismanic full-back. Dangerous going forward and happy on either flank. Defensive capabilities are gradually improving. Will cut across defenders and offers goal threat.
Per Mertesacker (Werder Bremen, age 25, caps 62, goals 1)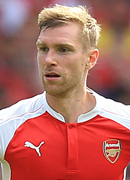 Huge centre-half who is excellent in the air and calm under pressure. Lacks pace, but is a good foil for Tasci with plenty of experience.
Midfielders
Piotr Trochowski (Hamburg, age 26, caps 32, goals 2)
Considerable technical ability, great vision and trickery. Polish born, but ignored by the Polish FA after making his allegiances clear. May start in absence of Michael Ballack.
Toni Kroos (Bayer Leverkusen, age 20, caps 4, goals 0)
Has enjoyed an incredible season after being loaned from Bayern Munich. Can play left or central. Free-kick expert, powerful shot and precise passer.
Marko Marin (Werder Bremen, age 21, caps 9, goals 1)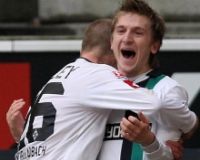 Excellent winger who has the potential to become Germany's impact sub in South Africa. Bosnian born, before settling in Germany at a young age.
Sami Khedira (VfB Stuttgart, age 23, caps 5, goals 0)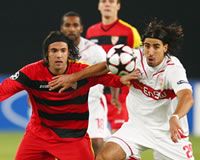 Captained the Under-21's to Euro success in 2009. Won a late fitness race to secure squad place. Could also become Ballack's replacement.
Bastian Schweinsteiger (Bayern Munich, age 25, caps 75, goals 21)
Pivotal to German hopes of glory. Effective as central or right-sided midfielder. Certain starter and indispensable to the team. Goal threat.
Mesut Ozil (Werder Bremen, age 21, caps 10, goals 1)
Playmaker that will start in front of Schweinsteiger. His left foot helps provide guile and elegance in a workmanlike unit. Lacks consistency.
Forwards
Lukas Podolski (FC Koln, age 25, caps 73, goals 38)
Polish born and has just endured a horrendous season. Likely to play as a left-sided forward. Enjoys a healthy partnership with Miroslav Klose.
Stefan Kiessling (Bayer Leverkusen, age 26, caps 4, goals 0)
In the squad on the back of a wonderful season for Leverkusen. Workhorse who covers every blade of grass and knows where the goal is.
Thomas Muller (Bayern Munich, age 20, caps 2, goals 0)
Wonderful breakthrough season for Munich. May not start but will definitely feature. Incisive, calm and good crosser. Needs to prove he has big game composure. Lacks physicality.
Miroslav Klose (Bayern Munich, age 31, caps 96, goals 48)
Also Polish born. Out of the first team with Bayern, but will lead the German line. Incredible in the air and loves tournament football. Must rediscover best form.
Mario Gomez (Bayern Munich, age 24, caps 34, goals 12)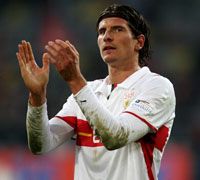 Most expensive ever Bundesliga player. Prolific at club level, but yet to excel at international level. Can be both brilliant and frustrating.
Cacau (VfB Stuttgart, age 29, caps 8, goals 3)
Brazilian born, but recently acquired German citizenship. Clever, quick, good finisher and makes intelligent runs. Faces stiff competition for a starting berth.