This Saturday, Tony Pulis's Stoke side travel east to face relegation threatened Hull for our penultimate away trip of the season. While the weekend's results could leave the hosts in the relegation zone, once again, they could mathematically confirm the Potters' Premier League survival. The equation is considerably more simple than it was last week. If we win, we are guaranteed another season of top flight football. Even if we lose, this could still be the case if eighteenth and nineteenth placed Newcastle and Middlesbrough draw their more than crucial fixture on Monday night.

Sir Stan would be proud
  This has been a steady season of modest but genuine achievement for Stoke, it stark contrast to the roller-coaster ride experienced by Saturday's opponents over the last nine months. Aside from being the only UK city with it's own independent telephone network company, and playing host to that episode of Only Fools and Horses that no-one really likes, prior to the autumn of last year, Kingston upon Hull had done little to put itself on the map. Then, newly promoted and under the guidance of a bright, energetic, enigmatic manager in Phil Brown, its football team, Hull City AFC, took the Premier League by storm, winning six of the first nine top flight games in their history, and finding themselves in late October separated from the league leaders by goal difference only.

Hull seemed to have adapted to life in the Premier League better than any before them
  Now, they sit just one place above the relegation zone, having added just fourteen points to their overall tally in the twenty-six games since the heady days of autumn, in stark contrast to the twenty points amassed from those first nine games. I think it's fair to say that their early season dreams of European football next year have gone out of the window.
  So, what exactly has gone wrong? Some people claim that Brown has alienated his dressing room, humiliating his players by keeping them on the pitch for a half time rollicking when losing heavily at Manchester City back in December, and with his increasing hot-headed personality, recently heavily criticising Arsene Wenger and his Arsenal players after they knocked Hull out of the FA Cup.

Brown claims never to have shaken hands with Wenger…or used a sunbed
  Others suggest that Hull's direct, yet persistent style, and tactics of pressuring opponents have been sussed out by other teams, who are now able to contain their threat. In truth, I don't really know or particularly care. What I do know is that Stoke, having ground away all season to produce results, and suffered the embarrassment of having bets on us to be relegated paid out on by Paddy Power, back when Hull were enjoying the high life at the top of the table, now lie four places and five points better off than Brown's men. I'm aware that this article is taking a rather gloatful tone, but as a Stoke fan having suffered the condemnation of the media and the general public earlier in the season, while having to put up with their waxing lyrical about Hull, this is a very pleasant position to be in.
  Having looked generally jaded over the past few weeks, suffering from first a head wound, then a torn thigh muscle, Stoke striker James Beattie is once again a doubt for the match, Pulis, unconvinced of his fitness following his display against West Ham last week, having ordered him to undergo a second scan on his thigh. If Beattie fails to prove his fitness to start, the mantle may be passed to scapegoat of the fans who can never be content with what we've achieved, Richard Cresswell, whose move to Hull fell through at a late stage due to a problem with his medical in 2007, allowing Stoke to move in and sign him up, our medical procedure seemingly consisting of: "can he walk?" "yes" "we'll have him". More likely though, Senegalese loanee Henri Camara would start his first game for the club since joining from Wigan back in February, having impressed as a second half substitute against the Hammers. Beattie aside, Pulis has no new injury worries, though Mamady Sidibe, Salif Diao, Amdy Faye and Danny Higginbotham are all still ruled out.
  Meanwhile, having returned from his loan spell at Tranmere, which ended with the disappointment of missing out on the play-offs on the final day of the League One season, there is an outside chance that young defender Ryan Shotton will be handed a place on the bench for Stoke, as there is for former Hull mam Leon Cort, who has deputised occasionally for the Potters in the centre-back position this season.

Cort in his Hull days and more recently with Stoke
  Meanwhile, Brown has a relatively healthy squad to select his matchday squad from, with just two long-term absentees in Anthony Gardner and Jimmy Bullard ruled out with back and knee injuries respectively. In a situation opposite to the one with Cresswell, former Tottenham centre-back Gardner was arousing interest from Stoke last summer before moving instead to Hull, paving the way for Stoke to sign Abdoulaye Faye from Newcastle instead. I'm sure we've come out the better of that one, ending up with our entertaining and incredibly reliable Senegalese colossus, who has quickly become our captain, rather than an injury-prone player who has made just eight appearances all season, all for £2.25 million as opposed to the £2.5 million Hull payed for Gardner.
  As Hull are a side in a desperate situation, and Stoke have by comparison very little to play for, with survival surely all but confirmed, you might expect them to be more up for the game, and thus be the favourites to win it on their home soil. However, Pulis and Stoke will be very eager to get over the forty point barrier, which once passed allows you to breathe that bit easier, and will be equally keen to throw a spanner in the works of Hull. What Hull do not have is confidence, having won just one of their last nineteen games, while the reassurance of near guaranteed security should allow Stoke to play with the winning mindset that should, in my opinion, earn us at least the single point needed to take us over the forty point mark. The last four meetings of the clubs have ended in 1-1 draws, and a similar scoreline this weekend seems a likely outcome.

Key Battles:
Geovanni v Abdoulaye Faye
The talented but temperamental Brazilan striker/attacking midfielder Geovanni is undoubtedly Hull's biggest threat. For that reason, none other than the inspirational Faye shouldbe tasked with the job of keeping the former Barcelona man quiet and in doing so nullifying much of the Tigers' attacking potency.
Michael Turner v Ricardo Fuller
Fuller has historically played well against Hull, winning and scoring a penalty in the return fixture last November. If Beattie is deemed unfit to play, Fuller will take on the role of number one forward for Stoke, and in doing so will come up against Turner, who has been one of Hull's best performers this season. Interestingly, when the hype surrounding the Rory Delap long throw was at its pinnacle in the autumn, and Hull were sitting in the European places, Phil Brown claimed that Turner could throw the ball at least as far as Delap, but it was against his footballing principles to employ the tactic. Watching Hull's defeat at Aston Villa on Monday night, I was gratified to see they used it at every opportunity. I suppose desperate times call for desperate measures. We'll just see whose throw is better on Saturday.

Hull Squad:
Goalkeepers: Boaz Myhill (26), Matt Duke (31), Tony Warner (34), Tom Woodhead (18)
Defenders: Michael Turner (25), Kamil Zayatte (24), Andy Dawson (30), Sam Ricketts (27), Bernard Mendy (27), Anthony Gardner (28), Nathan Doyle (22), Matt Plummer (20), Liam Cooper (17), Joe Lamplough (19), Steve Gardner (18)
Midfielders: Ian Ashbee (32), Kevin Kilbane (32), George Boateng (33), Dean Marney (25), Jimmy Bullard (30), Peter Halmosi (29), Ryan France (28), Bryan Hughes (32), Will Atkinson (20), James Bennett (20), Jamie Devitt (18)
Forwards: Geovanni (29), Daniel Cousin (32), Manucho (26), Caleb Folan (26), Craig Fagan (26), Richard Garcia (27), Nicky Barmby (35), Dean Windass (40), Michael Bridges (30), Nicky Featherstone (20), Ryan Kendall (19)

Star Man: Geovanni
Brazilian attacking midfielder Geovanni, or Geovanni Deiberson Maurício Gómez in full, has without doubt been Hull's best player throughout this season, and has been described as their only decent player in recent months. He certainly has an impressive CV, having played at Barcelona and Benfica, and having once been transferred for £11 million, as well as having five full Brazil caps, gained between 2001 and 2003 to his name. It is fair to say, however, that the 29 year old has never quite lived up to his potential. He began his career in English football with Manchester City almost two years ago, joining on a free transfer from Cruzeiro in his homeland, and despite netting the winner in the Manchester derby in one of his first games for the club, a feat that endeared him to the fans, he was released at the end of the season, to be quickly snapped up by Hull, where he has made 31 league starts, scoring eight goals, including sensational strikes in away victories at Arsenal and Tottenham in successive weeks, as well as scoring the club's first ever top flight goal in their 2-1 victory over Fulham last August.

Comparative Club Stats:                       Hull                 Stoke
League Position:                                       17th                   13th
Points:                                                       34                       39
Goals Scored:                                            45                     40
Goals Conceded:                                        66                      57
Home Record: (W,D,L)                              5,6,9                 10,6,5
Away Record: (W,D,L)                              6,6,10             2,4,13
Form:                                                      LLLLDL             LLWDWW
Top Scorer:                                          Geovanni (8)          Fuller (8)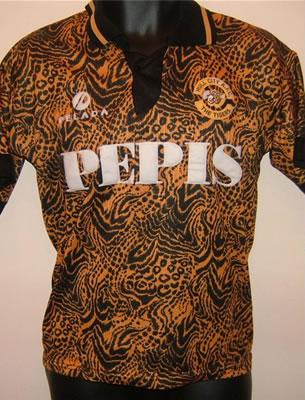 A classic Hull kit from years gone by