From the moment that the City team was announced and Gelson 'the worst ever footballer' Fernandes was named in the starting eleven, it was clear that we were in for a bad day. And so it proved, with the visitors running out comfortable winners after a despairingly depressing performance from the Premier League side. Forest were good value for their victory, easily outperforming City in every department, and piling on the pressure for Mark Hughes.
Blues boss Hughes was without influential Brazilian play-maker Robinho and the so-far-player-of-the-season Stephen Ireland through injury, and opted to play Michael 'I honestly once played for England' Ball in place of Javier Garrido. Alas, that was not the worst of it. What compounded our misery was the sight of the abominable, alarming, appalling, atrocious, deplorable, depressing, dire, disgusting, distressing, dreadful, fearful, ghastly, harrowing, hideous, horrendous, horrific, shocking, stinking Gelson Fernandes!! Quite possibly the worst Premier League player ever!!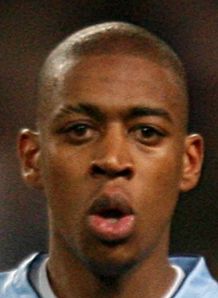 Does anyone else think he looks like a goldfish?
Notts Forest lined up in a fairly defensive formation, opting for just Robbie Earnshaw on his own up-front. They packed the midfield in an attempt to stifle City's creativeness; a tactic which undoubtedly worked.
City Line-Up:
                                       Hart
Zabaleta   Richards                        Dunne     Ball
SWP        Kompany         Elano      Fernandes      Sturridge
                                    Caicedo 
Subs: Schmeichel, Berti, Clayton, Hamann, Garrido, Vassell, Jo(ke)
The game started quite openly, with Forest missing a glorious chance to take the lead just minutes into the game when Lewis McGugan directed his header inches wide. City paraded new signing Wayne Bridge just before the kick-off, but it failed to galvanise the home side who lacked any sort of spark when they had the ball. On a number of occasions, Elano had possession and was breaking forward, yet Felipe Caicedo failed to make any runs off the ball for him to find. Caicedo has done well in recent matches, but is far from the finished article. A key moment in the match came partway through the first half, when Shaun Wright-Phillips, hitherto City's best player, left the field with a hamstring injury. Who would replace him? Only Darius 'the second worst player ever after Gelson Fernandes' Vassell. Vassell offers absolutely nothing to the team and is a complete waste of time.
Just waiting to be shot
Forest took a deserved lead through a sumptuous left-footed volley from outside the box by Nathan Tyson after Micah Richards had failed to clear a routine long ball. Joe Hart in the City net could do little about it, and the blame has to lie at the feet of Richards, who, after a fantastic season last year, has become lazy this time around, often being caught out of position and giving goals away.
After the normally reliable Pablo Zabaleta was caught in possession, Robert Earnshaw scored a second for the visitors, poking home from two yards out after Matt Thornhill's misdirected shot. There was the possibility of offside, but he was given the benefit of doubt by the linesman and took full advantage. City were greeted by a chorus of 'boos' at half-time, with the fans clearly displaying their feelings.
The second half was no better for the Blues with Forest looking to close out the game, and City lacking the belief to go on and equalise. Despite the introductions of Didi 'even slower than a tortoise' Hamann, and Jo(ke), City were unable to find a breakthrough, and indeed it was Forest who completed the scoring, when, after Didi Hamann threw the ball directly to him from a City throw-in, Joe Garner fired the ball home to beat Hart at his near post. Yet again, City were the victim of a 'cupset'.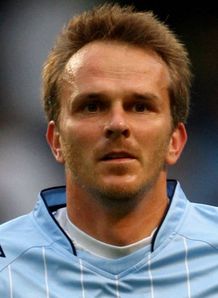 If he goes any slower, he will stop
Player Ratings: (just in case you weren't depressed enough already)
Hart – Not at fault for the first two goals, although he missed an easy punch from a corner which led to the throw-in, which in turn led to the final goal – 5
Zabaleta – Caught out for the second goal, but looked as if he was trying, which is more than you can say for most of them – 5
Richards – Underwhelming and needs to be dropped for a few games. How bad is Berti? – 2
Dunne – Tried to be positive and get the team going. Had one fantastic marauding run, and needs to be partnered by Lescott in the centre of defence – 6
Ball – Why is Hughes not playing Garrido? – 3
Wright-Phillips – City's best player until injury forced him off. Our hopes died when he departed – 6
Kompany – Another who tried to force the game. Looks confident and imposing and will benefit from another body in front of the defence – Scott Parker, anyone? – 6
Elano – Attempts to be creative and displayed some nice skills, but needs to be more influential – 5
Fernandes – I have nothing left to say – 0
Sturridge – Stuck out on the left in the first-half, but at least he had a few shots – 5
Caicedo – Nowhere near the finished article the finished article. Needs time to work on his game – 5
Subs:
Vassell – Awful – 1, and that's being generous
Hamann – Gave away third goal, and failed to get in the game – 1
Jo(ke) – Had one good chance when he came on, but lacks confidence – 2
Men of the Match: According to my marks, it should be either Dunne, Kompany or SWP, but no-one deserves to be given the honour.