With the investment of Sheikh Mansour bin Zayed al Nahyan, we are now, by far, the richest club in the world. Our estimated wealth is around $560 billion, dwarfing the amount of money available to Chelsea, whose owner, Roman Abramovich was said to be worth, before the credit crunch, a relatively meagre $13 billion.
In the last four or five years, Chelsea have been able to spend as much as they want, and therefore 'own' the market; if they wanted a player, invariably, they would land him. This policy is highlighted in the signings of Michael Essien, bought for £24.4 million,  Didier Drogba, signed from Marseilles at a cost of £23.8 million, and the fee of £19.85 million spent on Portuguese defender Ricardo Carvalho, a talented, but not quite world-class defender unlike Titus Bramble.
However, thanks to the Sheikh, this has all changed. With an unlimited amount of funds available to boss Mark Hughes, he is able to go out there, spend some money, and rectify our Sheihky start to the season!! Below, I will list the players who I would like to see arrive, and those, who like Georgios Samaras last summer, need to leave for pastures new.
Players Out:
Michael Ball
Tal Ben-Haim
Gelson Fernandes
Nery Castillo
Felipe Caicedo
Benjani Mwaruwari
Michael Ball did a decent job for us at the end of Stuart Pearce's reign but has been overlooked this year in favour of Javier Garrido. We all know that left-back is a problem area, and with a new signing in this position a necessity, Ball has to make way, especially wiht Garrido having age on his side to improve. Ben-Haim, was, in my opinion, a panic buy by Hughes. He has not performed consistently enough for City and should be behind Nedum Onuoha in the pecking order. Swiss midfielder Gelson Fernandes, just after he was bought from FC Sion by former manager Sven Goran Eriksson, was hailed as the brightest prospect in Swiss football. Unfortunately, he has proved to be nothing more than average, and distinctively average at that! He runs around like a headless chicken and has no positional sense, leaving the defence overwhelmed, as the protection he is meant to supply in his holding midfield role, fails to materialise. Some may argue that he is young and should be given more time to prove himself, but for me, I have seen enough; he has to go!
Mexican attacking midfielder Nery Castillo is someone who arrived at City with the reputation of being a highly creative and exciting player. However, both Eriksson and Hughes have failed to see any of this promise in training, and therefore Castillo has never been given a chance to prove himself. It seems wrong to get rid of his services, but if he doesn't feature in Hughes' plans, then we might as well cancel his loan and free up the wage bill. Benjani is possibly a contraversial choice, but in my opinion, he is nothing more than an average Premier League striker. Despite scoring on his debut against United, something which will write him into the history books for ever, he has failed to reproduce the scintilating form he displayed at Portsmouth prior to joining the Blues. He could be kept until the end of the season, but if we are going to sign another striker in this transfer window, then he could be one to make way. The last player I would look to sell in January is striker Felipe Caicedo, but the less said about him the better. He is quite possibly the worst player in recent times to wear the City shirt. He makes Georgios Samaras look like Fernando Torres!!
Players In:
Carlo Cudicini
Wayne Bridge
Daniel Agger
Lassana Diarra
Gareth Barry
Roque Santa Cruz
and the one long shot … David Villa (aka: Javier Garrido's lookalike)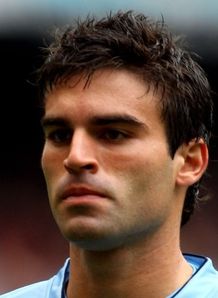 These players are exactly what City need at this moment; proven Premiership quality who could improve us this season, and then we could build on that by signing the 'stars' in the summer. Cudicini would act as an experienced back-up goalkeeper to the promising Joe Hart, whereas Bridge and Agger would add some much needed solidity to our back-line. Diarra and Barry would provide steel in midfield, something we have been lacking in recent weeks. We have been missing a lethal goalscorer this season, and I feel that Santa Cruz would be perfect for City.
Anyway, these are only my opinions, so if you have different ideas and disagree with my choices, then please comment below.