On Sunday afternoon Liverpool met Manchester United at Old Trafford for what was seen by most as the tie of the round. Although Liverpool's dramatic slip in the league, leaving them four points above the relegation zone this was still a great derby fixture on paper. The battle of the North West, pride was at stake as well as a place in the Fourth round of the most prestige cup competition in the English game.
Add to this Michael Owen being named on the United bench to face his former club where he was once adored by the Kop, it would make a great game by anyone's standards. The biggest talking point prior to kick off though was the return of Kenny Dalglish who had been made caretaker manager just 24 hours previous after Roy Hodgson left the club by mutual consent. The Liverpool fans were filled with optimism now that the man they called "King Kenny" had returned as suddenly it seemed like their was a stability to the rocky ship that's been Liverpool's season so far.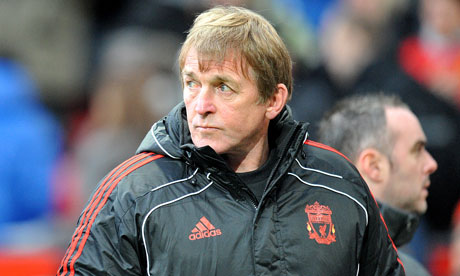 Both sides made changes from what would be seen as their strongest line ups with Dalglish forced to play Martin Kelly at right back as Glen Johnson was absent due to the birth of his child. United rested Vidic while Rooney and Van der Sar were not fit enough to be included.
The atmosphere was red hot and the crowd roared to a crescendo as Liverpool got play under way, it wasn't long before United gained possession and were quickly on the attack, 32 seconds in Howard Webb awarded a controversial penalty to United with replays showing Dimitar Berbatov going down easily under a tackle from Daniel Agger.
The Liverpool players protested but the referee wasn't changing his mind and Ryan Giggs stepped up to slot the ball into the bottom right hand corner agonizingly just out of Reina's reach. Advantage Man Utd. After that United dominated the majority of the possession, Fletcher picked up the first booking of the afternoon after only 9 minutes, 4 minutes later Hernandez was put through only to be flagged offside.
Liverpool also had chances early on with Maxi shooting straight at Kuszczak. A few minutes later Kelly crossed from the right, beating Kuszczak only for Ferdinand to clear. United had a chance moments later with Nani whipping in a ball from the left only for Kelly to head behind. In the 29th minute after a great Liverpool move that was flowing well Gerrard had a powerful shot which Kuszczak caught with relative ease.
Three minutes later Carrick had gained possession of the ball for United and as he went to play the ball Gerrard caught him late, there was a mass surrounding of Webb and the inevitable was to follow as Webb produced a red card, Liverpool's chances were slowly fading as the odds stacked against them, not only had they gone behind to a controversial penalty they now had lost their inspirational skipper after only 32 minutes.
United pressured Liverpool for the rest of the half with their best chance coming deep into the 3rd minute of stoppage time Johnny Evans rising to meet Giggs corner with a powerful header hitting the post.
In the first 10 minutes of the second half United looked like they were going to run away with it as they started at a high tempo with chances going begging for Hernandez, Giggs, and Berbatov. On the hour mark Liverpool introduced Babel and Shelvey as Maxi and Meireles made way. The introduction of Babel nearly paid off straight away with Babel bursting forward and forcing Kuszczak into a good save.
United then made a change of their own introducing Anderson at the expense of Fletcher, with United passing it around, Torres forced a mistake and gained possession as he went to shoot he was brought down by Anderson who received a yellow card for his trouble. The resulting free-kick was taken by Aurellio who got the dip perfect as it rose over the wall and down, unfortunately for him and Liverpool, Kuszczak was equal to it and pushed it away for a corner which United cleared setting up a counter attack only for Hernandez to be ruled offside.
In the 67th minute Berbatov had a great chance to increase United's slender lead when he latched onto a loose ball in the box, the goal seemed at his mercy, however Reina managed to push it away and behind for a corner. United then had a spell which followed where they bombarded their opponent's goal, with at least four clear chances kept out by Liverpool. More chances came and went for both teams Shelvey doing well to win the ball from Rafael by the byline and feeding Babel only for the Dutchman to slip enabling United to counter which eventually came to nothing, Liverpool then had a counter of their own which produced the same result.
United again could of secured the win in the 72nd minute when Berbatov was put through only for Reina to save at his feet. A few minutes later United made their 2nd substitution of the match with Hernandez making way for a Liverpool legend – Michael Owen who had scored 158 goals in his time at Anfield, his entrance was greeted by boos from the 9,000 travelling supporters but they were drowned out by the home fans cheers.
A few minutes later Liverpool made their final change with the withdrawal of Torres which was greeted by a massive cheer around Old Trafford after an average afternoon by the Spaniard who was often isolated. With ten minutes left on the clock Liverpool gained a freekick in United territory, the young Shelvey took it quickly and blazed it over which didn't go down well with his teammates.
Smalling was introduced to the action by United with seven minutes to go replacing Evans. In the 86th minute the script was set as Owen collected the ball and darted inside and just outside the box let fly, however the ball flew wide from the former Liverpool favourite. There were chances for Evra and Agger to make a difference to the scoreline, both were unsuccessful. As the final whistle approached United were able to just knock the ball about as Liverpool tried to pressure them into mistakes but United kept their composure and held out for the win.
There was little emotion from Sir Alex Ferguson at the final whistle in comparison to a picture of disappointment from Kenny Dalglish. Liverpool can take heart from this performance as this was much better than the majority of their performances under Hodgson but it is Man United who progress to the 4th Round where they meet Southampton at St Marys, a repeat of the famous 1976 Cup Final.