Just over a year ago, when Stoke City confirmed our promotion to the Premier League after a goalless draw with Leicester on the last day of the Championship season, I looked ahead to the forthcoming season with something of a grim determination to enjoy it. Though I believed we had a slightly stronger squad than them, I feared we would do as badly as Derby County did last year, and my chain of thought went something along the lines of; this may be the only time we ever see Stoke in the Premier League, so we better make the most of it. Though I dreamed of survival, I felt there was a good chance we would be relegated, a conviction that grew more solid as the summer wore on and we failed to sign a single player for two and a half months. And after the heavy defeat away at Bolton on the first day of the season? Let's just say that if you had offered me seventeenth place secured on the last day while I was walking away from the Reebok Stadium in the drizzle, I'd have taken your hand off like a hungry piranha.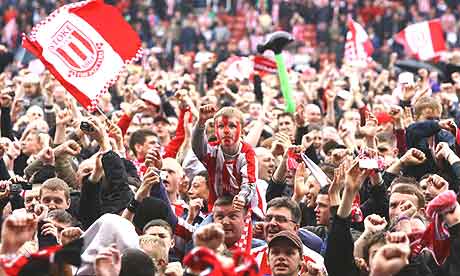 When the initial joy of promotion wore off, I was apprehensive
  Ten months later, and we've just secured our Premier League status for next season with two games to spare after beating Hull, lifting us onto 42 points for the season and guaranteeing a finish of no lower than fourteenth, a mid table spot that represents incredible achievement in our first ever Premier League season. That's a feat for which Peter Coates, Tony Pulis and all the players should be eternally commended.
  When Coates and Pulis returned to the club in the summer of 2006, I, like the majority of Stoke fans, was very displeased. Coates, as Chairman had been at the helm during the darkest period of the club's recent history during the late 1990s, and had been almost universally hated by the fans, to the extent that during our 7-0 home loss to Birmingham in January 1998, a furious mob of Stoke fans stormed his executive box in an attempt to physically attack him, one reportedly spitting in the face of his wife. When he sold the club to an Icelandic consortium twelve months later, everyone was pleased to see him go. So, when he bought it back, most fans, expecting more of the same, were bitterly disappointed. Instead, he's pumped tens of millions of pounds into the club to spend on quality players, bought the ground outright and taken on significant debts on the way to getting us in the Premier League and keeping us there. For him to do this after the dreadful abuse he received the first time round is nothing short of incredible, and though there are some Stoke fans who will never bring themselves to forgive him, for me he must go down in the history of the club as one of the most important men to it.

Peter Coates – happily proved the doubters wrong
  When Pulis was appointed as manager, I was angry. I remember ranting on about why a club with any sort of ambition would appoint him. He had left just a year before, after spending the last two seasons leading us treading water in the Championship, playing some of the most boring football you could imagine, with one run of an incredible seventeen consecutive league matches with binary scorelines in the 2004/05 season. Though many still dislike the football played by Pulis, and me, a Pulis fan, having a few misgivings about it, you can't dislike the results it's earned for us. There's certainly been no shortage of excitement this season, unless you find last minute wins over Aston Villa and pulsating performances against Arsenal particularly boring. He's also made some very shrewd signings. Let's forget about Dave Kitson, but the likes of Ricardo Fuller, Liam Lawrence and Rory Delap early in his tenure, and Ryan Shawcross, Abdoulaye Faye and James Beattie more recently have all been inspired buys, and you can only praise Pulis for what he's done. They say a wise man changes his mind sometimes, a fool never, and it would certainly be a fool (sorry Dad) who fails to recognise what Pulis has done for the club in the last three years.

Pulis endears himself to the fans by starting up "Delilah"
  This has been a season about proving people wrong, and while Coates and Pulis have been proving their doubters wrong, taking the club from a mid-table Championship finish to a mid-table Premier League one in just three years, the players have been showing those pundits and knowledgeable football people that they spoke too soon. Having suffered the humiliation of being backed to be relegated by everyone but Stan Collymore before the season even began, and then having bets on them to be relegated payed out on by the tossers at Paddy Power after just one game of the season, the players have, it seems, drawn from this, to become a stroner, more determined unit and eventually wipe the smiles off those media faces.
  Though there have been moments of undoubted individual quality from the players this season, with Fuller's goal against Villa back in August and Lawrence's strike yesterday springing to mind, and though Delap's long throw has been an extremely useful weapon, it is without doubt that the Stoke squad as a whole this season has been worth more than the sum of its parts. Built from a combination of journeymen (Delap, Diao, Sorensen), youngsters with no Premier league experience (Shawcross, Wilkinson), players with a chequered past (Lawrence, Etherington) and African giants (Abdoulaye and Amdy Faye, Sonko, Olofinjana, Sidibe), there's no way the Stoke squad should be just five points worse off than the ultra-expensive squad of Manchester City over the course of the season, but they are, and the main reason for this is the togetherness and determination of the side. It's telling that when the Hull dressing room lost its togetherness after Phil Brown's bizarre on-pitch team talk at Manchester City, their form plummeted. If you think Premier League football's all about money these days, and the passion in the players is gone, you've never seen a Thomas Sorensen or Abdoulaye Faye victory celebration, with Faye charging round the Britannia Stadium so pumped full of adrenaline that they feel tremors in China as a result.

Lawrence knows the safest place to be when Abdoulaye's in one of his crazy moods
  This Premier League season has been absolutely fantastic as a Stoke fan, though there's been more bad days than good, we've accomplished great things, and all my congratulations, praise and thanks go to Tony, Peter, Abdoulaye, Soro and co. Long may the success continue.
  Since he's been so crucial to our achievements this season, I'd like to finish with a few facts about my hero, Abdoulaye Faye:
When Abdoulaye goes swimming he doesn't get wet…the water gets Abdoulaye.

Abdoulaye once swallowed a whole bottle of sleeping pills…it made him blink.

Abdoulaye does not sleep…he waits

Abdoulaye once ripped up a periodic table because the only elements he recognises are surprise and pain.

When Superman goes to bed each night he puts on a pair of Abdoulaye pajamas.

Abdoulaye doesn't have a Ctrl button on his keyboard…he is always in control.

They once made Abdoulaye brand toilet paper…but it wouldn't take sh*t from anybody.

Abdoulaye can win at connect four in three moves.

Every night the bogeyman checks under his bed for Abdoulaye.

In the back of the Guinness Book of Records it says that all records are actually held by Abdoulaye…those listed in the book are just the closest anyone else has ever got.

Abdoulaye crossed the street to her house and she opened the door…she did NOT stand there laughing.

Abdoulaye has touched MC Hammer.

You better believe it