With Stoke's Premier League status secured for another year, I'd like to take a look at the players I would like to see us sign in an attempt to kick on next season, and hopefully turn this season's fantastic lower mid-table finish into something even higher and more commendable. With our survival, we have become a more stable Premier League club, and there are a number of players to whom Stoke on Trent will now seem a more attractive destination, and with Chairman Peter Coates promising that all the profits from our survival will be put into the transfer kitty, I'm very hopeful we'll see a number of high quality players joining the club over the next few months. If you agree or disagree with my selections, or with suggestions as to further potential targets, please feel free to leave a comment at the bottom of the page.
Goalkeepers
  After joining Stoke on a free transfer last summer, Thomas Sørensen has performed brilliantly this season, and with two years left on his existing contract, the Dane seems nailed on to keep the number one spot next year. After being dislodged by Sørensen, however, after four years as first choice 'keeper, in seems possible that Steve Simonsen may look to move away from the club this summer in a bid to play more regular first team football. He has just one year left on his contract, so maybe the club will seek to cash in on him, to avoid losing him for nothing in 2010. If this is the case, we'll need to bring in a new reserve goalkeeper. You can never quite be sure with what you're getting when signing a 'keeper from abroad, and with Tony Pulis clearly preferring players proven in England, it's most likely that this player would be English.
  The one 'keeper I'd really like to see us sign is Peterborough's Joe Lewis. At just 21, he's already proving himself to be a very good goalkeeper, having been instrumental in the Posh's promotion winning side this season, and has even had an England call-up, being an unused substitute for the friendly games against the USA and Trinidad and Tobago last year. I feel he's a player that is certainly good enough to play at the top level, though he may still be a little raw for the Premier League. That's why he'd be a good target as an understudy for Sørensen, before taking the number one position when Sørensen, who'll be 33 next month, retires.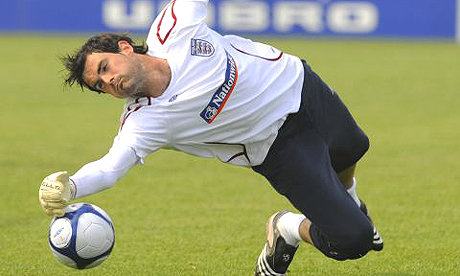 Lewis, an up and coming goalkeeper I'd love to see at Stoke
  Another 'keeper I rate highly is Keiren Westwood who currently plays in the Championship for Coventry. He's widely renowned as one of the best English 'keepers outside the Premier League and is definitely capable of stepping up. At 24 though, and used to being a big fish at the Ricoh Arena, he'd probably be unhappy to play second fiddle to Sørensen, and likely to cost several million pounds, it would be hard to justify that expenditure.
  An outside shout for a goalkeeper in Dean Kiely. Now at West Brom, who look very likely to go down this season, he's out of contract in the summer and may well leave the club. At 38, he has bags of Premier League experience, as well as a number of Republic of Ireland caps, and would provide a dependable back-up 'keeper, with the benefit of no transfer fee having to be paid.
Defenders
  This season, Abdoulaye Faye and Ryan Shawcross have been superb as the first choice centre-back pairing for Stoke, and with Shawcross still only 21, and Faye recently saying he'd like to remain at the club for the rest of his career, it seems those two will be around at the back for a while yet. Decently deputised in the position by Ibrahima Sonko and Leon Cort, and with youngser Ryan Shotton potentially pushing for more first team involvement, having recently returned from a very successful loan spell at Tranmere, I don't believe it is necessary for us to seek to strengthen in the centre-back position.
  The full-backs are a different matter though. I've never been a big fan of Danny Higginbotham, particularly at left-back. I feel he lacks composure, is prone to simply hoofing the ball, and doesn't support his winger going forward well enough. A left-back I am a big fan of is Wolves's George Elokobi. He's only 23, and despite being out injured for a large part of this season, is held in high regard at Molyneux. He's athletic, extremely strong and West African, having Cameroonian parents, so would seem to tick all the boxes that we tend to look for in new recruits and is a player I'm sure could impress at top flight level.

Facing Abdoulaye Faye and George Elokobi would be a terrifying prospect for opposing forwards
  Andy Wilkinson has been hugely impressive for us at right-back this season, and I would be very happy to see him retain the position next season. We lack depth in the position though, with the blackballed Andy Griffin, the on-loan Stephen Kelly and the injury-prone Andrew Davies providing slightly shaky cover. I'd certainly be looking to add another right-back to the squad, with my first choice being Habib Beye of Newcastle. In his two years at the Magpies he's proven his class, and with 35 Senegalese caps might be enticed by the prospect of joining his numerous international teammates at Stoke. out of contract next year and now in his thirties, Newcastle might seriously consider a bid of around £3 million, particularly if they are relegated this year.
  Tony Pulis isn't famous for liking young players, but one youthful right-back I'd like to see us sign is Sheffield United's Kyle Naughton. At twenty, his had an excellent first full season for the Yorkshire club and is surely of Premier League class. With a couple of England Under 21 caps, he's been tipped for a move up, and may soon make it, especially if the Blades aren't promoted this season.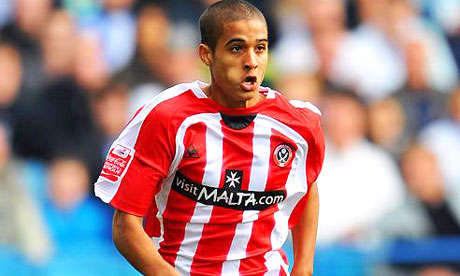 Could Naughton switch to the red and white of Stoke?
Midfielders
  For me, our midfield has been a little lifeless at times this season. With Salif Diao, Rory Delap and Amdy Faye, all regulars, all in the twilight of their careers, and Diao out of contract this summer, it seems clear than new blood is needed. My numer one target, the first foreign based player on my list, would be the Cameroonian Modeste M'bami, who currently plies his trade at French champions elect Marseille. He's a small, quick central-midfielder, who likes to get forward, and would add something different to our side. He's 26, about the age most promising players from foreign leagues tend to get a move to England, and for perhaps £5 million, he could be tempted to Stoke.
  Another French based midfielder I'd like to see us sign is FC Nantes's Guirane N'Daw, who's another we've been linked with before. Aged 24, he's lively and versitile, and can play in the centre of midfield, on either wing, or even at full-back. He's fallen out of favour at Nantes, and would probably be available reasonably cheap. Also, he's Senegalese too, which can only be a good thing.

N'Daw, 6'3", could become Senegalese colossus number six at the Britannia Stadium
  Finally, the one player about whom the rumours won't go away, Joe Ledley of Wales and Cardiff, would be a target for me. We've had several bids of up to £7 million rejected for him over the past year, and I'd expect out interest to be rekindles this summer. He's apparently keen for a Premier League move, and with Cardiff missing out on the Championship play-offs once again this season, may well be sold. He's a great talent, capable of playing on the left-wing or in central midfield, and I'd love us to sign him, provided the fee didn't get too high.
  On more winger who I think could shine in a Stoke shirt is Kilmarnock's Mehdi Taouil. Small, quick and incredibly skillful, he's not the sort of player that instantly springs to mind when you think of Stoke City, but he's the sort who could really keep the fans entertained while adding extra attacking threat for the side. He's 25, and having impressed in the SPL, is maybe due a move to England. He's also has an excellent goalscoring record, particularly at international level, where he averages better than a goal a game for his native Morocco. This finishing ability would come in handy to the Stoke midfield which has only provided six league goals this season.

Taouil – an undoubted talent
Forwards
  With James Beattie and Ricardo Fuller probably set as our first choice strikers for next season and Mamady Sidibe providing good cover, attack will not necessarily be a high priority position for us to strengthen. That's not to say we shouldn't try to sign quality forward players though, and an obvious target for me is Henri Camara. He's been on loan at Stoke from Wigan for the second half of the season, and though he has only made four substitute appearances, I've been quite impressed by what we've seen of him. He's out of contract at Wigan, and will probably be released at the end of the season. He's a nippy, poacher style striker, and would add good depth to our squad for free, so long as he would be prepared to spend most of his time on the bench. Oh, and he's Senegalese.

For me, Camara is an obvious target
  Another forward, Senegalese of course, that I rate highly is Fulham's Diomansy Kamara. He's been out injured for a lot of this season, but has shown recently his goalscoring ability, with a classy brace against Aston Villa. Having spent a very happy two years at West Brom, between 2005 and 2007, he's no stranger to the Midlands, which would make a move to Stoke more appealing to him. He's unlikely to come cheap though, as Fulham paid £6 million for him just two years ago, and though he's not a regular starter at Craven Cottage, he is very much part of Roy Hodgson's plans.
  Perhaps the best known player to appear on my list, is Djibril Cissé, who has spent the last season on loan at Sunderland from Marseille. He's had moderate success in the Premier League in the past, and could add pace and finishing ability to our forward line. A loan deal would probably be most attractive to Pulis and Coates, as Cissé would cost a fair amount.

Scream if you want to play for Stoke
  A less renowned player, but without doubt a fantastic goalscorer, who I would love to see us sign is Red Bull Salzburg's Austrian international striker Marc Janko. With 38 goals from 33 games this season he has an incredible record in front of goal, and that alone would surely justify a bid to see if his talents can transfer to the Premier League. He's only recently signed a new contract in the city of Mozart though, and would probably cost the best part of £10 million.
  My final attacking target is the old favourite Nikola Žigić. The six foot seven inch Serb, who plays for Valencia who reportedly want to sell him, would be the perfect Pulis player. After we missed out on signing him last summer, we may well re-enter the race this year. He is another with good goalscoring pedigree, and though a little temperamental, I'd very much like to see him in a Stoke shirt.

Žigić would be a huge player for Stoke
  These are just a few ideas for targets, some we have been linked with, some are simply players I'd love to see us sign. Perhaps we'll sign several of them, perhaps none. One thing's for sure, we're in for an interesting summer.