Current European Champions Spain has revealed their new World Cup shirt that they will wear throughout the 2010 tournament in South Africa next June.
The team, who won their first international major title for 34 years in 2008, will be bidding to win their first ever World Cup. Considering the wealth of talent available to Spain, it is remarkable that they have never won the prestigious tournament. However, they are currently one of the big favourites for the tournament in South Africa after qualifying with a 100% record from their group.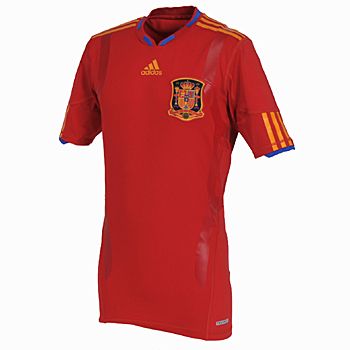 The new Spainish 2010 World Cup shirt is predominately red with darker stripes down the side and blue touches around the collar and sleeve trim. Manufacturers Adidas place their yellow logo centrally below the red and blue round neck collar whilst the three traditional yellow stripes are placed down the shoulders and sleeves. A large national badge is also placed in the top left of the shirt.