Whilst many leagues in Europe are just kicking off for the new season, the Russian League is already past it's half way mark. Running from March to November to avoid the slight problem of the cold (at Siberian club FC Sibir Novosibirsk the average temperature in January is around -15°!), sixteen teams compete for the Russian Football Championship title.  The league offers good entry to European competitions, with  1st and 2nd place qualifying for the Champions' league group stage, 3rd place qualifying for the 2nd qualifying round, and fourth and fifth place entering the Europa League.
Rubin Kazan, who won their first ever championship two years ago, retained their title last season, (and also beat Barcelona at the Nou camp!). Yet they find themselves in second place this term behind Zenit St Petersburg, who are flying at the top. Zenit, nicknamed 'Sine-Belo-Golubye' (Blue-White-Light blue) after their club colours, are currently six points clear with two games in hand over Rubin.
After a 3rd place finish last season, Zenit certainly didn't need any invitation to get started. Italian Luciano Spalletti's men broke a league record for the most points ever at the halfway stage, taking 39 points from an unbeaten 15 games. Hired and overseen by the largest Russian company and one of the world's largest gas companies, Gazprom, Spalletti has been provided with plenty of funds, but with high expectations. The Gas giants have already said they expect Zenit to win both the League and the Russian cup as well as progressing to the group stage of the Champions league. Whilst having failed the latter, a 1-0 win over Novosibirsk in May saw Zenit win the cup, and they will certainly take some catching in the league. Having signed Bruno Alves for £18 million, Serbian defender Alexander Lukovic for £6million and Rubin Kazan's captain Sergei Semak this year , as well as £24 million record  signing Danny two years ago (above), they are certainly threatening to leave the rest of the league behind.
Rubin will beg to differ, and you can be assured that Tatarstan club aren't just going to wave goodbye to their title. Widely considered to have the best defence in the league, with goalkeeper Sergey Ryzhilov (left) also highly rated, Rubin play a tight defensive game. Conceding, on average, a goal every two and half games, they are a hard team to break down.  However, an inability to convert chances into goals means they are likely to face an upward struggle to retain the title for a third consecutive year.
Meanwhile, with the exception of CSKA in third, the big Moscow clubs seem to be struggling to keep up with the pace at the top. Spartak, who have won the league 9 times out of 18, are in 7th, whilst Lokomotiv and Dynamo are in 9th and 11th places respectively.
Although CSKA's Japanese world cup hero Keisuke Honda and hit man Seydou Doumbia have been relatively quiet in front of goal, six goals from midfielder Alan Dzagoez and the return of Vagner Love have proved handy for the club. Despite a fifth place finish last year, the club has been the most consistent of the three Moscow clubs, and are on target to finish in the top three again for the eighth time in nine years.
 ''The People's Club'' , Spartak Moscow,  have conceded more often than they have scored so far , and this problem will need to be fixed if they wish to finish anywhere near last season's second place. Despite a leaky defence, Brazilian striker Welliton (left) has yet again showed his talent by netting 13 times in 15 games. Aiden McGeady, meanwhile, is still waiting to for an opportunity to prove himself after his £10 million move from Celtic.
Lokomotiv, by contrast, have the opposite problem. The front partnership of Sychev and Traore has only brought 4 goals in a combined 31 games. However, winger Olexandr Aliyev has caught the eye for his 12 goals in 17 appearances. 'The Railway men' managed to slip from first  place to  their lowest ever seventh place finish in the three seasons between 2004 and 2007, and a ninth place finish will certainly not go down well at the club. However, there are already promising signs of Lokomotiv's season getting back on the tracks, with the team recently battling to a deserved 1-0 win over CSKA, even if centre back Malkhaz Asatiani was sent off for throwing the ball at CSKA winger Mark Gonzalez's face!
With the ups and downs of the big traditional clubs, smaller teams have taken advantage. Spartak Nalchik and Rostov find themselves occupying the Europa League places. This is only Nalchik's fifth year in the Premier League after winning promotion in 2005; whilst Rostov were relegated as recently as 2007 after only winning two games (they managed to bounce back at the first attempt). A top six place for either club would an amazing achievement.
Meanwhile, at the wrong end of the table, Novosibirsk, who qualified for the Europe league this season (although they were knocked out in the playoffs), find themselves bottom despite being the sixth highest scorers in the league. A staggering 40 goals conceded so far, though, is leading them towards the drop. They are six points from safety, despite beating fellow relegation battlers and team above them, Krylya Sovetov, both home and away.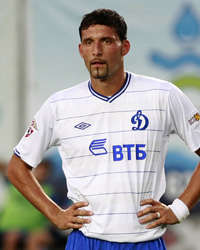 Generally speaking, the standard of both the football and the players in the league is noticeably improving, especially now as more money and better youth facilities are being introduced to clubs. Obafemi Martins, Zoran Tosic, Kevin Kurayni all joined the league this season, whilst Zenit have twelve promising young Russians on their books. Ranked by UEFA as the sixth best league in Europe, and with plenty of money around, the league certainly has a lot of potential. CSKA and Zenit have also showed potential in Europe, having both won the Europa League in the last six years.
With four different champions in the last seven seasons, two of which had never won before, the league certainly is unpredictable. Saying this, however, it seems highly unlikely that anyone can stop Zenit, whose success is almost certainly in the pipeline. Literally.