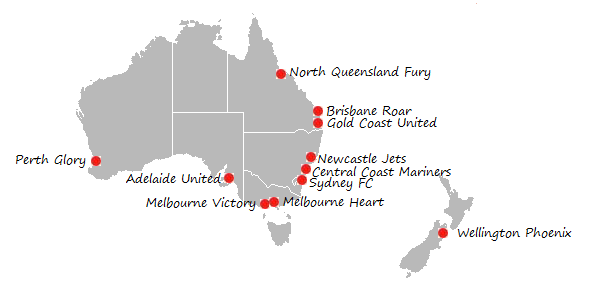 The eleven current A-League clubs and their locations
It is a testament to the global appeal of the game that some 11,000 miles from it's historical English home and almost exactly on the other side of the world, there is a football league that is thriving. That, of course, is Australia's A-League. Now in its sixth year of competition and with attendances for some matches in a nation where the sporting landscape is dominated by rugby, cricket and Aussie rules football reaching as high as 40,000, the 2010/11 season down under promises to be another exciting and interesting one.
The A-League operates on a system not unlike the one seen in both codes of English rugby, whereby the season includes a straightforward league component, before finishing with a play-off series where the top six league finishers are given the chance to compete for the glory of winning the grand title, though finishing top of the league in the regular season is still seen as a prestigious honour, particularly as it entitles a club entry to the Asian Champions League for the next season.

The Syndey FC players celebrate winning the 2010 grand final
By definition, the clubs competing to finish on top of the league are the ones that will also be gunning for the grand final crown. Indeed, in the 2009/10 season, Sydney FC took both honours. Amongst their number are several players who could be familiar to English fans, including skipper Terry McFlynn, who spent time at Morecambe and QPR, and former Crystal Palace midfielder Nick Carle. They have, however, made a dreadful start to this campaign and, six matches in, they sit rock bottom without a win, making a repeat of last term's glory look in severe doubt already. Sydney's apparent decline could pave the way for Melbourne Victory to step up and mount a charge for a third A-League title. They finished just one point behind Sydney in the regular season last year, and it took a penalty shoot-out for them to be defeated in the grand final in March. With star names including Brazil's Ricardinho in their squad and having made a solid start to the new season they seem sure to figure heavily at the happier end of the table.
Also potentially pushing for glory could be New South Wales's Central Coast Mariners who look strong under new coach Graham Arnold, who previously managed the Australian national team, while the season's surprise package could well be Adelaide United. They finished last in 2009/10, but in a remarkable reverse of Sydney's fortunes, they currently lead the way in the A-League, sitting three points clear after an unbeaten first six fixtures. The Reds, as Adelaide are known, lost long-standing manager Aurelio Vidmar in the summer as he took up the Australia Under 23 job, but look to have fallen on their feet by appointing former FC Twente coach Rini Coolen, who has made a superb start to life on Australia's south coast.

Rini Coolen is making waves with Adelaide
Behind the clubs competing for the title will come the mid-table pack. Amongst them are likely to be Gold Coast United, who had a strong season last year but look unlikely to do as well this time round, particularly after losing goalkeeper Jess Vanstrattan to Central Coast, as well as New Zealand's only professional team, Wellington Phoneix, who compete in the Australian league. They boast a number of well known players, including winger Paul Ifill, who played more than 300 games in the Football League, and former Stoke striker Chris Greenacre, but arguably lack the real star quality to achieve more than moderate success.
Newcastle Jets, previously one of Australian football's biggest forces, have slumped in recent years, finishing sixth last year and, having made a sluggish start to this campaign, may struggle to make the play-offs, as could Perth Glory, Western Australia's soul A-League representatives. Despite having snapped up Robbie Fowler, probably the league's biggest celebrity, this summer, they look shaky at the back, having conceded more than most last year and seven times already this.

It remains to be seen whether Robbie Fowler can bring glory to Perth
As Australasia's only professional football league, there is no relegation from the A-League, but clubs will still be keen to avoid the embarrassment of finishing bottom of the league. One of those for which this seems a distinct possibility is Brisbane Roar. The A-League operates a wage cap system, but clubs are allowed to breach the cap for one foreign and one Australian player in the squad, known as marquee players. Most clubs relish the chance to do so, but Brisbane's squad includes neither, a sure sign that they could struggle to compete with more illustrious rivals. Financial difficulties could also be the downfall of the North Queensland Fury in 2010/11. Since the club joined the league two years ago they have experienced disappointingly low crowds and are reportedly losing 50,000 Australian dollars a week. Their operations look unsustainable with low on-pitch attainment likely to follow.
One of the big stories of the last year in Australian football was the news that starting this season, a new, eleventh side, Melbourne Heart, would join the A-League. Under the experienced guidance of former Ajax interim coach John Van 't Schip, Heart made waves in the transfer market this summer, bringing former Premier League players and Australian internationals John Aloisi and Josip Skoko to the club and, although they've won just one of the first six matches of their fledgling existence, as the players they have signed gel they could prove to be a good addition to the league.

Melbourne Heart brace themselves for their first A-League season
The Australian national side is growing ever stronger, having put in very respectable showings at each of the last two World Cups. As the country dreams of hosting the 2018 edition of football's biggest event, it is crucial that it has a strong national league. In the A-League it has just that, with the competition set to be entertaining and interesting once again in 2010/11.