Portugal took part in the first European Championship's in 1960 but perhaps rather surprisingly 2012 will only be their seventh tournament. The team did not establish themselves as regulars in the tournament until the mid-90's but have never lifted the trophy – until this year perhaps.
Here's the Selecção's history at the tournament starting with the very first tournament:
 Euro 1960
Held in France, Euro 1960 was the first European Football Championship held, it was also Portugal's first ever major tournament. Back then the tournament was a knockout tournament with teams playing home and away matches until the semi-finals. Little is known about this tournament bar the results.
Portugal would face East Germany in the first round winning 2-0 in the first leg and 3-2 in the second, winning 5-2 on aggregate. In the semi-finals the Selecção won the first leg against Yugoslavia 2-1 but were thrashed 5-1 in the second leg, losing 6-3 on aggregate.
Position: Quarter-finalists
Squad: GK – Acurcio Carrelo, DF – Germano, Mário João, Ângelo Martins, Virgilio Mendes, MF – Hernani Da Silva, Mário Coluna, David Júlio, Fernando Memede Mendes, FW – Lucas Da Fonseca, Domiciano Cavém, Joaquim Santana
Manager: José Maria Antunes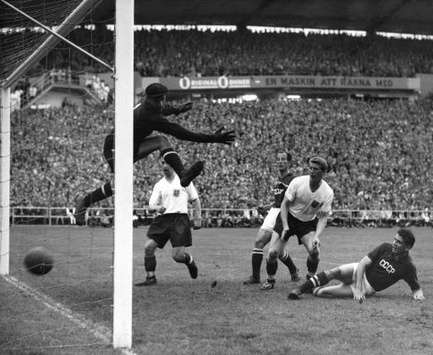 Action from the very first Euro tournament
 Euro 1984
24 years after their first tournament the Selecção put in one of their most memorable Euro performances and proved they were not just in the tournament to make up the numbers. Ranked at 14/1 the team were seen as a rising force and was packed full of offensive power and a gritty defence.
Portugal found themselves placed in the group of death alongside Germany, Spain and Romania. The first two matches were negotiated with creditable draws, 0-0 against Germany and 1-1 against Spain. Victory in the final group game against Romania was a must in order to book a place in the semi-final but the game looked like it was going to end in another draw until Nené, who was warming up on the sidelines, shouted to coach Fernando Cabrita: "Senhor Cabrita, throw me on and I'll score a goal!" And that was precisely what happened, nine minutes from the final whistle.
Portugal's next task to was play France on their own turf, the game is known as one of the greatest shows in the history of football, which was only decided in extra time. Domergue gave France a half-time lead, but Portugal shocked the host country by equalising on 74 minutes, and then taking the lead in extra time, thanks to a brace from Rui Jordão. With little over five minutes separating Portugal from the final, Domergue grabbed an equaliser for France, and the knockout blow was delivered by Michel Platini (his 8th goal of the tournament), after an unbelievable run from Jean Tigana.
Portugal had been beaten, but it was a marvellous participation and announced the re-emergence of the National Team, which had been an absentee on the big stage for many years. Chalana's mesmeric displays throughout earned him the nickname of "the little genius". France went on to win the tournament.
Position: Semi-finalists
Squad: GK – Manuel Bento, Jorge Martins, Vítor Damas, DF – António Lima Pereira, João Pinto, António Veloso, Eurico Gomes, Álvaro, Eduardo Luís, MF – Carlos Manuel, Fernando Chalana, Vermelhinho, Jaime Pacheco, António Frasco, António Sousa, António Bastos Lopes, FW – Fernando Gomes, Tamagnini Nené, Rui Jordão, Diamantino Miranda
Manager: Fernando Cabrita
Michel Plantini celebrates after his goal knocks Portugal out of Eur0 1984
 Euro 1996
'96 marked the start Portugal's regular stint at the European competition and was the first appearance of the so-called 'golden generation' at a major tournament at senior level. The European Championship now involved 16 teams and Portugal found themselves in a group comprising of Denmark, Turkey and Croatia. With the likes of Luís Figo, Paulo Sousa, Rui Costa, Fernando Couto and Vitor Baía well on their way to worldwide stardom, the Selecção found itself in the unusual position of being highly fancied to make progress.
The first game, against reigning champions Denmark, was a vibrant, fairly disputed encounter. It finished in a draw thanks to goals from Brian Laudrup and Ricardo Sá Pinto. It was during this game that Ruud Gullit, working for the BBC as a commentator, first coined the phrase sexy football, to describe the Portuguese style of play. Straightforward victories followed, 1-0 over Turkey, thanks to a Fernando Couto goal, and a 3-0 thumping against an already qualified Croatia, Luís Figo, João Vieira Pinto and Domingos with the goals. This set Portugal up nicely for a quarter-final game against the Czech Republic.
As group winners, the Selecção appeared to have hit the jackpot by avoiding Germany in the first round of the knockout phase. Portugal dominated the quarter-final practically from start to finish, but lost the match. In the second half, a rare Czech attack looked harmless enough, but a deflection off Oceano saw the ball land at Karel Poborsky's feet. The skilful winger, who would later play for Benfica, spotted Vitor Baía slightly off his line and produced a wonderful chip over the Portuguese goalkeeper, who days later would be transferred to Barcelona.
Portugal were left to rue their luck and a traditional flaw of the Selecção – the lack of a killer instinct to make good on their excellent approach play. But the "golden generation" had announced themselves to the world on the senior stage, and it signalled the start of their feats.
Position: Quarter-finalists
Squad: GK – Vítor Baía, Alfredo Castro, Rui Correia, DF – Fernando Couto, Carlos Secretário, Hélder, Dimas, Paulo Madeira, MF – Rui Costa, João Pinto, Vítor Paneira, José Tavares, Oceano, Paulinho Santos, Pedro Barbosa, Paulo Sousa, Luís Figo, FW – Jorge Cadete, Ricardo Sá Pinto, Domingos Paciência, António Folha, Hugo Porfirio
Manager: António Oliveira
Portugal's Fernando Couto (centre) takes the acclaim after his strike against Turkey
 Euro 2000
This tournament kicked off a golden decade for the Selecção. Portugal would play three games in the group phase against England, Romania and Germany, and at the outset few people would have risked money florins on the Selecção's chances. Not only were the English and the Germans powerful opponents, but Romania had got the better of Portugal in the qualification phase.
The moment Humberto Coelho's team "clicked" was on 12 June 2000, in Eindhoven, around 20 minutes into the opening game against England. Two goals down early on, what happened next was truly historic: Luís Figo cracked in a phenomenal shot from miles out that left David Seaman rooted to the spot as it rocketed into the top corner. João Pinto then produced one of his typical diving headers from a Rui Costa cross to equalise before the break. Nuno Gomes, who would be Portugal's top scorer, made it 3-2 as he finished of a flowing move in style, with Costa again providing the killer pass. It was perhaps Rui Costa's finest game in a Selecção shirt, and there are a lot of good ones to choose from.
Next, Portugal got revenge over Romania as Costinha's late header in Arnhem gave the Selecção a 1-0 win. With a quarter-final place guaranteed, Humberto Coelho decided to rest nine first-teamers for the final group game against Germany. Madness? It proved a masterstroke as Portugal's second-string players showed the coach they could be counted on, not least Sérgio Conceição, whose hat-trick put the Germans to the sword – and out of the tournament.
Portugal were now flying. The way they had powered their way to the top of the group saw them installed as one of the favourites to win the tournament. That didn't change after seeing off Turkey 2-0 in the Amsterdam Arena, with Nuno Gomes notching a brace and Vitor Baía saving a penalty in the first half.
World Champions and old foes France awaited in the semi-final. Nuno Gomes, who didn't miss a single opportunity to make a name for himself at Euro 2000, put Portugal ahead with a stunning goal on 19 minutes. Thierry Henri drew France level in the second half and only a flying save from Fabian Barthez denied Abel Xavier a heroic late winner. Into extra time we went and with a penalty shootout looming, Xavier's handball on the goal-line gave France a golden opportunity that Zinedine Zidane did not waste. A great game that Portugal could easily have won ended on a sour note as the distraught Portuguese players bitterly complained to the officials about what they deemed the injustice of the decisive penalty decision, current manager Paulo Bento was suspended for five months as a result.
The dream was over, but Portugal had given their own fans, and football lovers the world over, a treasure trove of magical memories.
Position: Semi-finalists
Squad: GK – Vítor Baía, Pedro Espinha, Quim, DF – Fernando Couto, Rui Jorge, Jorge Costa, Abel Xavier, Beto, Dimas Teixeira, Carlos Secretário, MF – Sérgio Conceição, Rui Costa, Luís Figo, Paulo Sousa, José Luís Vidigal, Costinha, Capucho, Paulo Bento, FW – Ricardo Sá Pinto, João Pinto, Pauleta, Nuno Gomes
Manager: Humberto Coelho
Trouble errupts after Abel Xavier's red card vs France
 Euro 2004
This was the tournament that gave Portugal so many reasons to feel good about itself as a country… and which ended in heartbreak. As the host country, Portugal did not have to qualify and found themselves in a group consisting of Greece, Russia and Spain, which wasn't considered the most difficult. However on a sun-baked day at the Estádio do Dragão, the Gods were truly Greek. Karagounis scored on seven minutes, Basinas converted a penalty six minutes after the break, and Cristiano Ronaldo's header at the end proved meaningless. Suddenly it looked like the host of the party might be making an early exit. Scolari rang the changes. Against Russia Maniche and Rui Costa scored in a 2-0 win, which left everything riding on the final game against Spain at the Estádio José Alvalade. The Iberian confrontation was decided by a brilliant Nuno Gomes goal, who "refused" to play a one-two with Luís Figo, instead spinning away from his marker and drilling a well-placed shot past Casillas from the edge of the box.
The quarter-final was against England at the Estádio da Luz, in what turned out to be a match every bit as intense as the memorable meeting between the oldest allies four years earlier. Michael Owen's early strike was cancelled out by Hélder Postiga and the game went into extra time. Rui Costa scored a wondrous goal to put the Selecção ahead, but England refused to lie down and Frank Lampard's equaliser took the game into a penalty shootout. Penalty-saving specialist Ricardo was in his element. After removing his gloves to save Darius Vassell's spot kick, the Portuguese goalkeeper took it upon himself to smack a perfect penalty into the corner of the net and send the whole of Portugal onto cloud nine, and a semi-final against Holland.
Nothing seemed able to stop Portugal in a heady and irresistible path leading to the title. Another impromptu street party was held after the Dutch were seen off 2-1. Ronaldo's header and a stunning Maniche curler past Edwin Van Der Sar put Portugal in control. Not even Jorge Andrade's unfortunate own goal could save the Dutch.
Curiously, the final match of the tournament would be the same fixture as the opening one: Portugal versus Greece. The Greeks had, bit by bit, playing ultra-defensive football, made it to the final, knocking out France and the Czech Republic en route to the final. No problem. This time it would be different. The rest of the story is well-known. Portugal dominated, attacked non-stop, but could not find a way through. The Greeks took advantage of a corner from which Charisteas thumped a header into the net. What should have been the mother of all parties was replaced by an ocean of tears.
Portugal had shown itself to be a modern and competent country, but at the same time had fallen short of its biggest goal. The players, coaching staff and fans were inconsolable in defeat. In the record books it is written that Greece won Euro 2004.
Position: Runners-up
Squad: GK – Ricardo, Quim, José Moreira, DF – Jorge Andrade, Fernando Couto, Rui Jorge, Paulo Ferreira, Nuno Valente, Beto, Ricardo Carvalho, Miguel, MF – Rui Costa, Petit, Luis Figo, Costinha, Tiago, Deco, Maniche, FW – Simão, Pauleta, Cristiano Ronaldo, Nuno Gomes, Hélder Postiga
Manager: Luiz Felipe Scolari
A young Christiano Ronalo is upset after Portugal's defaeat to Greece in the Euro 2004 final
Euro 2008
After the successes of the Euro 2004 and the 2006 FIFA World Cup, Portugal was seen as a major contender to win the Euro 2008. Paired in a group with Switzerland, Czech Republic and Turkey, qualification to the knock-out stages was seen to be easy.
The first game was against Turkey and it was won 2-0, with first-ever scoring achievements for internationals Pepe and Raul Meireles. Their second game was against the Czech Republic, a 3-1 success. With assured qualification to the knockout stage, as first in group A, they played with the reserve team against Switzerland, and lost 2-0, with two Hakan Yakın goals. During the group stage, Scolari announced to the squad that it would be his last spell as the Portuguese manager, ending a five-year era full of prosperity.
Germany would be the opponents in the quarter-finals but after falling behind 2-0 within the first half an hour any further progression in the tournament seemed minimal. The Selecção eventually lost 3-2 ending any hope of lifting the trophy yet again.
Position: Quarter-finals
Squad: GK – Ricardo Pereira, Nuno, Rui Patricio, DF – Miguel Monteiro, Jose Bosingwa, Paulo Ferreira, Ricardo Carvalho, Fernando Meira, Bruno Alves, Pepe, Jorge Ribeiro, MF – Raul Meireles, Joao Moutinho, Deco, Armando Petit, Miguel Veloso, Cristiano Ronaldo, Nani FW – Simao Sabrosa, Ricardo Quaresma, Nuno Gomes, Hugo Almeida, Helder Postiga
Manager: Luiz Felipe Scolari
Nani of Portugal is tackled by Mehmet Aurelio of Turkey during the UEFA EURO 2008 Group A match between Portugal and Turkey
Related Posts: