Congratulations to Stoke manager Tony Pulis who has successfully completed the London marathon, covering the gruelling 26.2 mile distance in a respectable time of four hours, 31 minutes and 57 seconds, importantly beating the BBC's Jonathan Pearce comfortably. After saying he'd find the race a whole lot harder after seeing his side lose 1-0 to Fulham yesterday, I have a suspicion he was helped round the course by having Pottermouth's rap playing in his ears.
  The 51 year old was running to raise money for the Donna Louise Children's Hospice, an organisation based just a mile from the Britannia Stadium, for which he hoped to raise over £10,000. In these days of football being governed by egoism and greed, it's great to see a manager doing something like this for a worthy course. Well done to him.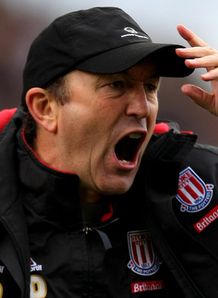 Pulis vents his frustration after learning he didn't win, finishing more than two hours behind Kenya's Samuel Wanjiru
  To sponsor Pulis, visit http://www.justgiving.com/tonypulis.