Despite finishing with a disappointing 1-0 loss at Fulham, April has been another very successful month for the Potters, with the seven points gained during it lifting us to all but guaranteed safety. Continuing straight on from the fine victory over relegation threatened Middlesbrough at the end of March, Stoke began April with another excellent win against a club over which the shadow of the Championship hangs, Ricardo Fuller and James Beattie scoring the goals in a crucial 2-0 success over West Brom, the Premier League's bottom club. Then followed two distinctly winnable home games, with Newcastle United and Blackburn Rovers visiting the Britannia Stadium in successive weeks. Four points from the two games would put the Potters onto 39 points a tally that will surely be enough to secure our top flight status for the 2009/10 season, and four points it was that we gained, first with a 1-1 draw against the Magpies, inspirational captain Abdoulaye Faye netting against his former club, and then with a 1-0 victory over Blackburn, Liam Lawrence's second strike of the season announcing his return to full fitness and earning Stoke maximum points.

Liam Lawrence celebrates his crucial winner against Blackburn
  More than anything though, excellent defence has been the key to our success this month, with just two goals being conceded in four matches, and so I have included a number of defensive players in my selection of this month's candidates. Please cast your vote by posting a comment at the bottom of the page.
Option One: Abdoulaye Faye
Stoke's on-pitch captain has had a fantastic month, even by his incredibly high standards, and should be particularly commended for his fine performances against Newcastle and Blackburn, his former club, against whom he scored, and Blackburn, who tried and thankfully failed to prise him away from the Potteries in January. The Senegalese centre-back, described by teammate Ryan Shawcross as "the strongest man in the world" really has been excellent in April, and thoroughly deserves his place in this list.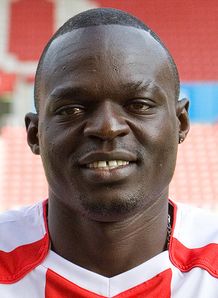 Option Two: Liam Lawrence
Troubled by a bizarre injury sustained tripping over his pet dog, or if you believe the more cynical and scandalising Stoke fans, falling down the stairs in a nightclub after having drunk more than the average desert gazelle after the first rainfall of the year, Lawrence in general has had a poor season in comparison to last, when he won the club's player of the year award and finished as the Championship's highest scoring midfielder, with fifteen goals. In April though, clearly benefiting from a sustained run in the side, he has showed that he is well on the way to rediscovering his best form, and earned us that crucial win over Blackburn with a very well taken goal, as well as providing the assist for Faye's goal against Newcastle.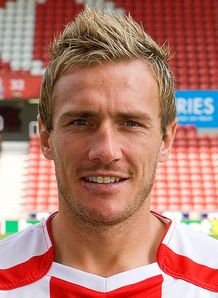 Option Three: Ryan Shawcross
March's winner makes it into the shortlist again, after another commanding month alongside Faye in the centre of defence. Although he has not retained the goalscoring form he did in March, when he scored three times in four matches, he has performed the job he is payed to do well, stopping the opposition from scoring themselves, the 21 year old being a key figure in the defence that conceded just twice in April.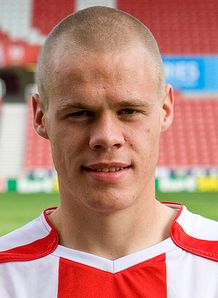 Option Four: Thomas Sorensen
Stoke's Danish 'keeper once again makes it onto the shortlist after another fine month. Keeping two clean sheets in four games, Sorensen has been particularly effective in April, commanding his area very well, particularly in the home games. A key part of our successes this season, his quality has been clear to see in this excellent month.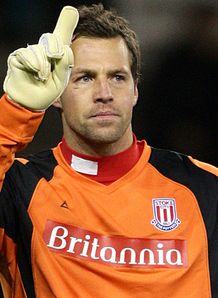 Voting closes one week from publication.