Blatantly plagiarising from my friends on the Tottenham and Manchester City blogs, though I suppose it takes one to know one, right Matt, I'll put together my own Stoke City end of season awards ceremony, with various categories of awards.

Player of the Season
There really is only one possible candidate here, a true Stoke City hero, the indomitable Abdoulaye Faye. He has been simply magnificent this season, producing numerous fantastic defensive displays, as well as coolly putting away some vital goals. Though his strength and passion are a joy to watch, they actually belie the subtly calmness and pace of his game, all of which contribute to making him one of the finest defenders ever to play for the club. Signed for just £2.25 million, in a market where Fabricio Coloccini cost Newcastle £8 million, he has to go down as the signing of the season. He won eleven official player of the season awards, and can add one more to that total now.

Abdoulaye really is three times as big as Aaron Lennon

Abdoulaye Aside Player of the Season Award
Playing alongside someone as good as Faye, it's easy for his teammates to be overshadowed, but it's important that they get their recognition too, hence this award for what is essentially our second best player of the season. For me, it goes to Thomas Sorensen. Signed on a free transfer last summer, the veteran Dane has surpassed all our expectations of him, mixing fine saves with good command of his area on the way to claiming an impressive twelve clean sheets and playing a big part in propelling us up the Premier League.

Young Player of the Season
As Tony Pulis regards anyone under the age of thirty as "a smashing kid", it's not surprising that there are not very many youngsters in the Stoke team. There is one notable exception to this though, 21 year old Ryan Shawcross, who shook off a torrid Premier League debut on the first game of the season at Bolton to excel alongside Faye for the rest of the season. His defensive dominance, coupled with his knack of scoring crucial goals has meant he has left his mark on the league this season. Today he was called up to the England Under 21 squad for the forthcoming European Championships, which is a fitting way for him to end an excellent season.

Not even the world's best get their way with Shawcross

Dark Horse of the Season
Stoke signed the veteran Senegalese midfielder Amdy Faye on the day before the season began. We only gave him a one year contract, which perhaps reflects the view that he would be a squad player at best, but he has proved his doubters wrong and earned an extended deal in doing so. Amdy made his debut in the second game of our season, at home to Aston Villa, and by the end of that match, he had attempted more tackles than anyone else int he side had over two games, and won the ball on every single one of them (the fact that he was sent off half an hour into our next match for a dreadful tackle is neither here nor there). On the whole, he has provided a sound defensive buffer for the midfield and shown himself to be a far more useful player than we first thought.

Most Improved Player of the Season
This one has to go to our right-back Andy Wilkinson. He'd always previously looked a little rough around the edges, but after winning the first choice right-back spot as his own in December, he has hugely impressed, looking every bit the Premier League player. Though he is still prone to occasional hot-headed lapses, his general standards of defending have been more than worthy of gracing the top flight.

One of them's the second best player in the world (Messi's the best), the other's a diving Portugeuse tart

Disappointment of the Season
Two words sum this up. Dave Kitson. Signed for a club record £5.5 million last July, we had huge hopes for our new goalscoring hero. Eighteen games, no goals and very little effort later he was back off to Reading. We'd do very well to get rid of him this summer, whatever sort of loss we have to take.

Best Game of the Season
Narrowly beating the return fixture at Villa Park, is our first ever home game in the Premier League way back in August. Stoke goal up in the first half, Aston Villa equalised after an hour. We erupted with joy as Ricardo Fuller sublimely put us ahead with ten minutes to go, only for Villa to strike back almost instantly. So, in the fourth minute of injury time, the world got its first taste of everyone's favourite sexy footballing tactic, the Rory Delap long throw, as his missile struck Mamady Sidibe on the back of the head and bounced into the goal, sealing an extremely sweet 3-2 victory for the Potters, and announcing our return to football's top table after 23 long years.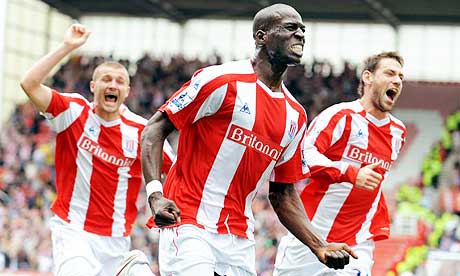 Sidibe's face says it all

Worst Game of the Season
I'll keep my description of this one brief as it bores me just thinking about it, the winner being our goalless draw at home to Fulham in December. At one point we had a shot.

Goal of the Season
There are a few good candidates in this category, but the prize goes to Ricardo Fuller for that strike against Villa that I mentioned before. Latching onto a ball from Liam Lawrence, the Jamaican audaciously flicked the ball over Villa's Martin Laursen, the Dane so overcome by the cheek and ability he felt he had to retire, Fuller going on to fire low past Brad Friedel from a tight angle. While most "wondergoals" you see are simply examples of powerful strikes, this goal had a lot more to it, skill, pace, touch, and an excellent finish.

The finishing touch to a brilliant goal

Best Moment of the Season
This probably seems an unlikely choice, but for me the moment from this season I hold most dearly in my memory is our last minute equaliser against Newcastle at St. James' Park, scored by none other than the former Newcastle man, Abdoulaye Faye. Two goals down at half time we looked out of it, so Faye's late strike sparked the mother of all mentals, which made the long trip on a freezing cold day more than worthwhile. It was made all the sweeter by Faye running the full length of the stadium with his finger on his lips. That's the stuff legends are made of, and it could just be considered to be the goal that sent the Magpies down, meaning their net loss on Faye is something in the region of £57.75 million.

Abdoulaye Faye – £2.25 million. A lap of St. James' Park with his finger on his lips – priceless

Worst Moment of the Season
Though Fuller's infamous scuffle with Andy Griffin on the pitch at West Ham comes close, for me it has to be losing at Chelsea having been 1-0 up with three minutes to play. Ouch.
Stupid Irish Bookmaker of the Season
After just one game of the season, Paddy Power paid out on us to be relegated. What a disaster of a prediction that turned out to be, and one that I'll never tire of bringing back up. Pottermouth summed it up best when he said, "Paddy should have waited, his power's overrated, paying out on Stoke to get relegated, what a joke, what a daft bloke".
Once again, thanks to Juandeful and Matt Jones for the inspiration
.